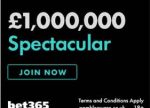 Usually we try to keep our Fake Journalist hats on and replace with with Bet365 Shill– er, we mean, Respectable Promotions Affiliate hats just once a month or so.
However, despite already telling you about an awesome Bet365 Poker promotion just this week, those mad lads have gone and pulled out all the stops for a huge £1 million giveaway that we can't not tell you about.
Go to Bet365 and find out more.
£1 million in bonuses up for grabs
Each week, there are two prize draws that will give away a total of £75,000 to £200,000.
You can enter both draws and win multiple prizes, meaning that you could net upwards of £2,000 each and every week!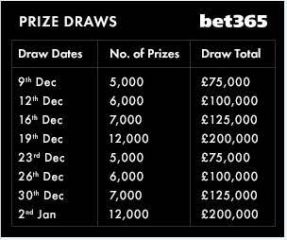 Go to Bet365 and find out more.
How to take part
There are just four simple steps you need to follow in order to grab your share of weekly prizes and a cool £1 million:
Head to the Bet365 website and Opt In
Play qualifying games and win a prize draw ticket for each £10 you bet
Play Double Ticket Games to win two tickets per £10
Win up to £1,000 per prize in bi-weekly raffles
Week-by-week breakdown
Each week, there are two qualifying periods:
Monday, 00:00 GMT through Thursday, 23:59 GMT
Friday, 00:00 GMT through Sunday, 23:59 GMT
Week One: Games (December 5 through December 11)
Kicking things off is the Games section, with several fantastic online slots selected as qualifying games for prize draw tickets. The prize draws take place on December 9 and 12.
Week Two: Vegas (December 12 through December 18)
The Vegas section, with a great selection of classic casino games boasting modern twists and huge slots, is the way to win prize draw tickets this week. Raffles will be taking place on December 16 and 19.
Week Three: Games (December 19 through December 25)
This week we go back to the Games section and the selection of great video online slots to qualify for your prize draw tickets. The raffles take place on December 23 and 26.
Week Four: Casino (December 26 through January 1)
This week, all the qualifying games are in the Casino section. This means all the classic casino card and table games qualify for prize draw tickets. Prizes are awarded on December 27 and January 2.