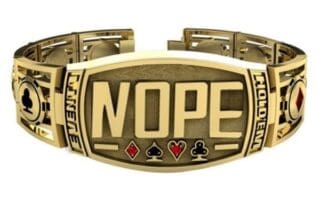 Phil Hellmuth is now a 15-time WSOP gold bracelet winner and the poker community is left asking, who in the world can catch The Poker Brat? There are a few candidates in the mix from Negreanu to Hennigan, Ivey to Esfandiari. However, only time will tell who will ultimately challenge Hellmuth as the All-Time Leader of WSOP Bracelets.
The only thing we know for sure is that it WON'T be one of these people.
Here are the Top 5 Guys Who Definitely Have No Shot At Catching Hellmuth.
Tony The Whole Foods Checker, 38
"Is he a member of Amazon Prime?" Tony guessed when confronted with the news that Hellmuth had scored number 15. Then after getting a price check on a sack of raw cashews Tony, quipped "Wow, these are up there."
While he may have the skill and the drive to compete at the highest stakes, we will simply never know. Tony, the slow cashier at Whole Foods — an Amazon company — hasn't even ever bothered to learn the game of poker, much less how to check-raise a 15-time champ. Sure, he scans organic apples with the same slow methodical movements of a young Chris Ferguson, back when players would tolerate his bullshit, but Tony, surprisingly, seemingly couldn't care less about No Limit Hold'em.
Richard Overton, 112
If one man has the guts to take on Hellmuth it's decorated veteran Richard Overton. Overton is America's oldest verified U.S. war veteran and the country's oldest living citizen at 112 years young. Overton has gone heads-up with the likes of President Obama , and like champion poker player Sammy Farha before him, has been known to spend his birthdays "smoking cigars and drinking whiskey" however, the length of a standard MTT goes well beyond this hero's bedtime.
Overton, America loves you sir, but you've got no shot in a battle with The Brat.
John Ratzenberger, 71
American actor John Ratzenberger literally has zero chance of catching Hellmuth. Ratzenberger is perhaps lovingly known as the postman with a drinking problem in the popular 80's TV show Cheers, but poker glory could have been his destiny on the back nine of his career.
"The Poker Ratz" had the skills to crush the charity tournament circuit back in 2005, but rather than fight the uphill grind of battling it out in the poker streets, Ratzenberger instead took the easy route of voicing many of Pixar's most iconic characters for millions of dollars.
Pathetically, Ratzenberger doesn't even have a Hendon Mob entry to his name.
Justin Trudeau, 45
Sure, he's younger than Hellmuth. He's more handsome than Hellmuth. And he's more famous than Hellmuth. But Canadian Prime Minister Justin Trudeau will always be looking up to Hellmuth on the WSOP bracelet list. Using his own tax codes as an excuse for not spending the six-weeks of summer in the Amazon room for the past 10 years, Trudeau instead spends his time working to "change mindsets, to change attitudes, and to fight against the bad habits that we have as a society."
Back in 2015, Hellmuth nemesis Tony G tried to unlock Trudeau's poker potential by issuing a challenge to him but as of Hellmuth's victory, the World Leader has not responded. Sorry, Trudeau, you may go down in the history books, but you'll never have a banner hanging in the Rio.
Wild Bill Hickok, Dead
"I'm not just drawing dead. I am dead." historical figure "Wild Bill" Hickok would likely say should he be allowed to answer interview questions from beyond the grave. The fact is, the technology does not yet exist — we're looking at you Elon — to speak with people who are, in fact dead. More so, it's very likely that cadavers are not allowed to register for a WSOP event, as they would have a hard time presenting two forms of current government issued identification at the cage.
In the event that Hickok could be exhumed and featured on the Poker Central Twitch stream, we're positive he'd succumb to Hellmuth's "White Magic" and passive play, you know, unless it was a shootout.
Again, someone may catch Hellmuth in time, but you can bet it won't be one of these guys.