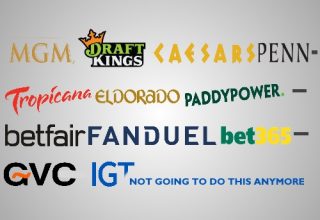 LAS VEGAS – The chief executive officers of most of the world's major gaming companies have announced plans to merge into one mega-company by the year 2020. The decision came as a wave of casino company mergers have swept through the industry the past two months.
"We think it will create synergy," said Mike Lowen, a spokesperson for soon-to-be-defunct MGM Resorts. "There's no reason that we all need to compete with one another."
"Plus some of us just realized, it might save more time this way."
For now, the tentative name for the new company will be MGM Caesars Penn Boyd Tropicana Eldorado PaddyPower Betfair FanDuel DraftKings bet365 Hilton Hard Rock Ladbrokes Scientific Games SBTech GVC IGT TVG.
The order of the names will rotate randomly on a quarterly basis, according to sources close to the deal. Should any new gambling companies dare to enter the space, they too will be swallowed up — assuming they aren't bankrupted immediately.
The conglomerate will own thousands of casinos in virtually every country in the world. Profits for the new organization to immediately be in the trillions. Industry analyst Jim Negreanu said this could be a big deal, noting that nearly every single gambling company in the world would be merging. "I think this could be a game-changer."
A representative of Las Vegas Sands, which was the only company not included in merger discussions, had little to say when BonusCodePoker asked for comment. "Really?…shit."
Reaction mixed outside of gambling industry
Reactions to the news were mixed among customers and leaders in other industries.
"What?!" exclaimed Roger Tims, who was playing a penny slot at the Luxor. "That's crazy!"
His wife, Elaine, then informed him that the deal would eliminate the need for multiple players cards. Tims brightened at the thought of a single club card, rather than his keychain full of them.
"They're out of their minds," said Ed Harter, president of AON Services, an oilfield service provider. "There's no way that all those groups of people will ever agree on anything."
Government officials in most countries also expressed concern about the antitrust implications of the plan. However, Lowen reassured the politicians in his statement.
"Don't worry about it! We're going to cut all you guys into the company, too! Who wants to hit the craps tables? It's on us!"