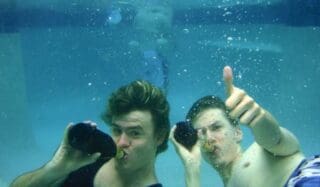 Some boat – A billionaire who has frequently been seen playing high-stakes poker games has put $1 million at stake that 22-year-old poker pro Peter "Peer" Pressure won't be able to hold his breath underwater for 20 minutes. The announcement comes two weeks after Pressure back-burnered a bet with another billionaire to go 6 months without food.
"I wouldn't want to be irresponsible about this," said Pressure.
Peer accepted the underwater bet after receiving tons of warm enthusiasm from his friends, who no doubt think this is what's best for him. Some of his well-known poker playing friends with sponsorships told him "all of the great poker players have been involved in these wacky, lighthearted prop bets at one point!"
The unnamed bald former hedge fund billionaire echoed the sentiment. "Look, these prop bets are not only potentially profitable for these kids, but they can also be pretty damn hilarious!"
The billionaire said he wouldn't dare encourage dangerous behaviors in the name of degenerate entertainment. After all, these are poker players whose primary concerns are often social justice, altruistic charity and frankly, making the world a better place.
After 37 rigorous training runs, Peer has been unable to hold his breath for more than 1 minute to date, but looks forward to strapping on the concrete blocks and taking the dive for 20 minutes this June during the World Series of Poker.
"I am going to win this bet. Mentally, I'm already rubbing that $1 million on my titties."