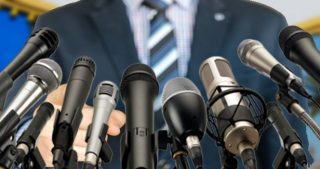 LAS VEGAS – In a stunning announcement, several leading card playing manufacturers demanded that they begin receiving 1% of all wagers made on poker tables in casinos worldwide.
Representatives from Copag, KEM, and Bicycle read a prepared statement under the world-famous "Welcome to Las Vegas" sign.
"For too long, our products have been used for unrestrained wagering," said Mark Dannemann, executive vice president of marketing for Copag. "In order to ensure that cards are not marked or scuffed or folded into suggestive origami, we must implement an increased regulatory function within our companies. Furthermore, we will require due compensation for this increased role."
Rage against the card manufacturers
Casino operators and players alike were aghast at the announcement.
"It doesn't make any sense," said Johnny Fields, who listened to the announcement during a break from the table. "What does my betting have anything to do with their cards? It's not like I'm using the cards strangely. Plus, don't people get buried in the desert about that kind of thing? Or destroyed on TwoPlusTwo, or something?"
Representatives from Caesars Entertainment quickly assured Mr. Fields that the company's security measures were more than adequate to prevent most fraud. In fact, they found the notion that the card companies could outperform them in security measures laughable.
"These are the same guys whose products were falling apart like confetti at last year's WSOP," said Leslie Mach, a senior marketing associate at CET. "Tell you what – ask Crockfords and Borgata how they feel about card security."
Dannemann brushed off the companies' scoffs, emphasizing the seriousness of the fees.
"We must be compensated for the use of our cards," he said, sweating profusely. "Think of it as a royalty, maybe, or a way to say 'thank you' to us for allowing you to play poker with our cards."
He stopped to wipe his face, then continued, "When's the last time you saw a poker game without cards? Guess what, it doesn't happen – so I think 1% is quite reasonable considering the scientific fact I just dropped on you."
A dangerous precedent
The crowd at the press conference then left to drink heavily and forget about the whole thing. However, industry observers say that should card companies somehow snag the royalty fee, other poker equipment related companies could follow their lead.
"We're already hearing rumblings from chip manufacturers and the company that makes those missed blind buttons about their own integrity fees," said Mach. "It's crazy – I had a thirty-minute phone call yesterday with a guy at the blind button company that ended with him screaming at me.
"He kept saying, 'Without us, how would dealers know who went to dinner an hour ago? It would be ANARCHY and DESTROY THE GAME!'"