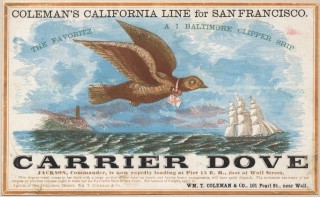 COSTA RICA — Breaking news that will no doubt come as a relief to online poker players in the United States.
US-friendly poker site America's Poker Place announced a new withdrawal option that is already being hailed as the most reliable cash out choice for players: Carrier pigeon.
"At APP, we know being able to get your winnings is important to players," said America's Poker Palace spokesperson Marty DiSavio.  "We tried everything – gift cards, prepaid debits, checks drawn on international banks – but none worked like we wanted."
"Then I was watching a WWII special on History Channel and it hit me," DiSavio explained, becoming visibly animated.  "Pigeons.  Fucking homing pigeons."
The carrier / homing pigeon withdrawal option is already available in the cashiers of VIP players at APP, and more players will gain access to pigeon cash out over the next few weeks.
Industry watchers praised the move.  "It's gotten tough for US players lately," said R2G analyst Shawn Perry.  "Stuffing cash into a homing pigeon's bag and then releasing it to the sky is such an upgrade from the current withdrawal options for US players that it's not even funny."
In order to cash out by pigeon,  you will first need to pair a carrier pigeon to your APP account.  This is accomplished by leaving special food for the pigeon on your roof or window sill.  This food  corresponds with your account at America's Poker Palace.
Players will need to request this food from APP.
Unfortunately, APP estimates processing time for food requests at approximately 4-8 weeks.  Sources say that it's tough to send the food into the US legally and APP is looking into a workaround.
Image credit: Wikimedia Commons, Creative Commons Attribution 2.0 Generic