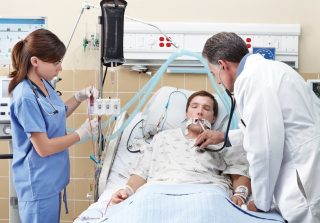 AUSTIN, TX – Paul Payman, owner of the Excelsior Hotel and Casino resorts, is said to be resting comfortably in an Austin hospital after collapsing during questioning in a Texas House of Representatives committee hearing.
Reportedly, the casino magnate suffered an episode after one lawmaker asked him "but, how much did you lose" since opening his casinos.
Payman was testifying before the Texas House Committee on Licensing and Administrative Procedures, which receives any ill-fated bills about gaming. Mr. Payman had just declared that his casinos had created billions of dollars in wealth for him and their surrounding communities via taxes when he was interrupted by Representative Tom Skrivanek.
Skrivanek said, "Excuse me, Mr. Payman…I hate to cut you off, but I have to ask – how much have you lost in these endeavors?"
Payman blinked at the question, then asked Skrivanek to repeat himself. Skrivanek did so, then added, "Everyone knows that you have to lose money to win money at a casino. With all these billions of dollars, I wonder how much you had to spend to get there."
As Payman attempted to answer the question he began slurring his words and sweating profusely. Skrivanek then admonished Payman that he better get his money out of casinos before he loses it all.
Payman then collapsed in the committee meeting room. The meeting was adjourned as medical personnel whisked the casino owner to University Medical Center Brackenridge.
Hospital doctors have not revealed the exact nature of his condition, though they likened it to a combination of an aneurysm and a stroke. Payman is expected to make a full recovery.
Get-well cards from all over the country have poured into Mr. Payman's room since the incident. Notably, Rep. Skrivanek sent him a card with $300 enclosed, asking if he could double it when he goes back to the Excelsior Las Vegas.