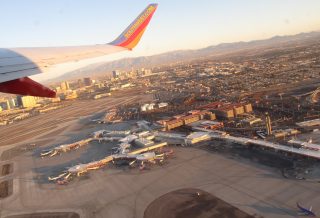 Las Vegas, Nevada – Ross Davis, 35, is facing a major scandal in his hometown of Duluth, Minnesota. Before embarking on his trek to the WSOP Main Event earlier this month, he assured a large number of people that he would win.
Unfortunately, the father of five could not overcome the thousands of people playing his Day 1b flight of the event, succumbing with a busted straight draw against a set of queens five minutes into the tournament, dooming his chances at poker immortality.
Now, Davis faces the unpleasant task of breaking it to his social circles that things didn't work out.
"Ugh, this is going to suck!" he said, waiting to line up in Southwest Airlines Group C on Tuesday evening. "I told so many people that it was in the bag."
Actions backed up his confidence
Prior to the tournament, Davis's bombastic vocal confidence mirrored his actions. In early June, Davis reached out to PokerStars about securing a seven-figure sponsorship deal. When the poker site delayed its decision until after the tournament, he scoffed at its lack of vision and foresight, saying "the price of Ross Davis poker would soon skyrocket" after his imminent win in the WSOP Main Event.
In the run-up to the tournament, Davis had also started a Twitch account to capitalize on what he called "waves of people" who were going to begin watching him play online. So far, only his parents and one of his kids have subscribed to his channel, as questions surround the future of the stream.
But perhaps most damning in his pre-tournament confidence, Davis abruptly left his job as a project manager shortly before going to Las Vegas, throwing away 12 years of hard work and sacrifice for a shot at glory. He apparently brushed off his wife's repeated cries of "what about our dental?!" before boarding the flight to play the tournament.
"I told him not to get his hopes up," she said after calming down. "I just hate seeing him disappointed, but he was beyond listening to reason."
She added that he bought directly into the tournament for $10,000 – money that he'd originally set aside for two family vacations. When she protested, he'd told her that the number of vacations he'd win would surpass her ability to count.
"It was a scientific fact that I would win," he complained, wedged into a middle seat on the flight back to Duluth. "I just don't understand how those other players overcame that – it's like they decided to ignore gravity."