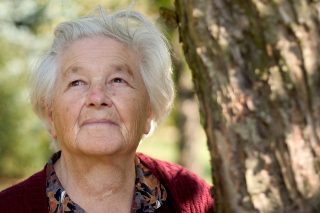 On Thursday, the nominations for the 4th annual American Poker Awards were announced with Doug Polk receiving the most individual nods. Polk's nominations include Best Tournament Performance, Best Video Blogger, and Pointiest Hair. Nobody is happier about the news of Polk's nominations than Doug's grandma, Beatrice Polk.
Quite possibly the world's proudest grandma
We caught up with Mrs. Polk after the awards nominations were announced. Not surprisingly, she was asleep. But once she awoke, Beatrice was gleaming with pride with what her grandson had just accomplished.
"I'm just so proud. But I got to be honest; it's tough being the grandmother of a professional poker player. When the ladies get together to play dominos and complain about our joints, they're all talking about how their grandchildren are changing the world. My grandson is a 3-time WSOP Bracelet Winner with nearly $10 million in lifetime winnings, but all they want to know is how much Dougie has lost. He might as well sell drugs."
When pressed, Beatrice told BonusCodePoker that her friends rarely ask about their grandson, although we were told they did express a mix of relief and excitement when they thought that he had retired earlier this year.
Even when Doug took down the High Roller for One Drop last year they were unimpressed.
"You could tell they barely cared. It took less than 15 seconds before the subject changed to Marge's favorite 'Murder, She Wrote' episode."
When Doug started to gain a following for his cryptocurrency success and analysis, Beatrice was at a loss. "Crypto? Great, something I and the ladies even know less about. What's next, eSports?"
At least one person will be in attendance at the APA
While some poker players may feel that the American Poker Awards are irreverent and cheesy, you can be sure that Beatrice Polk will be right there by his side when the award ceremony gets underway.
"I'll be wearing the same outfit I wore to his Pinewood Derby victory back in '96. He's turned into such a nice young man – he hasn't asked to borrow money from anybody in the family in nearly a decade and people seem to love him on the Youtubes."
As any proud grandmother would do, she kept going.
"… plus I think this American Poker Awards thing might play well with the ladies. I mean my eyesight isn't that great these days but if you squint the trophy kind of looks like a Grammy."