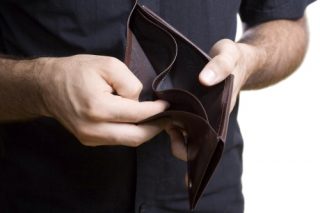 Las Vegas, NV – Wow, talk about a real page-turner! Two-time bracelet winner Erick "E-Dog" Lindgren has finally released a new book for his adoring public where he almost gives amazing poker advice, but instead just repeatedly asks the reader to borrow whatever money you have on you.
Lindgren was one of the most famous names in the game during the boom years – winning multiple WPT titles and also WPT Player of the Year. However, Lindgren has recently fallen on hard times as it has been revealed that he owes the IRS like 50 million dollars or some such nonsense.
A sneak peek at a new poker classic
The book is being released by D&B Publishing who have established themselves as the premier poker publishing company in recent years with award-winning literature from Phil Hellmuth, Jonathan Little, and Mike Sexton.
We reached out to D&B Publisher Dan Addleman to talk about his curious choice in content. He was kind enough to share his thoughts:
"BCP, I'll come clean with you. I really had no intention of publishing this book, but I made a weight-loss bet with Bill Perkins and lost, so now Bill's trolling me by making me release E-dog's book. Classic Perkins."
The book is titled Championship Poker: But First Can I Borrow Some Money and features chapter after chapter letting the reader know that Erick's "good for it" and that this is "all really Ray Bitar's fault."
Tax documents and court papers have shown that Lindgren was paid roughly $250,000 per month* as part of his endorsement deal with FullTilt Poker.
Defence from buffoons
FullTilt was the second largest poker site in the world before Black Friday essentially shut down online poker in the United States. Shortly thereafter the world discovered that FTP didn't segregate player funds and was essentially run by a group of greedy, slovenly, morally-bankrupt braindead buffoons. Ray Bitar was one such buffoon and we were fortunate enough to speak with him while he was eating all alone at the local Sizzler.
"I think you too hard on Erick. He real good player who just like bet sports," wheezed Bitar as lukewarm cheese oozed slowly down his chin. "You see I used to run FullTilt. People was always telling me segregate funds, but I didn't know what segregate mean so I couldn't do it. Erick best player in whole world and – "
Unfortunately, however, Bitar's speech was cut short as he began sucking on his thumb.
The book also includes a nice forward from TJ Cloutier in which he talks about what it was like to win six bracelets, what it was like to lose the money from those bracelets in the pit, and finally a plea where he also asks you to borrow some money.
Fans who pre-order a copy of Championship Poker: But First Can I Borrow Some Money will also receive an autographed photograph of Erick arguing with his IRS agent, two tickets good for a free ride on TJ Cloutier's scooter, and what's left of Ray Bitar's pastrami on rye.
*Editor's note: holy shit!