DUBLIN — A scandal linked to commercial food giants Burger King and Tesco detoured into online poker today, with a scathing report claiming Full Tilt Poker contains a substantial amount of horsemeat.
The report, issued by Merzirak Research, relies heavily on the testimony of an unnamed PokerStars employee, referred to as "Employee X" (EX).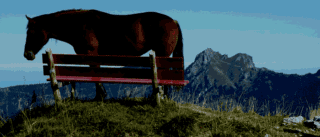 According to EX, PokerStars first discovered evidence of horsemeat shortly after acquiring Full Tilt.
"We had just taken possession of FTP's software," said EX, "and as soon as we started poking around, we noticed a lot of bugs."
"Not errors," EX continued. "Actual bugs. Maggots, flies, you name it. That's when we realized a lot of the code was actually some sort of meat."
The report – titled "Learn, Chat and Neigh With the Pros" – asserts it wasn't just the software, citing additional evidence that Full Tilt was made primarily – or even entirely – of horse:
Full Tilt only poker room to offer glue in rewards store
Ran satellites to WSOP, WPT and Dressage Festival of Champions
Unorthodox company policy of killing pros who suffered broken legs
Clonie Gowen
"This kinda makes sense," said Irish poker pro Danny Westpalm. "One time I peeked into Mike Matusow's fanny pack, and guess what was in there?"
"Just oats and sugar cubes. I don't know, I thought he was on some [expletive]-up diet for a prop bet."
Our requests for comment from former FTP executives were met with whinnying, stomping and powerful rear-leg kicks.