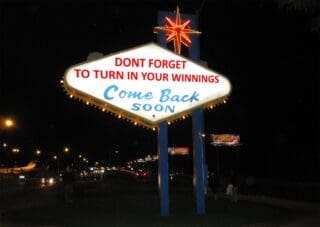 ATLANTIC CITY – In a stunning declaration, Superior Court Judge Ray Bauer told a civil defendant that the plaintiff, Borgata Hotel and Casino, had no reason to pay off his bets when the defendant, Thomas Feygin, happened to win $83 on a roulette table last year.
Case could be a game changer for players
Even though there was no suggestion that the win had been unfair, Judge Bauer affirmed the plaintiff's claim and told Feygin that his belief that he would be paid in the event of a win was unfounded. The judge then ordered Feygin to return his winnings to Borgata.
"Gamblers should never win anything," said Bauer. "These casinos set up these beautiful buildings, and these people seem to think that if they win at a game of chance, the casinos somehow owe them something."
Representatives for Borgata applauded the judge's decision, calling it a win for justice.
"Casinos are businesses," said Martin Torn, attorney for Borgata. "Businesses are supposed to make money, and Mr. Feygin was obviously trying to keep my client from its goal."
Feygin, Ivey cases part of broader trend
Industry experts suspect the ruling came as part of a growing trend in courts around the world. Poker legend Phil Ivey just lost his claim to nearly $10M won at baccarat after a UK court sided with the casino, Crockfords.
Crockfords successfully argued that Ivey tricked casino personnel, even though he never touched the cards or did anything other than make requests, which were granted by the casino. It is unknown whether Crockfords would've returned the money to Ivey if he had lost.
The Crockfords ruling is likely to influence Ivey's similar case against Borgata here in the US. Borgata employees seemed triumphant and emboldened by its win in court today.
"Come down and play!" said Mark Sadler, pit boss for Borgata, as he descended the court steps. "We offer players the best experience and entertainment value at the tables. It's very unlikely that we will sue you to get our money back after you win it fair and square!"