LAS VEGAS — BCPoker can now reveal the truth behind the biggest payday in tournament poker history: Big One for One Drop champion Antonio Esfandiari was actually Phil Laak wearing a state-of-the-art Antonio Esfandiari costume.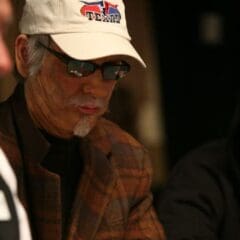 Poker fans will remember that Laak pulled a similar stunt in the 2008 Main Event of the WSOP, playing Day 1 disguised as an old man.
But Laak knew the Big One for One Drop – with it's $1mm buy in and field of only 48 players –  would be a much tougher grift.
"Antonio and I started planning this the day we heard about One Drop," explained Laak.  "We are some pretty sick individuals."
Laak said he worked out most of the plan while playing 10/20 at the Bellagio.
"The toughest part was getting the eyebrows," continued Laak. "They kept pulling the whole face down. Sick. We ended up going with hollow carbon tubes. Cost  thousands."
"So sick."
Playing the tournament presented a different set of challenges.
"It was very, very hard not to get up and shadowbox or do pushups when I was all in," said Laak. "And I had this super-sick 'What Lodden Thinks' for Trickett when we here heads-up.
"But I was worried it might not be sick enough – or maybe, conversely, way too sick – and give the whole thing away."
Laak revealed plans to repeat the stunt with a different costume in the 2013 One Drop tournament, although he wouldn't name the player he will be impersonating.
"Let's just say," Laak teased, "that I'm going to need to do some serious research at the craps tables."