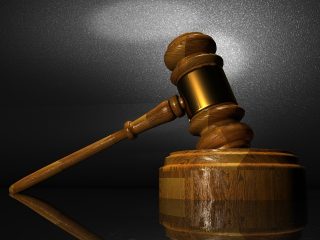 Las Vegas, NV – Hearts? Clubs? Spades? No, it turns out that Leon Tsoukernik's favorite suit is a law-suit! (Editor's note: yikes)
After a particularly rough night at the poker tables, King's Casino owner Leon Tsoukernik blew off some steam last night by stumbling out of the room and nonchalantly suing every person that he happened to see.
"At my casino, in Czech Republic, this sort of thing happen all the time," added the multi-millionaire while also puking in some nearby bushes.
Lawsuits hitting $100 millionaires hard
Tsoukernik has recently met the ire of the poker community after news spread of his refusal to pay a loan from high stakes gambler Matt Kirk. Kirk allegedly loaned Leon money, beat him out of it, but then was unable to settle the debt. The $2 million loss would be huge for Kirk who would only be left with $95 million to fall back on.
Tsoukernik says he got the idea for the lawsuits after seeing that several casinos didn't have to pay Phil Ivey the millions of dollars that he seemingly won fair and square. Ivey was particularly upset with that loss because he was only left with $95 million to fall back on.
Last night Tsoukernik could be seen meandering around the Aria floor while a team of lawyers jogged behind in his wake, electronically filing lawsuits at everyone who Leon haphazardly pointed towards.
Tsoukernik suing some of the biggest names in poker
Leon was kind enough to discuss his strategy with BCPoker.
"Last month in Aria, I'm playing big Omaha pot against Doyle Brunson. On the river he goes all in, and I fold two pair. But then he show bluff and I think 'Leon, if you had called you would have made half million dollars.' So I sue him for $25 million."
"And then just last week, Jennifer Tilly, she wear something low-cut. I can see everything. I get distracted. So I sue for $14 million."
The list appeared to go on and on.
"I sue Jean-Robert Bellande for being too tall."
"I sue Dan Cates for never making eye contact."
"I sue Haralabos Voulgaris for being too good betting the sports."
Tsoukernik then took several shots of Patron before stumbling out of the poker room and suing the floor manager on his way out.
The first lawsuit goes to trial this Friday. The judge is expected to dismiss the case before being sued by Tsoukernik later that afternoon.