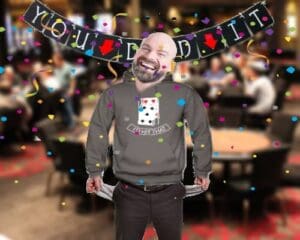 Council Bluffs, IA – Wow, a little good news out of the Midwest today as local player Harold Hickman completed a feat that many players have only dreamed about.
At around 11:30 pm after calling an all-in shove on the turn with a flush draw, Harold Hickman officially completed his $1k to $0 bankroll challenge. What's more, he completed this amazing accomplishment in less than six hours.
Fans all around cheered right after Hickman completed the challenge. His tablemates patted him on the back, and many shook his hand. Hickman himself was all smiles as he walked away, but that probably had less to do with the session and more to do with the eight shots of whiskey he had taken along the way.
Hickman setting the bar for bankroll challenges
Several name pros have attempted bankroll challenges over the years. Chris Ferguson famously turned $0 into $100,000 on FullTiltPoker nearly a decade ago. And more recently, Doug Polk is in the midst of a $100 to $10k bankroll challenge over on YouTube.
But both of those challenges pale in comparison to the one achieved by Hickman, who critics are already calling "the next Beth Shak."
Hickman actually came very close to completing the challenge after only four hours, but a rivered set kept him hovering around $500.
Not to be deterred, Hickman really started to focus by chasing gunshots, folding out of turn, and limping in almost every hand. Players hadn't seen plays like that since, well, the last time Hickman played there.
Winning praise across the poker world
Doug Polk had this to say about Hickman's challenge, "What's up, guys. Doug Polk here. I think it's absolutely incredible what Hickman has done. I've been working on my own bankroll challenge for months and am nowhere near completing it. To accomplish this in one day is just… wow. Hats off, man. Hats off."
Poker legend Phil Hellmuth also chimed in with his two cents saying, "Give me a minute. Just let me think a second. I'm trying to think of a way to spin this into a story about myself, but nothing is coming to mind at the moment."
Classic Phil.
Hickman upping the ante
Meanwhile, Hickman went on to celebrate his accomplishment by taking several more shots of Jack and losing $200 at Roulette.
Afterwords, Hickman was kind enough to sit down with us at BCPoker for an exclusive interview:
"To be honest witcha, I didn't even know I was doing a bankroll challenge. And what's more, I don't think I even know what a bankroll challenge is. Who are you again?
Wow, what modesty.
Empowered by his success, Hickman plans to make the jump to 2/5 next week and complete a $3,000 to $0 bankroll challenge.