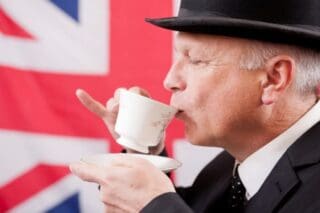 Donald Asher, a 51-year-old businessman from Oklahoma City, Oklahoma, has adopted a British accent in anticipation of his upcoming trip to the World Series of Poker Europe in Rozvadov, Czech Republic this week. He says that the move is a tactical decision to blend in with the European players.
Asher fully committed
When we caught up with him, he was having tea and scones on the front porch of his home.
"Cheers, ol' chap!" he piped. "I likes a good match of pokah, I do, but I don't want 'ese otha blokes to know it."
A skeptical family
His wife, Edna, seemed less than thrilled about the sudden change in her husband's speech and behavior.
"I don't even really understand it," she said. "He's taking time away from our family vacation to play in this event, which is fine, I suppose — but why does he have to use an accent?"
Mrs. Asher went on to say that the British accent is the third accent he's attempted to master during his preparation for the tournament. Previously, he strove to adopt a French accent, but gave up after voicing the consonants on the ends of words too often.
He also tried to use a German accent, but it sounded inauthentic. In his wife's words, he "sounded like an Australian being strangled."
Dialect experts pan tactic
Noted dialect coach Erik Singer, who advises Hollywood actors on perfecting their accents for roles, questioned many aspects of Mr. Asher's decision.
"What in the world?!" he said, after watching some video of Mr. Asher's work. "There is nobody in England who sounds like that. Why is he trying for that accent, anyway? Doesn't he know that the tournament is in the Czech Republic, more than 1000 miles from Britain?"
Asher brushed off the critique, however, and vowed to use his accent until the end of the tournament.
"It's my method, you see – I've gotah keep me training goin' on, even if it means these tossers at work take the piss."
We don't really know what he means.