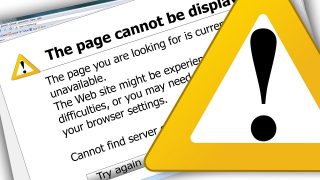 Editors Note: On Wednesday afternoon, BonusCodePoker experienced a site outage for a half hour to a chorus of rumors and speculation. Here we set the record straight about what happened. Much of this story is true, but some of the names have been edited to protect the innocent.
Wednesday began just like any other day at BonusCodePoker. We sat down for our morning coffee as we checked analytics for the about-to-breakout-any-day poker parody site. "Dang, still looks like nobody cares" the data manager thought as he saw what looked to be a few visitors to the site — nevermind that many appeared to have been clicked by accident (or against their will?).
But during Wednesday afternoon around 2 PM, something changed. Shortly after posting a somewhat amusing story satirizing the struggles that U.S. online poker players face on offshore sites – because hey, everybody can agree that U.S. poker players losing their money on offshore sites is hilarious — we decided to post the story on Twitter to amuse ourselves. "Ah, what the hell," said the site's social media manager.
Unprecedented activity at BCP
What happened next had the BonusCodePoker staff and frankly much of the poker world's jaw to the floor. At precisely 4:30 PM ET, two poker media personalities seemed to enjoy what had just been tweeted. A couple likes and retweets later led to what dozens of visitors — ok maybe a couple people — saw on that fateful Wednesday afternoon.
The site went down.
Indeed, visitors to the site looking to view the article were greeted with an "Error establishing a database connection" message. Well, I'll be damned if that 11th simultaneous visitor –- obliterating the previous record, by the way -– didn't bring the site crashing to a halt. "We never planned for quite an influx of traffic," the BonusCodePoker tech manager was overheard saying. "I guess I got to do something now, eh?"
Should we put the site back up? Would anybody care? How much do we make on this thing? "About tree fiddy," responded a site administrator.
Editor's note: yeah, we know "tree fiddy" jokes are old hat, but we are obligated to report on the events as they actually happened.
After intensive research of the afternoon events, we narrowed down the issues to a couple of offenders on Wednesday afternoon, but it is this Tweet that we believe brought BonusCodePoker.com crashing down:
I laughed https://t.co/t5xW9Swp4q

— Steve Ruddock (@SteveRuddock) March 21, 2018
Yep, 3 likes and a retweet. You would think that a seasoned Twitter user – and respectable member of the poker community such as Mr. Ruddock — would know better than to act this way against a small up and coming parody site. But I guess personal responsibility goes out the window when you sign up for a Twitter account.
Poker pros weigh in on the BCP outage
In the wake of fallout of the outage, a BCP writer was able to catch up with a frequent subject of BonusCodePoker's ramblings, Doug Polk, to discuss his thoughts on the outages. "Hey, its Doug Polk here. No, I don't really know them well. Joey [Ingram] Skyped me a couple posts over the last few years, but the stuff about me and my grandma wasn't too flattering, although I got to say I chuckled a couple times while reading the bit on the PPA."
We were also fortunate to briefly catch up with another popular target of the site, Daniel Negreanu. When asked to comment about for this news story simply said "Good!"
We're not sure if he was referring to the site crashing or coming back up.
Editors Note: If you somehow find this article funny, for the love of god, please show some restraint and avoid retweeting or liking if you have more than 100 followers.