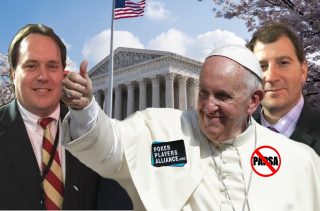 Washington, D.C. – As we're writing this report, our hands are literally shaking at the gravity of the moment.
We can now confirm that, as of 5:26 PM, Eastern Standard Time, the Poker Players Alliance has officially voiced its support for yesterday's Supreme Court decision regarding the Professional and Amateur Sports Protection Act, or PASPA.
As the PPA goes, so goes the world
An endorsement from the group and its powerful president, Rich Muny, usually carries great weight with decision makers throughout the land. Indeed, upon hearing the announcement from "the 101st Senator," legislators in eighteen states — including Texas and Hawaii — have announced the filing of sports betting bills in their respective state houses.
Today's SCOTUS decision on sports gambling could help elevate the debate for state-regulated online poker too. See what PPA says: https://t.co/mgOEtXEPzc

— PokerPlayersAlliance (@ppapoker) May 14, 2018
The approval of the PPA also bestowed legitimacy on the Supreme Court's decision, not unlike new countries gaining formal recognition from existing states. The heads of state from most European countries, including the Pope in Vatican City, joined the PPA's voice in exalting the court decision at a press conference outside the Supreme Court.
"The endorsement from the PPA is critical," said Pope Francis. "Without that, many would wonder if a Supreme Court decision was truly legitimate."
BonusCodePoker still has heard no word yet from the PPA about the outcome of the 2020 Presidential election. We're all on pins and needles about that one, though.