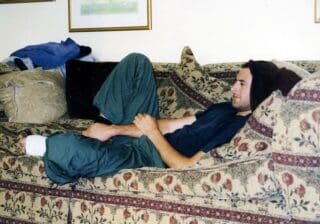 Baltimore, MD – The mother of a 29-year-old poker pro has once again reminded her son that several businesses including Amazon, H&R Block, and FedEx are currently accepting applications.
Mom thinks poker playing son needs a "real" job
Pamela Thompson, the loving mother of poker pro Brian Thompson, recently called her son just to see how his day was going — and to remind him that he should always apply to jobs in person because "that way they'll remember your face and know you're serious."
Brian, a long time cash-game grinder, spends most of his days at Maryland Live!, where he has been playing professionally for five years.
Recently, on a trip back home to visit his parents, Brian was playing with the dog in the living room when his mother very casually mentioned that employees at Amazon get free shipping and that H&R Block workers get two weeks paid vacation. Brian, however, was quick to respond to these subtle suggestions.
"Mom, how in the hell would I get a job at H&R block? Seriously, explain it to me. I have a double major in psychology and economics. Exactly, how would I get hired to do tax preparation?"
"Well, I don't know, you're just so good with numbers. I remember you knew all your times tables before all the other kids in class. You were even faster at them than your father!" responded Mrs. Thompson.
"Mom, most months I make over twenty thousand dollars! I've almost paid off the entire mortgage on my house. I don't need two weeks vacation from anywhere. My entire life is a vacation!"
Mrs. Thompson then passionately cried at the kitchen table for over 30 minutes, while Brian went for a long walk outside and Mr. Thompson just kept on reading the paper.
Not the first time
We asked Brian afterwards if this was a common occurrence with his mother.
"Uh, yes. Usually every week she reminds me that Costco employees make $20 an hour with full benefits or something. And if it's not that, she's reminding me that it's never too late to go back to grad school."
BCP asked Pamela Thompson what she thought Brian should focus on if he actually did enroll in graduate school.
"Well, he could get his accounting diploma and that way he can apply at H&R Block!" she exclaimed.
Pamela Thompson hasn't had a job since college and currently thinks Russia controls the internet. Brian Thompson is a two-time bracelet winner and owns 400 Bitcoins that he bought when they were worth 50 cents each.