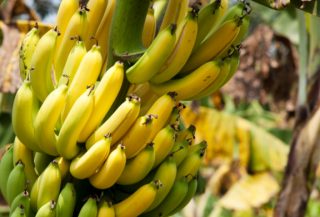 (Paradise Island, Bahamas) The PokerStars PCA 2018 is upon us as hundreds of poker players have flocked to the Atlantis Hotel in search of their share of millions of dollars in cash prizes.
As our informed readers already know, poker tournaments can be a "hard way to make an easy living" even for the most accomplished pros — especially when the poker world is all abuzz about the latest cryptocurrency trends and the astronomical rise in value witnessed by Bitcoin in 2017.
However, our team of crack reporters here at BCP have uncovered an unlikely tale of GUARANTEED PROFIT just a few paces from the Atlantis Royal Towers, which will be the temporary home of many competitors at this year's PokerStars Caribbean Adventure.
More markup is better
A delicatessen employee at the Atlantis Hotel Bahamas has revealed the secret behind achieving a guaranteed 1000% Return on Investment each and every day at major poker events.
"You see these five-dollar bananas here? Most people in the hotel industry will insist the price is due to import tariffs and shipping costs related to Paradise Island's separation from the mainland. But to be honest I just pick these off my neighbor's banana herb and bring them with me to work every day," explained the morning shift junior assistant swing manager.
"On a typical day Mr. Knowles charges me a quarter apiece, but his rates have nearly doubled now that the PCA is in town. Between you and me it's rather exploitative, but I can't really say anything without risking my job."
When asked why those savings aren't passed on to poker players, our source replied, "We've found that customers value convenience over everything else. Sure, we could charge $1.50 and perhaps save hotel guests a few bucks… but then we'd have to make change. That takes time, and time is money. At the end of the day, it ultimately boils down to what the customer wants. More markup is better in the long run, although veteran poker players may not see it that way."
Looking out for the recreational banana eater
Of course, we reminded the sandwich shop worker that PokerStars has changed its tune in recent weeks — actually lowering its own markup in select PCA events.
"Look, if we had dozens of serious high rollers hopping on a plane every year to sample our produce we might consider providing discounts. Our current policy allows us to protect the recreational banana eater while ensuring an overall healthy customer ecology," he patiently explained. "Otherwise, our patrons who are on a budget might go hungry."
As our reporter bid farewell to take advantage of preliminary PCA cash game action, a professional poker player wearily stumbled towards the cashier counter with a prized plantain in-hand.
"That'll be five dollars," the attendant beamed.
"LOL. Standard," grumbled the longtime pro as he drifted off in the direction of the poker room.
Enjoy our content? Sign up for a real money poker account through your friends here at Bonus Code Poker and get the best deals on popular Euro-based poker sites!