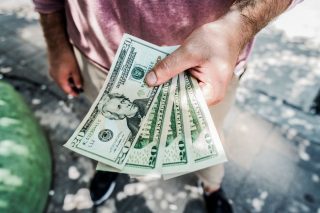 Isle of Man – Wow, simply outrageous news out of PokerStars HQ this morning. PokerStars, the world's number one poker site, has just announced that they will begin charging a $65 resort fee every time players log in to the site.
The announcement was met with derision and disappointment by several poker pros – none of whom even play poker anymore because they trade crypto, but they were still pissed anyway.
Director of Poker Innovation and Operations for PokerStars Severin Rasset released the following statement in an online press release:
"Pricing is a key commercial consideration for every business and we will increasingly use a dynamic pricing model in ours. For example, PokerStars features some of the largest play-chip tournaments on the planet. These tournaments are free to enter and can be played at absolutely no risk to the player. But those chips cost money. Customer support and software costs money. And since we can't rake play-chip games, resort fees are the only logical solution. Yeah, yeah that's the ticket. Oh, would you look at the time. I have to go. Severin Rasset awwwayyyyyyyy."
PokerStars VP of Communication Eric Hollreiser also responded to the public outcry saying:
"A lot of our customers aren't happy with these resort fees. And I can understand that. Sometimes, I'm not happy either. Just the other day I stubbed my toe and it was raining, so I definitely know what our players are going through."
New fees mark week's 8th PokerStars rake controversy
The resort fees announcement comes on the heels of the revelation that PokerStars has also begun charging a fee for the massages at EPT events. John Duthie expressed his outrage over this on Twitter, getting into the following heated back-and-forth with the online poker juggernaut:
John Duthie: All PokerStars LIVE events charge €2 a minute for an at-table massage. 50% of this PokerStars keeps! When I ran the EPT we kept 0%. #puregreed
PokerStars: Actually, we don't take 50% or anything close to it.
Duthie: Yah huh.
PokerStars: Nuh uh.
Duthie: PokerStars? More like Poker…Farts.
PokerStars: …
Duthie: ….
PokerStars: Touché, Duthie
Many perks with new PokerStars resort fees
It's not all bad news, however. In addition to exclusive access to the PokerStars software, the $65 resort fee grants you unlimited free access to the PokerStars spa and gym, both conveniently located on the Isle of Man. High-speed internet is also available free of charge to those players that achieve Supernova Elite status.
The poker world was definitely disappointed by this news, but reports are surfacing that many players have decided to simply blame Howard Lederer for this and just move on.
Will players continue to play on PokerStars? Will John Duthie ever be able to get a rake-free back rub? Will Severin Rassett ever become the hero we deserve? These stories and more next week on BCP, the most trusted source in news.
PokerStars has also announced they now charge for parking.