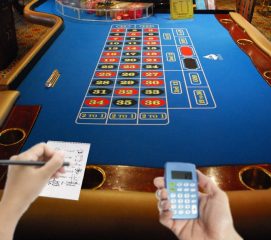 Philadelphia, PA – A roulette advocacy group has filed a motion in the United States Court of Appeals for the Third Circuit to have roulette declared a skill game.
Emboldened by similar arguments surrounding daily fantasy sports, the Skill Spin Institute is pushing for an injunction to stop legislation in Pennsylvania from omitting roulette as a skill game.
In the filing, attorneys for the SSI allege that roulette players are strategists who correlate their bet placements with the dealer's spin. Though any individual spin can land anywhere, skilled roulette players talk fervently about the importance of "patterns and cycles," otherwise known as "P & Cs."
"To the average gambler, it's all chance," said attorney Niels Pedersen. "But, once you see P & Cs and the predictability of the ball reverberations, you can spot where the ball probably will land – at least within 5 or 6 spots, anyway."
Pedersen also mentioned that millions of players play roulette each year and wager billions of dollars a year successfully. He dismissed questions about player win-rates as "wrong-headed" and "results-oriented."
Arguments in front of the circuit court are scheduled to begin in fall 2018. The court is expected to hear arguments from several key witnesses, including poker player Jake Cody.
Cody, whose bet of his poker winnings drew headlines last month, was mostly quiet about his upcoming testimony. However, he ended his statement with a cryptic line.
"Do you really think that I would've put it all on black if it was luck?" said Cody, smiling wryly. "P & Cs don't lie."