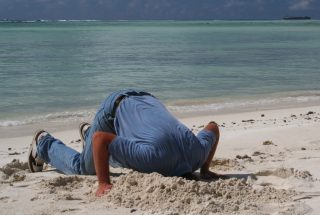 While many in the United States celebrated the Supreme Court's landmark decision on PAPSA, one group in particular was understandably freaking pissed — offshore sportsbooks.
Employees and stakeholders of unregulated and largely unlawful sportsbooks spent the most of the day on Monday finding their happy place and blowing into paper bags. We attempted to catch up with one employee outside a Costa Rica sportsbook who ran by us with their fingers in their ears simply saying something that sounded like "la la la la la la la la."
After many top executives spent Monday and Tuesday huddling in closed-door meetings to decide where they go next, multiple sportsbooks have reportedly come to the same conclusion — Utah.
"Look, our business survives on the incompetence of lawmakers to do nothing in regards to sports betting. We fully expect dozens of states to regulate sports betting in the next five years. Not Utah — those little stinkers have anti-gambling language in the constitution…LOL."
That's where we will put our focus going forward."
On something or on to something?
BonusCodePoker investigated the matter fully and discovered if they got every Utahan to become an active bettor on their sportsbook, they would still need to make up for another ten million or so customers. "Yeah, but we expect the rate of growth in Utah to happen exponentially given a Mormon birth rate that is over 60% higher than the American average."
After BCP complimented the executive on his prowess on Utah demographics, the executive said nothing more but proceeded to tap his index finger to his head repeatedly.
We were also able to catch up with a separate sportsbook owner/operator who mentioned offhand how the company may be able to leverage the citizen's penchant for missionary work to recruit new customers. "I don't want to give away any trade secrets, but we have a few ideas up our sleeves."
But then he kept going. "These are the nicest people you will ever meet on the planet. You can bet those guys wont be walking away without the solicitee signing up for a 5 Dimes account."