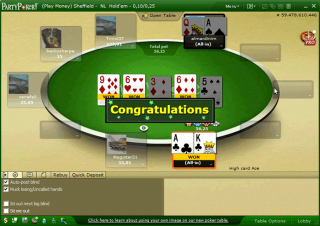 UNITED KINGDOM —  The "Congratulations"  – a message that appears after players win a hand at Party Poker – has been a part of Party since 2001.
But players are starting to question one of online poker's oldest traditions.
"I was playing micro-stakes on Party yesterday to kill time," said long-time Party Poker customer Mike Trello.
"I stole the blinds –  woo-hoo,  a massive .06," Trello continued. "But it's the same "Congratulations" anyhow, like I had just triple-barreled Ivey or something."
"I mean, how happy could they really be for me? It just kind of seemed sarcastic."
Other players took Trello's feelings a step further.
"I can't prove this," said online pro Tom Petarsual via IM chat, "but sometimes when I multi-table  I swear I catch the final flicker of the "Congratulations" on a table where I  just  folded to an obvious river bluff or timed out with aces."
"So I'm turning it off … now," typed Petarsual. "But uh … ok, I just won a hand, and, [expletive] me, there it is again … and it's sort of … pulsating, I guess … what's that, Congratulations? You want me to what?"
"I've … I've got to go now," Petarsual typed before abruptly signing off.
But not all players feel negatively about the Congratulations.
"I think it's just terrific," said folksy poker pundit Shepard Hayworth.
"It reminds me of a simpler time before your PokerTrackers and your CardRunners – you know, when a preflop three-bet really meant something," Hayworth mused.
"Back then, if someone had asked me what G-Bucks were, I would have guessed … maybe some sort of fiat currency at a hip-hop themed amusement park. And hand ranges? I'da supposed you meant a wee tiny little cooktop."
Repeated attempts to contact the Congratulations for comment were unsuccessful at press time.