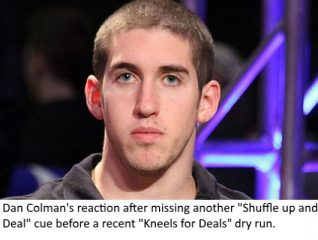 LAS VEGAS – A group of poker players has announced that they will kneel during every tournament director's pronouncement to "shuffle up and deal" from now on. The group has pledged its solidarity with similar groups of sportsmen in American football and basketball leagues.
Kneels for Deals is a consortium of top pros who are like-minded about free speech and civil rights – players like Daniel Negreanu, Dan Colman, and oddly enough, Phil Hellmuth. The group plans its first major appearance at the upcoming WPT Lucky Hearts Open at the Seminole Hard Rock early next year.
"We think it's an important issue, and we want to do our part," said Negreanu. "Right now, our biggest challenge is the logistics of the protest, rather than the ideals we support."
The kneeling is proving to be challenging
The logistics in question has to do with the act of kneeling during the tournament director's announcement. Negreanu stated that they didn't anticipate how quickly most directors can usually say those four words aloud.
As a result, some early dry runs have yielded protests which consist of slight movements into a kneeling position. Unfortunately, these motions have given other players the impression that protesters are performing a curtsy to the table.
"We're working on it," said Colman, in between sets of squats. "The key will be the mixture of preparation and timing to pull off the full kneel."
Colman also said that tournament directors could help by making an announcement or signaling their intention to start the tournament more clearly. Kneels for Deals is trying to make the process easier on everyone by designing auction-style signs for TDs to raise when preparing to say the phrase. The signs will say KFD on them, along with the Kneels for Deals logo – Atlas struggling to hold a poker chip aloft.