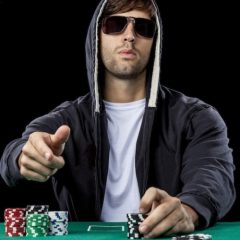 Las Vegas, NV – John Harrison has been a poker pro for 12 years, but has recently told BonusCodePoker he has decided on a more conventional route – a traditional job.
"Poker's been great. I've made a good living and lots of friends, but I think it's time to move on."
Smith has been in a relationship for over a year, and his girlfriend has encouraged this change.
"Rachel has a day job so it's tough to see each other as much as we want with games mostly running at night. Plus, we're thinking of having kids — probably four or five." Harrison also mentioned to BCP that at the top of his list he craves some stability and most importantly dental insurance.
We asked John what field he planned on pursuing.
"Well I'm not sure yet. I dropped out of college when I started doing well online, but I've got tons of business experience. As a poker player, you need to understand money management, psychology, game theory, statistics, getting along with others…"
Several minutes later, the list ended.
"I've made low 6-figures for the last 7 or 8 years, which isn't so much, so I'm sure someone will take a chance and pay me about that considering how much I've learned and done." Harrison proceeded to explain what he was looking for. "I want no boss,
The above interview was conducted 4 years ago. John is still looking forward to his real-world job. He's no longer seeing Rachel, who left Harrison 3-months after buying Bitcoin at $19,000, and could not be reached for comment.
Today, John can be seen in and around the mid-stakes cash games of Las Vegas from 2 PM to 6 AM.