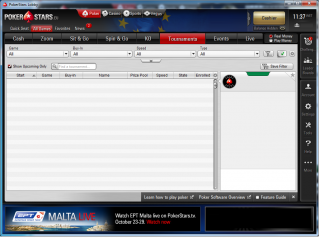 Big news from the Isle of Man this morning as online poker juggernaut PokerStars has decided to eliminate all features from their software except for the one where people hand them money.
Amaya's stock is predicted to rise over 25% for a few days before crashing back down again at the end of the week.
When pressed about the new changes, one PokerStars executive defended the software change. "Let's not overreact. There are still plenty of buttons left. You can still log in, we still let you quit the software… um let's see… you can change your password still. So, ya know, those are buttons."
PokerStars' statement on the new software
Amaya VP of Corporate Communications Eric Hollreiser spoke to BCP about the exciting new changes.
"Our new model is all about the recreational player. And what is the first thing new players do on our site? Deposit. We want to recreate that initial adrenaline rush again and again for them.
"Our research shows that since most players lose money long-term, we could cut out the areas of the poker where those losses take place. The data shows that when players lose at poker, they are losing exclusively at cash games, multi-table tournaments and Sit & Go tournaments. So why have those features or areas?
"This way players can sit down, deposit whatever amount they're comfortable with, and then go on about their day without ever having to leave home. The process shouldn't take more than 5 minutes."
Poker pros weigh in
Team PokerStars Pro Daniel Negreanu adamantly defended the new changes on Twitter, proclaiming:
But
several professional players
took to social media to cry foul at the new changes.
Justin Bonomo
described the changes as "outrageous" and "the biggest micro-aggression" he has ever seen.
Poker pro Dani Stern began a petition to boycott PokerStars that has so far garnered over eleven signatures.
And 2016 November Niner Griffin Benger tweeted to PokerStars to "CHECK YOUR PRIVILEGE" several times, although most people aren't entirely sure what the hell he's talking about.
The changes went into effect this morning at 3am, and players will not be able to withdraw existing funds in their accounts.
Despite there being no more players, tournaments or indeed games running of any kind, Fedor Holz somehow still managed to win $2.1 million.