Las Vegas, NV – With news of his World Series of Poker Main Event bracelet being auctioned off last month, poker pro Tom McEvoy has once again made headlines. The 72-year-old champion announced via his publicist (and also a flyer stapled to a telephone pole) that he would be auctioning even more collector's items to the public.
Among the items listed include a 1992 Magnavox VCR, a Sony portable stereo or "boombox" and one-of-a-kind HomeLite Weed Whacker.
Why McEvoy is selling off his wares
During yesterday's press conference, McEvoy explained his motivations for selling these one-of-a-kind items:
"After posting my Main Event bracelet on the Electronic Bay, the public's response was overwhelming."
"Thousands bid on that piece of poker history. And after I sold it for a cool two grand, I realized that the people are champing at the bit for all things McEvoy."
McEvoy added that he hopes the VCR will sell for upwards of $10,000, but will also gladly accept six dollars or maybe a double cheeseburger.
All of the items have been personally autographed by McEvoy and have a few PokerStars logos hand-drawn on them somewhere.
More auction information
McEvoy announced that he plans to donate all the money from this weekend to himself.
"We'll see how this auction goes, but the sky's really the limit for selling these things. I mean, why stop with my VCR!? I've got VHS tapes, a 2004 Windows desktop, Encyclopedia Brittanica, the list goes on and on!"
The auction will take place this Saturday in McEvoy's garage. The opening bids will begin around 8am and go until Tom is ready for his nap. One passer-by standing near the flyer seemed pretty excited about the upcoming sale.
"These items are a collector's dream. Anyone, poker aficionado or not, would be thrilled to add them to his or her collection," said the Tom McEvoy-shaped-man wearing a trench coat, sunglasses, and hat.
About Tom McEvoy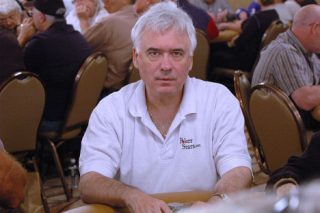 McEvoy holds the record for consecutive WSOP Main Events played at 35 in a row.
In addition to his 1983 victory, he also cashed in 2006 and 2016.
McEvoy is a 4-time WSOP bracelet-winner and also a 4-time WSOP bracelet-seller.
He won a Professional Poker Tour title in 2005. Remember the PPT? Holy shit, I had forgotten about that.
McEvoy was inducted into the Poker Hall of Fame in 2014. And according to him, his boombox was recently appraised for $75 billion.