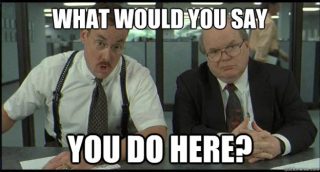 Editors Note: We believe Pete Carter was highly intoxicated when he made this post. Thus his views and positions expressed here do not necessarily represent those of BonusCodePoker, our business partners and affiliates, the poker community, Pete Carter or really any other human being.
Reading between the lines of a recent announcement from the Poker Players Alliance I was left with just one glaring thought — the Poker Player's Alliance is in deep shit.
Indeed, it looks like the poker advocacy group is facing tough times. Executive Director John Pappas has announced his departure and now they must raise $25,000 by the end of March. And since all poker players are either broke, in the midst of a downswing or losing their net worth trading crypto, good fucking luck with that.
But the $25,000 they need is like 2.5 Bitcoins. Seriously, you wouldn't fucking save the PPA – and possibly poker in the USA for 2.5 Bitcoins? You'd think PokerStars at the very least would finally do some good and front the money. Hell, they're giving away 30k Platinum Passes like they're fucking 20% Bed Bath & Beyond coupons. And don't give us this "we bailed out basically everyone since Black Friday" crap.
So, hot take here — unless Fedor Holz happens to see some sappy late night "Sponsor the PPA" commercial asking him to donate just $1,000 a day, the PPA is deader than Eskimo Clark come March 31st.
Controversy at the PPA
Of course, some in the poker community have questioned what the actually the PPA actually does. I'll tell you what — they wear ties and mug for pictures with other people wearing ties. And more importantly, they send tweets. It's these tweets that have brought regulated gambling to New Jersey, Nevada, some other state and Pennsylvania. That's progress, motherfucker.
And who the hell is going to do all that after March 31st? You? You can't even forward an email to your congressman or like one of Rich "TheEngineer" Muny tweets? Don't lie, Muny has reminded you 386 times over the last decade to forward an email to your representatives, and you never did. You didn't do jack shit except complain about Bill Frist, Lindsey Graham and Sheldon Aldelson while striking a match to your bankroll on Lock Poker. And no, relentlessly encouraging your unemployed roommate to vote for Ron Paul back in 2008 DOES NOT COUNT.
Also, if we lose the PPA, what the hell is the PPA's tireless leader, TheEngineer going to do? Head the Roulette Player Alliance? Organize a 1 million poker player march — complete with 2 million man boobs — to protest the UIGEA in DC this summer? And if he did, would you and your man boobs even show up?
So if you can, please donate to this goddamn organization. Listen, it's kind of like global warming. Maybe donating time and money to the cause will help, maybe it won't. But if you don't do anything, you'll be fucked anyway. And please don't think about where your money will go if they don't meet their target. You'd have probably donked it at a 2/4 game anyway. At the very least, think of it as treating TheEngineer to a Netflix subscription for April.
Final Thoughts
If worse comes to worst and the PPA does not survive, lets all agree it was a hell of a run. To be completely honest, I don't really know if the PPA did any good either, but they did provide solace that better days were ahead. In the wake of Black Friday, only the PPA's assurances insisting that we would have online poker by 2030 would get me through those dark days.
To John Pappas, Rich Muny and I'm sure hundreds of employees that will be out of a job (correction: actually 2), I thank you or doing the job that 5 million lazy ass degenerate poker players — and 10 million man-boobs — could not.
Your mission is "proud to play" and today as I sit here, I have never been more proud to say – I did my part by liking one of your tweets.