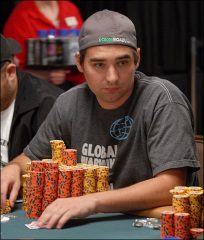 Washington, D.C. – After an extensive vetting process, 45th President of the United States Donald Trump has nominated professional poker player Brandon Cantu for Secretary of the Treasury.
Cantu has been a professional poker player for several years and was a member of Team UB before the site's shutdown after Black Friday.
He has two World Series of Poker bracelets, one World Poker Tour title, and three overdrawn checking accounts.
Trump pleased with nomination
While the move seems both controversial and counter-intuitive, President Trump seems very pleased with the decision:
"Listen to me. Brandon and I have been very close for years. He may be the best poker player in the whole world. And I know all of them. Every single one. Brandon's played in all of my very classy, very luxurious casinos. He's a classy guy, believe me. And I know people. I know everyone. Everyone that's ever lived. I know them."
Cantu is best-remembered for his deep run in the 2008 WSOP Main Event, his most memorable hand being the one where he 3-bet 10-5o and then called a cold 4-bet all-in. His opponent had pocket aces. Brandon would go on to finish in 20th place.
The President has come under fire recently for making cabinet appointees that seemed ill-prepared for their specific roles in our government. Several members of the media, along with multiple poker players, came forth to dispute Cantu's nomination.
Nolan Dalla called the nomination "despicable" while Lance Bradley said Trump's decision was "very disappointing." Several well-known poker players just mumbled "standard."
Brandon Cantu and Jason Mercier's loan dispute
Jason Mercier voiced his frustration on Twitter saying, "This guy is a JOKE. He's owed me $15k Euros for five years. And he keeps making excuses. Marshmallow and I are furious."
Cantu responded by saying it was a usury loan and by asking Mercier for more money.
President Trump has been displeased with what he calls a biased media and fake news. When pressed to expound upon Cantu's selection, the President was quick to remind reporters that this was simply a nomination.
"Listen. All of my cabinet positions are made for the American people, alright? Brandon has proven himself time and time again. We've assembled a special committee to vote on his nomination and to determine if he is classy and dependable enough to join our team.
"That special committee was hand-picked by me personally. And I have very big hands. I think you'll be very pleased with the committee. It consists of Erick Lindgren, Chino Rheem, Brad Booth, and Ray Bitar. It's really amazing. Everyone loves it."
When asked for comment, poker pro Cate Hall literally exploded, destroying a small village.
The committee will convene next Thursday and is expected to spend several hours playing open-face Chinese before heading to the sportsbook.