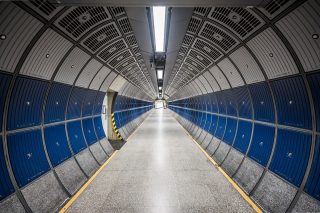 Las Vegas, NV – The Venetian Hotel and Casino announced this morning that it will provide players with refreshments as they make their way to the Sands Expo Hall. Players will be better able to gauge the long walk to the showroom and avoid any health-related events due to the extreme distances.
"It's a long way," puffed Larry Candela. "I didn't come to Vegas for a damn stress test."
Travel within the massive Las Vegas casinos can be a challenge for anyone. However, the pathway to play any large events at Venetian involves two extremely long hallways and a huge lobby.
Most poker players are not noted for their physical preparation. Many participants are casual in both dress and physique.
Medical problems causing headaches for Venetian personnel
As a result, players have been grossly unprepared for the impromptu physical element of playing one of Las Vegas' many side tournament series. Some have have suffered medical problems en route to Sands Expo G.
"We've had to update our procedures for medical personnel," said Tom Ehrlich, head of security for Venetian. "We didn't anticipate calling paramedics five or six times a day to deal with collapsed poker players."
Las Vegas emergency services finally established a temporary base of operations at Venetian to improve response time. Medical personnel have issued a nationwide request for oxygen tanks, cooling vests, and water. The National Guard is also being considered to ease the burden on local first aid workers.
"We're just trying to combat the problem until the series ends," said paramedic Jeff Treadway. "We didn't know that Venetian was going to expect so much physicality out of its poker players."
Treadway added that he was confident EMTs would be better prepared next year. He then excused himself to render aid to a new client, who pitched forward in front of us in a heap of sweat, Hawaiian shirt, and Cool Ranch Doritos.