Whoever takes down the Main Event of the 2012 WSOP will be looking at a pretty sweet payday – one source puts it at $8,527,982. While that number will inevitably be whittled down by taxes (probably), backers, child support, impulse purchases of beats headphones – whatever – let's pretend it won't and imagine what you could buy if you were the last person standing at the 2012 WSOP Main Event.
#4. 35 Years of Playing All of the WSOP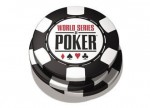 Of playing every event, that is. Assuming every year is like 2012 and that you don't count the Big One for One Drop, it would cost you $237,500 to play all of the bracelet events each year – meaning your $8.5 million could cover 35 years of buy ins and still leave you with enough left over for a few dozen snappy hoodies and caps from the WSOP gift shop.
Of course, if the One Drop catches on and escalates in the years to come, $8.5 million might not even be enough to enter that tournament by 2017 or so.
#3. The Town of of Pray, Montana and One Year of Harvard for Everyone in It.
The town was recently / may still be up for sale. With just a few buildings and about 197 residents spread out over five acres, the WSOP winner could scoop it all up for $1.4 million and, according to our calculator (a regular one, your odds calculator won't work for this), still have enough left over to pay each and every resident's way through one year of Harvard.
You'd need to win a couple more times to see them through the whole four years.
#2.  Nose Jobs For Everybody!
… or at least 1,976 of your closest friends.  Or you could have your own done that many times.  However you slice it (ouch), with an average cost of a nose job sitting right around $4,300, you could afford a new nose every day of your life for the five and a half years following your epic WSOP victory.
Perhaps a more germane surgery for the winner, however, would be male breast reduction surgery; with an average cost of $3,282 per procedure, the 2012 Main Event winner could banish a total of 5,223 man boobs from the face of the earth.
#1.  A Gently-Used Jet Engine
They might even knock a few bucks off for you.  Warranty not included.