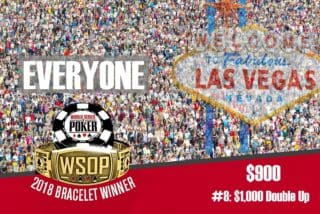 Las Vegas, NV – Wow, one of the marquee events at the World Series of Poker concluded last night and basically everyone in the world has a bracelet now.
The WSOP Event #8 Double-Up Tournament featured at $1,000 buy-in, had 3,200 unique entries, and was just an absolute shit show.
The storied background of Double-Ups
Double-Up tournaments or Double or Nothing tournaments became very popular on PokerStars a couple of years ago, even though I'm sure they started on Winamax or 888 or something. Who cares anymore. Anyway, the concept is exceptionally self-explanatory, but we'll explain anyway because we get paid per word.
Double Up tourneys pay half the field. And everyone makes roughly double their money. For example, if you bought in for $20 on PokerStars and finished in the top 5 of a 10 person sit-n-go, then afterwards PokerStars wouldn't pay you anything because they'd accuse you of using a VPN.
Recently Double or Nothing tournaments have come under fire because they lend themselves to collusion and soft play amongst friends, teams of players, and bots. When ACR got news of this behavior, they immediately launched Double-Up tournaments on their site.
Everyone.Gets.A.Bracelet. – Oprah
The final 178 tables of the WSOP event were all streamed simultaneously on PokerGo with Ali Nejad commentating on all of them at once until he had to be carted to the hospital for exhaustion.
Old school pro Sammy Farha was the unfortunate bubble boy when he called all-in for 55 blinds with pocket threes.
"You have to gamble to win, boys," he said smiling, an unlit cigarette betwixt his lips, his collared shirt opened at the top, and a twinkle in his eye. Sammy's opponent turned over a royal flush and Sammy left the Rio, but not before punching a cell phone battery salesman right in the mouth.
Tournament Director Jack Effel had this to say, "I view yesterday's tournament as a huge success. Look, each year we give out like 200 of these bad boys, so what's 1,600 more? In the cosmic sense of things, does any of this really matter?"
The bracelet ceremony took place this morning, and went off without a hitch. A giant brass bathtub filled with WSOP bracelets was erected on stage and anyone could come by and take one if they wanted. The 1600 winners represented 115 different countries and include a blind man, a 98-year-old woman, an actual baby, and Libratus.
Several notable players also won bracelets including Phil Ivey, Phil Hellmuth, Daniel Negreanu, and Dmitri Nobles.
Sadly, because of the rake, all winners actually lost money on the event.