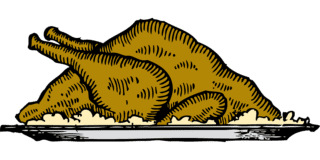 It's that special time of year again when our American readers give thanks that their ancestors were able to conduct a genocide and go on to found the Land of the Free*; they'll celebrate by gorging themselves on roast turkey and lapsing into a food coma before going out and murdering one another over retail prices the next day.
In seriousness, though, Thanksgiving is a very important holiday. It gives us time to reflect on what we are thankful for and consider those people and things in our lives that we truly love and without whom we'd be worse off. Though, to be honest, we're mostly in it for the food.
That being said, we wanted to take some time out and ask you, our readers, what you are thankful for on this blessed day.
*Land of the Free to do anything except play online poker using money that you earned and paid tax on. Gambling isn't safe for children and is immoral. Buy an assault rifle instead.
What BonusCodePoker readers are thankful for
I'm thankful to be able to play poker online via a safe and regulated operator

– Non-American poker player
I'm thankful that I can win a World Series of Poker bracelet and not pay tax on the value of it.

– Non-American poker player
I'm thankful that my nearest Omaha 8 game is only a sixteen-hour drive away.

– American poker player
I'm thankful that I can withdraw from a poker site with a bank transfer. What is this cheque of which you speak?

– Non-American poker player
I'm thankful that if I win a tournament, I get to keep all the prize money.

– Non-American poker player
I'm thankful that my government protects me from myself and doesn't let me gamble my own money.

– No American ever