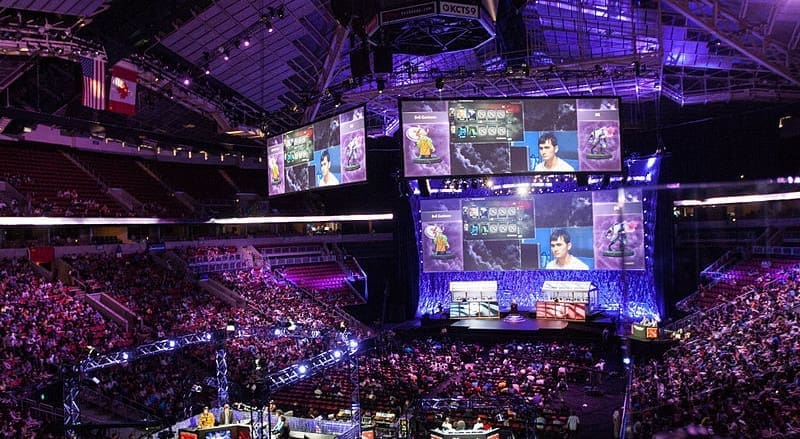 There was a time when the general feeling about computer geeks and wizards was that they would inadvertently hack into the weapons systems at the Pentagon and accidentally set in motion events that would trigger World War Three.
Then Bill Gates came along and instead, decided to earn enough money to make Croesus blush.
Suddenly, being a computer whizz didn't look quite so nerdy after all.
Steve Jobs then discovered making items and charging people a fortune for the prefix – I – was another smash hit winner and whether it was pods, pads, macs or phones, another computer geek was taking home a paycheck that looked like a social security number every month.
However, it was the development of console and PC gaming in recent times that have changed the ballpark once again.
Those kids that were once roundly mocked and bullied have now found their niche market as key players in the burgeoning esports industry.
Just as it was once sports stars and film stars that were mobbed by adoring fans, so too now are the very best esports players starting to become recognised.
In South Korea for example, the top esports players are mobbed when out in public and they are as famous as any K-Pop star or sporting hero.
Esports has facilitated this and the big news is that it is already happening. North America, Europe, Asia and indeed all parts of the globe has a healthy and burgeoning scene and it is growing still further.
Of course, an offshoot of this is also the esports betting industry, which has now developed into a living and breathing beast in its own right.
Esports betting is, like Eddie Murphy, coming to America, but it is coming slowly as states start the process of offering this type of betting to customers.
It's already available in some states, such as Nevada, New Jersey, Tennessee and West Virginia and more states are in the process of legalizing esports betting over the coming weeks and months.
So in order to ensure you are ready for the forthcoming esports betting boom, here's everything you need to know about esports betting!
What is an esport?
An esport is a computer game that can be played by an individual or a group of players against another individual or group in a competitive environment where the aim is for one individuals or group to beat the other.
In some esports, it is a case of one team or individual facing off against another, whereas in some esports multiple teams and individuals can compete at the same time.
However, to really become an esport of note, a game has to enjoy popularity with players all across the globe.
It is when this occurs and online tournaments begin to be contested, with sponsors offering money for the winners, that a computer game moves from simply being a piece of software into being a legitimate esport.
It is the games that have truly national and international appeal that become the giants of the esports scene and of course, as new games are developed over the years, the list of popular esports games keeps growing.
What are the esports that I am likely to find betting on?
Esports betting tends to be available for the most popular esports, although the number of esports you can bet on has increased markedly over the last few years.
The esports that you will most likely find betting available for are the following. I have also listed the acronym commonly used for each esport and given you a brief description of each of the esports listed below:
Counter Strike: Global Offensive (CSGO or CS:GO)
In this popular esports, there are many different games possible but the most popularly-played game sees two teams of five players (terrorists and counter-terrorists) competing against each other across various maps looking to either complete or stop a task (such as planting an detonating a bomb), or more usually, eliminating all the other opponents on the other team.
This first-person shooter is probably the esport with the most tournaments and it enjoys a great deal of support all over the world.
Biggest tournaments include the Valve Majors (which boast prize pools of $1,000,000 or more), DreamHack events, Intel Extreme Masters, BLAST Premier, ESL Pro League and cs_summit.
Top teams to watch include Natus Vincere, FaZe Clan, G2 Esports, Astralis, OG, Ninjas in Pyjamas and Vitality Esports.
League of Legends (LoL)
League of Legends is arguably the most popular esports in terms of players and viewership. It is a multiplayer online battle arena (MOBA) game which features teams of five players competing against each other to eliminate the other team by destroying their Nexus.
Each player on a team has a specific role within that team and can select from a wide range of 'champions' to play as in the game. Each champion has their own strengths and weaknesses which a player can utilise against their opponent.
The top tournament in LoL is the World Championships which takes place once a year with a multi-regional qualifying tournament for the World Championship taking place across the spring and summer (called the Spring and Summer splits).
Teams from China and South Korea are particularly strong in League of Legends, but there are also strong teams from North America and Europe too.
Top teams to look out for include G2 Esports, PSG Talon, T1, Royal Never Give Up, Gen.G Esports, DAMWON Gaming and Fnatic.
Overwatch
Overwatch is kind of a mix of CSGO and LoL in that you get to select from a range of characters to play as, but the game is a first-person shooter set in space and where your characters have a wide array of skills and weapons to try and lead your team of five to success.
The major tournament for Overwatch fans is the Overwatch League (OWL), which features 20 franchises competing against each other across the season to earn a spot in and then hopefully win the end of season playoff.
Teams in the OWL are planned to be located in cities across the world and include teams in the United States, South Korea, China, Canada, France and the United Kingdom.
Shanghai Dragons are the current Overwatch League Champions.
Dota 2
Defense of the Ancients 2 is a very similar game to League of Legends and while it is not quite as popular in terms of number of players and streamers, Dota 2 does attract some of the biggest prize pools in esports.
Dota 2 is a MOBA game that also allows players to select from a group of heroes to represent them. The game is played usually in teams of five, especially for the top esports events.
The biggest esports tournament in terms of cash prizes is The International and it is one of a number of big money tournaments that the top Dota 2 teams can compete for. Others include the ESL One events, the WePlay Majors and the recent Gamers Galaxy invitational in Dubai.
Top Dota 2 teams include PSG.LGD, Team Spirit, T1, Virtus Pro, Team Liquid, Invictus Gaming, Team Secret and Vici Gaming.
Rocket League
One of the more unusual esports, Rocket League is essentially like playing a game of football with two players on each team, only the players use vehicles to propel the ball around the arena to try and score goals.
The game has grown in popularity over the years and has become a bona-fide esports, boasting its own World Championship, which has a prize pool of over $2 million, plus a couple of Major events in the Spring and Winter which gave prize pools of $300,000.
Top Rocket League teams include G2 Esports, FaZe Clan, FURIA Esports, Team Secret, Team Queso, Team BDS, Evil Geniuses, The General NRG and Spacestation Gaming.
Call of Duty (COD)
One of the most famous console games now has a large following as an esport, chiefly down to the popularity of the Call of Duty League, which is a mirror competition to the Overwatch League.
The game is a first person shooter but is based more on earthly-based combat, rather than using aliens or supernatural creatures.
12 teams compete in that tournament from around the UNited States, Canada, France and the UK, plus the Call of Duty World Championship is set to take place in December 2022 and features a prize pool of $1.7 million dollars.
COD events are usually organised by Console, Mobile and PC events, although some big events include more than one type of equipment.
Top teams include Los Angeles Guerrillas, London Royal Ravens, Minnesota ROKKR and Toronto Ultra
FIFA
FIFA Football is EA Sports annual soccer title (although the name may well be changing shortly due to licensing issues with FIFA). Most esports tournaments tend to use the most recent release of the game, which at the time of writing is FIFA 22.
FIFA events are individual events where one player plays as a team against another player and FIFA have developed its own esports series of events called FIFAe which allows players to compete in a number of tournaments, many of them based on real world soccer tournaments such as the World Cup, Champions League, Premier League and more.
Top tournaments include the FIFAe 22 Global Series, the eChampions League, the FIFAe Continental Cup, the FIFAe eWorld Cup and the EA Champions Cup.
Rainbow Six Siege (R6)
Another team-based first person shooter in a similar style to Call of Duty and CS:GO, but perhaps not as popular as either of those titles.
Despite that, there is a burgeoning Rainbow Six esports scene with the Six Invitational being a massive tournament featuring over $3,000,000 in prize money.
There are also a number of Majors throughout the year, played at a different venue around the world, plus a Six World Cup.
Top teams include Team SoloMid, Team Empire, FaZe Clan, MIBR, Natus Vincere, Soniqs, Team Liquid and DAMWON Gaming.
StarCraft II (SCII)
StarCraft II is a space strategy game by Blizzard entertainment which pits one player against another as one of three different races of creatures, Zerg, Terran or Protoss. There have been several expansion packs for the game over the years and it remains very popular, especially in Asia.
Top tournaments include the Intel Extreme Masters, Global StarCraft II League, SC2 Masters and the DH SC2 Masters.
Top SCII players include Serral (Finland), Maru (S.Korea), Rogue (S.Korea), Zest (S.Korea), Reynor (Ita) and Neeb (USA).
Hearthstone
Hearthstone is a free-to-play turn-based card game that uses the characters, relics and elements of the original Warcraft game series.
There are a number of big tournaments held each year for Hearthstone players including the World Championships as well as the Masters Tour and Grand Masters events.
Player Unknown Battlegrounds (PUBG)
Player Unknown Battlegrounds, or PUBG as it is almost universally known is a battle royale game which pits a large number of players against each other in a one v all battle to be the final player standing in the game.
Popular on consoles, PC and mobile devices, the game has a Global Championship every year, which had a prize pool of over $4 million last year, plus there is also a lucrative Nations Cup tournament held each year and a regional PUB Continental Series of events in Asia, Europe, the Americas and Asia Pacific.
Fortnite
Fortnite is another battle royale game which features a shrinking battle arena and players battle against each other to be the last player standing in the game.
The game proved to be a smash hit success upon its release and its popularity led to other first person shooter games, such as Call of Duty, launching their own version of a Battle Royale game.
Top tournaments include the Fortnite Championship Series which has Grand Finals contested all over the world, some of which have prize pools of over a million dollars to be won.
This list is not exhaustive and there are other esports tournaments and events that you may find betting on when they are taking place, such as Formula 1 Esports races, combat games, such as Streetfighter, Mortal Kombat or World of Tanks and NBA esports Basketball tournaments.
Can I trust the betting odds on these events? Isn't esports easy to cheat?
The top level esports industry is now a multi-billion dollar industry in much the same way as the NBA, NFL or Major League Soccer is.
As such, there are stringent measures in place both in terms of the software and in the organisation of tournaments to ensure that all the top esports tournaments are entirely fair and legitimate.
In truth, the penalties for somebody trying to cheat at an esports tournament are so tough, that nowadays nobody would even consider doing it.
Total lifetime bans are not unusual for players found to be cheating or involving themselves in gamesmanship of any form.
Together with the introduction of drugs testing at top events, and strict regulations in place for how often and far players can travel to play, the industry is as strictly regulated as professional sports and that means that any betting markets you can find on esports, are going to be a fair reflection of the game.
What esports betting markets are available?
The types of betting markets you will find for esports will vary from event to event, but in general they are similar to the markets you would find on a typical sports game, such as soccer or American Football in that they are contextual based on each esport.
So that means you can bet on the winner of a match up, but you can also bet on which team or individual will be the first to perform a certain task required in a game to become the winner, such as killing a dragon, scoring a goal, or casting a particular spell.
As the industry has grown and expanded, the number of markets available on individual matches has increased, as has the number of tournaments you will find betting for.
As expertise in the industry has grown, so bookmakers have increased the number of markets available, which means that punters now have the widest choice of bets available for esports than there have ever been.
Where can I follow esports?
Some sites, such as bet365 Sports, will offer live streaming on site of certain esports events, but you can also use dedicated streaming services, such as Twitch TV or YouTube in order to watch events live that you have bet on.
You can also bet on esports in exactly the same way as you would place a standard sports bet.
You don't need any extra cash, or a different account, your standard betting account is used for your bet and the same method of selecting bets (clicking on the odds to add it to your bet slip) is the method by which to place a bet.
Esports betting will be big wherever you are, so why not check out what markets are available in this new and modern form of betting?
FAQs
Esports are games played over a computer or console that see players compete against each other, usually for a cash prize or similar.
Yes, depending on where you live, you can bet on esports and more places are now allowing esports betting.
What are the most popular esports?
There are a large number of esports but the most popular are League of Legends, Counter-Strike Global Offensive and Dota 2.