GGPoker Review – How To Get Up To £60 In Free Tickets
GGPoker is an action-packed online poker room with a hell of a lot going on. Originally targeted at Asian players, now you can play in other regions. It's a very popular poker site right now, thanks to its myriad of cool features, including webcam online poker SnapCam.
When you sign-up to GG Poker, you can choose one of two offers:


Here's why – The site holds the official Guinness World Record for the Largest Prize Pool for an online poker tournament, set at $27,559,500 on the 6th September 2020.
So yes, there's a fair bit of cash floating around GGPoker at any given time!
Another positive is that there is a wide selection of promotions readily available on the site, as well as a ton of tournaments, sit & gos, and a choice of cash tables.
Within those broad forms of online poker are a wide selection of different game formats and types including versions of Omaha, All In or Fold, Bounty Hunter, 6+ Short Deck, N-Stack, Freezeout, Rebuy, High Roller, Mystery Bounty, Turbo, Shootout, Chinese Zodiac, Omaholic and various satellite games too.
Suffice to say, with this many options, you will likely be able to find your favorite game on GGPoker!
The new player offer is another great reason to sign up for GGPoker. If you sign up, your welcome bonus is a choice between a sweet £60 in free tickets, or you can take a matched deposit worth up to $600!
So why not sign up to GGPoker now and take your pick of the pair of Welcome Bonuses available right now?!
GGPoker Bonus for September 2023
What better way to be welcomed into the GGPoker family than with a juicy sign-up offer? New signups on GGPoker have the option of two different bonuses- either £60 in free play or a matched deposit up to $600.
That's a pretty tasty return on your first deposit of just £10 or more, don't you think?
How to claim your bonus at GG Poker UK
Follow these simple steps to select your choice of GGPoker bonus.
Either download the GGPoker app for Android or iOS devices or head to the GGPoker website.
Click on the option to sign up and enter the required details to register on the site.
Once you are confirmed as a member, head over to the deposit section and make a deposit into your account of at least £10.
Select whether you want the £60 Free Play Bonus or the Matched Deposit bonus of up to $600.
Your bonus will then be applied to your account (see below for more information on how your receive each bonus)
Regardless of which bonus you pick, you will also then get a special welcome bonus of 50 Free Spins on the Daniel Negreanu's Fish Buffet slot!
It is worth noting at this point that while some of the bonus values are shown in pounds, the standard unit of currency used on the GGPoker site is the US Dollar ($), and the values used on-site for bonuses and to show how much money remains in your account are displayed in US Dollars.
£60 Free Play Bonus
The £60 free play bonus comprises a number of different Spin & Gold and All-in or Fold Sit 'n' Go tickets over your first six days as a customer on the site.
Here's how it breaks down:
| Days | All in or Fold SNG | Spin & Gold | Extra AoF Challenge |
| --- | --- | --- | --- |
| Day 0 | 6 tickets worth $11 | – | Play 100 AoF Hands, Get C$2.50 |
| Day 1 | – | $5 Spin and Gold | Play 500 AoF Hands, Get C$10 |
| Day 2 | 5 Tickets worth $6.50 | $5 Spin and Gold | Play 100 AoF Hands, Get C$2.50 |
| Day 3 | 5 Tickets worth $6.50 | $5 Spin and Gold | Play 100 AoF Hands, Get C$10 |
| Day 4 | 5 Tickets worth $6.50 | $5 Spin and Gold | Play 100 AoF Hands, Get C$2.50 |
| Day 5 | 6 Tickets worth $9 | $5 Spin and Gold | Play 1,000 AoF Hands, Get C$10 |
| Day 6 | 6 Tickets worth $13 | – | – |
| | | | |
| Total | $52.50 | $25 | $37.50 |
100% up to $600 matched Deposit Bonus
As an alternative, if you want to start off on GGPoker with a bigger bankroll, then the 100% up to $600 Matched Deposit Bonus is the way to go.
Those choosing the matched bonus can receive a bonus up to $600.
For every dollar deposited GGPoker will match it up to a maximum bonus of $600. So to claim the full bonus, you'd need to deposit $600 or the equivalent value in £ or € or similar currencies.
However, what makes this offer truly special is that you do not have to make the $600 worth of deposits in a single transaction.
You have 60 days from the date you open the bonus with your initial deposit to make additional deposits which will still qualify for the 100% Matched Deposit bonus!
This means you could make 2 deposits of $300 in value over those 60 days, or even 60 $10 deposits, or 30 $20 deposits. Provided it is within those first 60 days, you'll still get the bonus added to your account!
The bonus is then released to you at a rate of $1 for every $5 that is paid in rake and tournament fees. You have 90 days within which to unlock your bonus balance into cash.
GGPoker standard rules apply. Play responsibly. www.begambleaware.org.
Extra All-in or Fold Challenge
Additionally, alongside the $77.50 (£60) bonuses you receive from this offer (plus the Free Spins) you can also earn an extra $37.50 worth of bonuses with the Extra All in or Fold Challenge each day.
Play 100 AoF Hands on Registering and Deposit Day, Day 2 and Day 4 of the bonus and you will receive $2.50 in bonuses on each day.
Play 500 AoF Hands on Day 1 and Day 3 of the bonus period and you will get $10.00 in bonuses on each of those two days.
Lastly, play 1,000 AoF Hands on Day 5 of the offer period and you will receive another $10, plus if you complete all six AoF Challenges, you'll get another $10 bonus on Day 5!
All your bonus tickets should appear under the My Promo tab in the GGPoker software.
Webcam poker online at GGPoker UK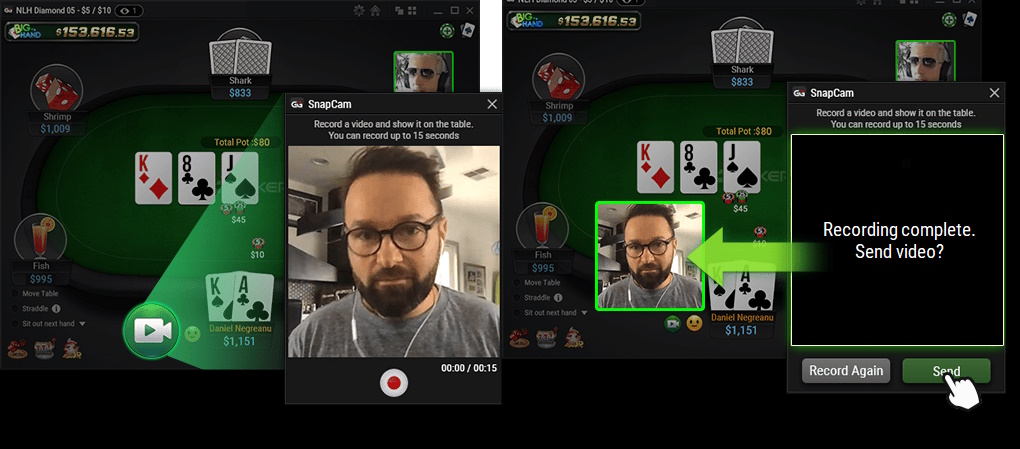 One of the coolest features has got to be SnapCam.
This is a webcam poker online option that means you can express yourself to your competitors, visually or audibly, or both, as if you were there in a poker room with them!
Whether it's the joy of a triumph or the despair of a bone-crushing bad beat, it's up to you what you want to send!
You've got the option to make a 15-second video to capture your feelings and send it on to your table mates. It's truly one of the most amusing webcam poker online features out there!
You'll need a device that has an existing camera in order to use the SnapCam feature and microphones are also supported if you want to add sound too.
Don't want to see other players' SnapCam? No problem! You can block any players' Snap Cam via their profile link at the table!
Staking at GGPoker UK
Think buying a part of someone's action is restricted to big live tournaments and professional players? Think again. The Staking function on this site means you can compete in higher-level tournaments than you would usually.
That's because GGPoker UK lets you buy or sell stakes in any tournament you or other players you want to stake take part in.
With GG Poker staking, you can sell a percentage of your action, or buy a percentage of another player's action, in a tournament.
If you sell a percentage of your action, other players will pay a percentage contribution of the tournament fee. Contrastingly, buy a piece of another player's action and you'll pay a percentage of their tournament fee.
Then at the end of the tournament, if you win a cash prize, or a player you staked wins a cash prize where you will either pay out the agreed percentage of your winnings to those that staked you or receive the agreed percentage of winnings from those that you have staked.
For smaller-stakes players, this is a fantastic way to enter some higher-stakes tournaments without having to absorb the costs entirely from your own bankroll.
It is also a great way for smaller stakes or inexperienced players to potentially gain a return on their staking of a more experienced and skilled player finishing in the money.
Other standout GGPoker features
We could spend days listing out the different features available at GGPoker. Instead, we're just going to take you through some of the best features that make for a more satisfying and enjoyable poker session.
No Hand Histories
First up, you can't save your hand histories. Yes, we can hear PokerTracker and Hold'em Manager evangelists groan. But this actually makes for a softer game all around, making it a little easier to drum up more money.
Poker Craft & Smart HUD
The only analysis tool available at GGPoker is integrated into the software – PokerCraft. So you can use that to your heart's content, even if the competitor analyzers don't get a look in.
Additional statistics are available on the Smart HUD. This feature is free to all users and allows you to access a great deal of information about your current game.
This includes how well you, and others, are playing at the table.
All-In Insurance, Social Media Integration & See Turn & River Card Option
You can also protect against a potentially risky move with a handy all-in insurance option. Plus immediately after each hand, you can share a hand moment on your social media platforms. Cringy or triumphant, we'll let you decide.
For all of your curious people out there, you can even opt to see the turn and the river after all players have passed on a hand. Or if you're an exhibitionist, you can reveal your hand during a game.
NFTs
Are you into the world of Non-Fungible Tokens (NFTs)? Well, at GGPoker, you can connect your crypto wallet to display your chosen NFT as your poker avatar!
Think of NFTs being your 'poker swag' as GGPoker call it; proof of your success at the tables!
Poker School & Blog
Want to learn a bit more about how to play poker as a beginner? Or just want the latest poker news and information? Then GGPoker offers its own Poker School!
Poker School is designed to help beginner players become conversant with the nuances of the different games of poker.
Meanwhile, you can read all the latest news, information and more about GGPoker and the game in general in the excellent GGPoker blog!
Ask Fedor
Not sure that you played that previous hand optimally? Then the Ask Fedor option can help you out!
Using advanced AI powered by Prometheus, the software will review the hand you have just played.
It will then give you suggestions of what could have been a better course of action.
Ask Fedor is a subscription service available on the site. The AI option can only be used on certain games and on specific situations at the table.
All these little additions to the games at GGPoker make for a more enriching experience. They do make it feel like you are playing more at a table, than online.
The GGPoker App on your mobile device
Now we wouldn't expect anything less from such an innovative online poker room, but the GGPoker mobile app is slick. It's available on any mobile Android or iOS device, so almost all smartphones and tablets are covered.
You can download the app onto your chosen device direct from the GGPoker download part of the site.
iPhone or iPad users can also access the app from the App Store.
Android users can find the mobile app for Android at the Google Play Store.
You'll need about 250 MB of space for the app to install. And around 3 MB of RAM is recommended for the app to run smoothly, which should be no problem on modern phones.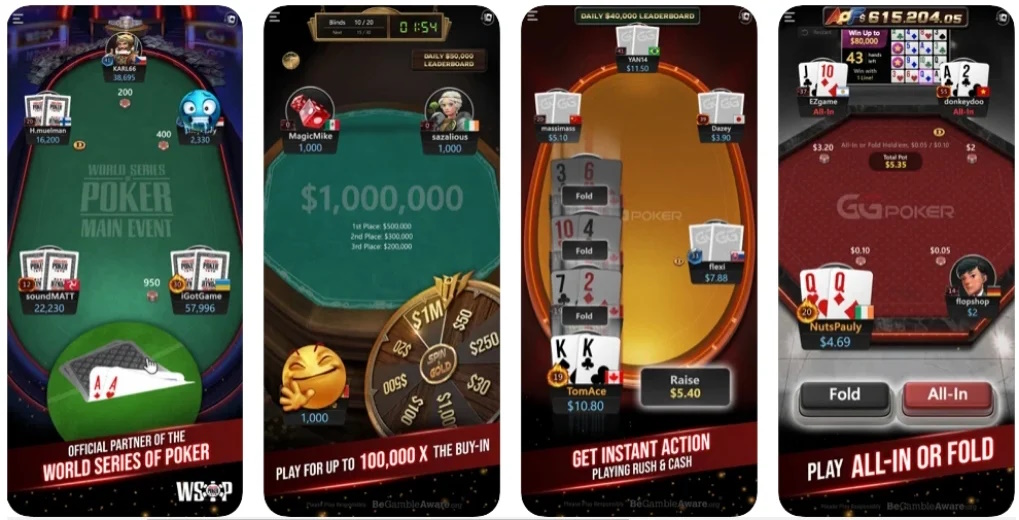 Fish Buffet: GGPoker's loyalty program
We love a loyalty program. We're pleased to say that Fish Buffet at GGPoker is well worth your time.
Everyone is automatically enlisted in the GGPoker loyalty club as soon as you create your account. It's a pretty simple, and familiar concept. You get points (Fish Buffet points to be exact) for anything you spend on rake or fees as you play. These points determine your level, of which there are 25.
And here's where the fun starts. A wheel spin determines how much cashback you receive. The amounts vary depending on your Fish Buffet rank.
For example, the lowest rank can win between $0.50 and $1.50. Meanwhile, the highest rank can expect to win between $100 and $1,000.
Cash back percentages increase the higher up the rankings you go, ranging from 15% at the bottom ranking to 60% at the very top.
And if you don't want to leave your cashback to chance, you can always opt-out when you reach the Platinum Rank and you'll receive a set percentage cash back each week instead!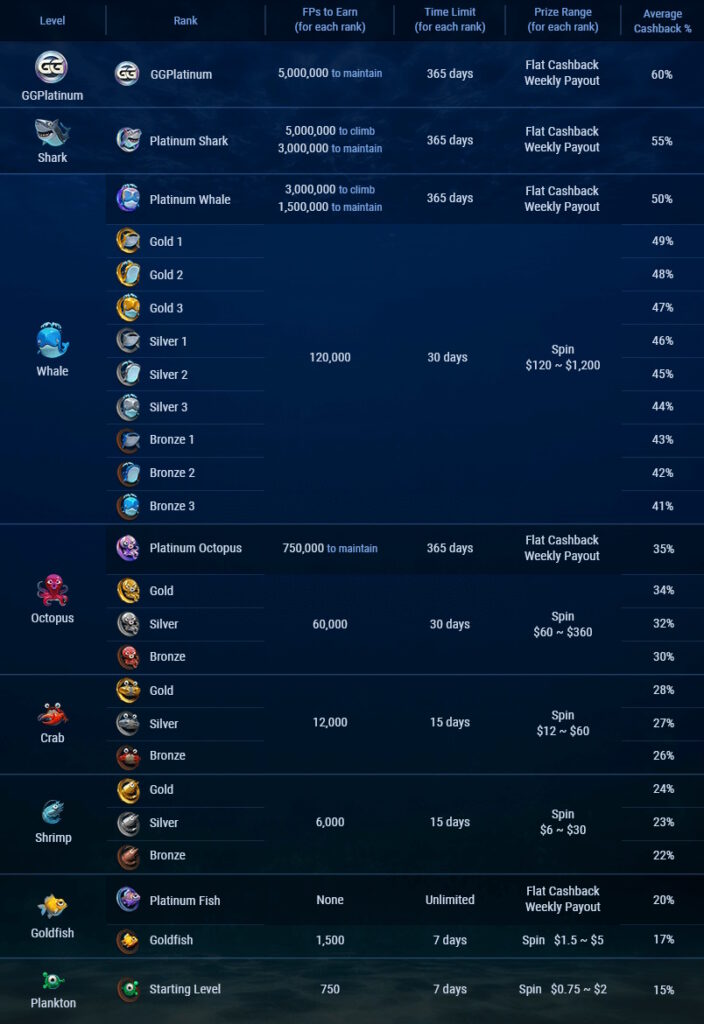 Gameplay at GGPoker
There are plenty of tournaments, cash games and sit & gos available at GGPoker at any given moment in time. Is your favourite Poker game available?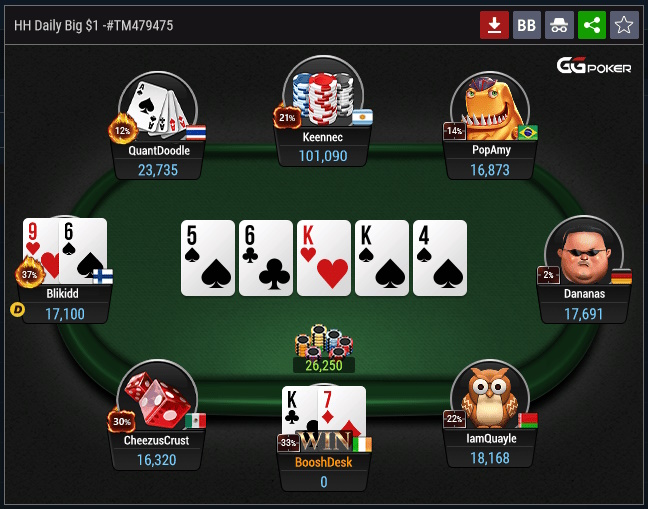 Poker variants
Like most online poker rooms, GGPoker focuses on Hold'em and Omaha variants. That should please most poker players, as they are by far and away the most popular options around at the moment.
Game types
There are a number of exciting game types available at GGPoker, along with the more traditional gameplay. Some of the different game types playable include:
All-in or Fold
All-in or Fold Sit & Go
Battle Royale
Flip n' Go Renewal
Spin & Gold
Rush & Cash
High Roller Tournaments
Bounty Hunter
Freezeout
Chinese Zodiac
Mystery Bounty
Omaholic
Express Satellites
T$ Builder
Daily Guarantees
You can also find fast-fold games here, plus Omaha and 6+ Hold'em options alongside Texas Hold'em Cash Tables.
GGPoker banking
Depositing is a joy at GGPoker. The site doesn't charge deposit fees and deposits are instant. There are also a lot of different options, including e-wallets like Skrill and Neteller, plus Visa, Mastercard and even Bitcoin. Minimum deposits are $10.
When it comes to withdrawals, GGPoker charges a $1 fee. So if we were you, we'd wait until you have a fair chunk of cash in your account. Although don't wait too long, the usual daily withdrawal limit is $15,000. You can also withdraw via e-wallets, credit cards or Bitcoin.
Accessing GGPoker in different countries will automatically display the banking options available to you, and you can find those deposit methods in the Deposit Section in the Cashier page of your account.
Sign up to GGPoker now to get your $60 in free tickets or up to $600 in matched deposits bonus!