Just a month has passed since GGPoker introduced the chance to land a Bounty Jackpot in their Progressive Knockout (PKO) tournaments and we have now seen the first winner of the largest prize available with that bonus.
The Bounty Jackpot can be triggered by any player winning a bounty from another opponent at the tables of any PKO tournament, and the top prize on offer is a cool $1,000,000.
Nobody landed that prize in the first month of the offer, but we are barely into the second month and we have our first instant millionaire winner.
That player is the somewhat aptly named "SonOfRichDad", who claimed the prize when competing in the $54 buy in, Ultra Deepstack Bounty Turbo, which is part of GGPoker's $50m guaranteed series of Bounty Hunter events.
It remains to be seen whether we will see "DadOfRichSon" enter any of these events following his progeny's massive win!
How The Jackpot Was Won
The Jackpot was won in a rather unusual situation as the tournament was table balancing at that present moment in time and as a result, five of the seven players at the table were all sitting out the fateful hand.
The two players that were playing were Tokyo90 and SonOfRichDad and the short-stacked Tokyo90, who was already into the pot for the small blind, decided to shove when he landed a strong hand of Ace of Hearts and Ten of Clubs in what amounted to a heads-up contest.
With more chips at his disposal and the prospect of a $12.50 bounty to be won, SonOfRichDad, made an obvious call as he was already into the pot with the Big Blind and it cost him less than that in order to make the call and have a shot at taking down his opponent.
Both players cards were shown and it was clear that Tokyo90 held the advantage with SonOfRichDad's Jack of hearts and 7 of spades putting him behind as we saw the flop.
That came out with the 10 of spades, 7 of hearts and 5 of clubs, which meant that both players had picked up a pair, but Tokyo90 was still leading comfortably, especially when the turn revealed the queen of spades which was no help to either player.
All Tokyo90 needed was to avoid either a Jack or Seven on the river to double up and remain in the tournament, but the drama started when the river revealed a 7 of clubs, which meant that SonOfRichDad had snatched the hand, knocked out Tokyo90 from the tournament and claimed the $12.50 bounty available.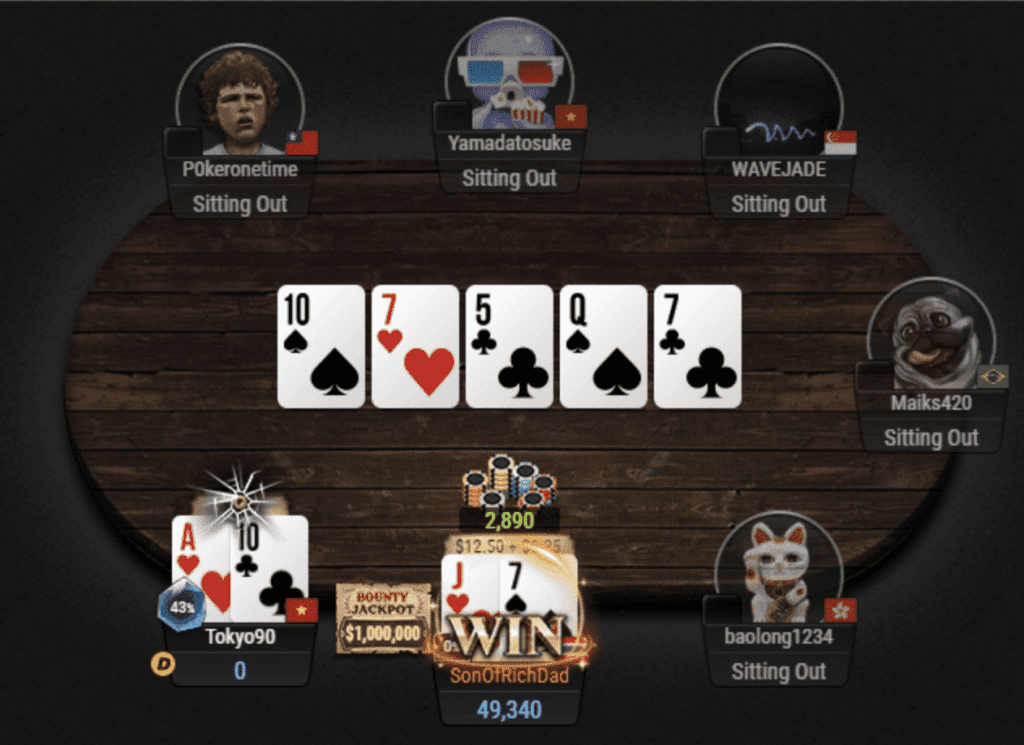 The Scroll And Jackpot Bonus Revealed
It was at this point that a scroll appeared on screen and the players at the table knew that this meant SonOfRichDad had won a jackpot prize.
As the scroll unravelled, it revealed a sum of $10,263, which would have been a fantastic reward for any player in a $54 buy in game.
However, that figure on screen flashed and then changed to the top Mega Bounty prize of $1,000,000, meaning that SonOfRichDad had now become Son Who Is Wealthy In His Own Right on the back of that incredible jackpot prize.
The chances of the player landing that jackpot prize are 42,632/100,000,000, or 0.0043% at that $54 buy in level.
There's no news yet on who SonOfRichDad actually is, but we're willing to bet he won't be needing to ask his father to stump up some cash for him to play at the tables again any time in the foreseeable future!
Weis Lands GGPoker Super MILLION$ Tournament
However, SonOfRichDad was not the only GGPoker player celebrating a great win this week as German/Austrian poker ace Oliver Weis claimed the top prize in the GGPoker Super MILLION$ Tournament on Wednesday.
The native of Grenzach Wyblen had been placed at 17,563rd on the All Time Money list with total live earnings of just over $144,217, but he will rocket up the rankings after claiming a career-best cash of $353,673 by coming top in a cosmopolitan final table.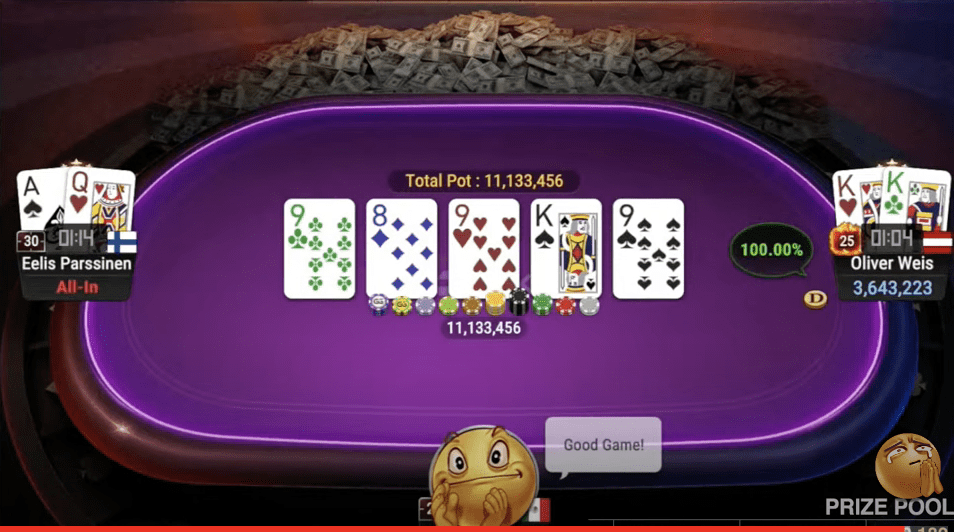 174 players had bought into the $10,000 event, creating a $1,740,000 prize pool, of which over $1.4 million was available to be won between the nine players that made the final table.
Four of Weis' last big cashes have come in Pot Limit Omaha events, three at the 2022 World Series of Poker, where he had a best finish of 9th in Event #30 for $23,277 in the PLO events.
However, he also landed a $62,500 cash for finishing 115th in the NLH Main Event World Championship and it may have been that success that persuaded him to focus a little more on NLH for the time being.
If that was the case then it was certainly a Weis move (geddit?) as the German came out on top after a dramatic and lengthy battle on the final table.
The key moment came when Weis eliminated Finland's Eelis Parssinen in third place, which saw him head into the Heads Up finale with Vladimir Minko up by just over 12 million chips.
Minko certainly faced an uphill battle to turn such an advantage around and unsurprisingly the battle didn't last long, when Weis was dealt pocket Ace-King offsuit while Minko had the King-Ten diamonds.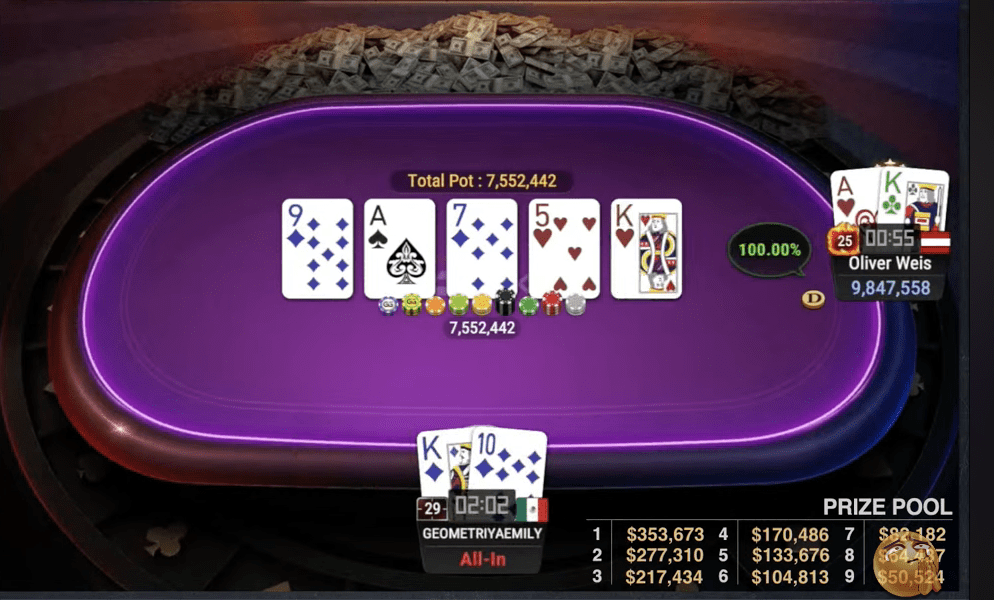 Minko three-bet to just under half his stack, but Weis went all-in, Minko called and Weis flopped an ace but then had to sit nervously as two diamonds appeared on the turn and river to give Minko a chance of a flush draw.
However, Minko's chances evaporated when the river proved not to be a diamond and Weis celebrated his biggest career and the title of GGPoker Super MILLION$ Champion.
The Final Table Results in full are shown below:
Oliver Weiss (Ger) – $353,673
Vladimir Minko (Mex) – $277,310
Eelis Parssinen (Fin) – $217,434
Ravid Garbi (Isr) – $170,486
Andrei Nikonorov (Rus) – $133,676
Joyeux (Mex) – $104,813
Johannes Straver (Aus) – $82,182
Rodrigo Sirichuk (Brz) – $64,437
Spaise411 (Rus) – $50,524