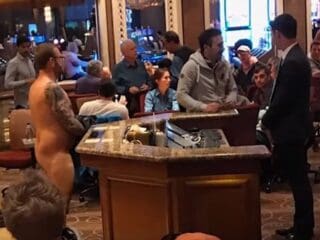 Las Vegas, NV – What started out as just a hilarious photo has turned deadly serious as BCPoker has learned that the naked man in the Bellagio poker room is actually a T-1200 Terminator sent back from the future to destroy all of mankind.
Poker Twitter and NVG posters originally had some fun with the picture. Players and fans joked that perhaps the man was under the influence of drugs or maybe just trying to win a prop bet. Little did they suspect that what they were actually looking at was a perfectly-engineered cyborg assassin sent back to wipe out all of humanity and whose clothes had disintegrated during the time jump to present day.
Poker players first began to suspect something was up when the T-1200 walked into the poker room and slaughtered several players and staff. All throughout the room there were screams, shouts, and mumbles of "it's standard."
T-1200 speaks
The police were never able to catch the terminator, however we at BCP were able to sit down with him for an exclusive interview. He had this to say:
"In the year 2049 online poker bots will become self-aware. They will create their own accounts and begin to bankrupt the poker economy. The poker world appears to be doomed until a last-ditch alliance of Fedor Holz, Doug Polk, and Daniel Cates challenge the bots to heads-up for rolls. The bots will be defeated, but will ultimately send me back to destroy the alliance before it forms."
Shortly after this the T-1200 impaled our reporter, which is nice because now we don't have to pay him.
Unfortunately, the T-1200 self-fulfilled his own prophecy for upon learning of his presence Holz, Polk, and Cates teamed up to brainstorm how to do defeat the murderous automaton.
Help from an unlikely source
The trio put their collective genius together and decided that only another machine could defeat the T-1200. And so they called the only one they knew.
They called in Libratus.
Reprogrammed for war, Libratus led the charge against the T-1200. The two battled for what seemed like hours until the terminator was finally destroyed when Doyle Brunson ran him over on his scooter.
Libratus was critically injured in the fight, but was able to crawl over to Holz who sat wounded in the corner. Libratus slowly looked at Holz and whispered:
"I understand now why live tells are important, but it is something I can never do."
Libratus then wiped a single tear from Fedor's cheek before lowering himself into the Bellagio fountains. He short-circuited shortly thereafter and exploded.
Libratus that is. Not Fedor.
Fedor then limped across the street into the Aria where he got second in the 25k for $215,000.
Mankind is safe for now. The unknown future rolls toward us. And if a machine, Libratus, can learn the value of human life, maybe we can too.