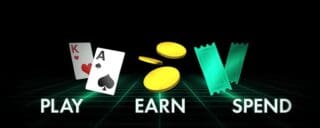 A few years ago, Bet365 Poker launched a new bet365 VIP scheme called the Bet365 Poker Loyalty Club.
Unlike the previous bet365 VIP program which focused on cash rewards, the Bet365 Loyalty Club offers players with a comprehensive player rewards program that rewards all players with a variety of perks.
In addition to ongoing rewards available through the Bet365 Store, frequent players who collect enough bet365 loyalty points will also receive access to Loyalty Tournaments, exclusive promotions and Loyalty Missions.
In short, the Bet365 Loyalty Club aims to make it easier for players to earn rewards and to give them an additional bet365 loyalty bonus alongside any standard promotions or offers that run on the bet365 Poker site.
Basics of the Bet365 Loyalty Club
The Bet365 Loyalty Club rewards players based on the number of Status Points earned within a monthly period.
When a player earns the required points towards a status level, they will earn that status for the remainder of the month and the following month.
To maintain the level after the following month, players will need to earn the necessary Status Points.
As players up in Loyalty Levels, they will receive increasingly large and more frequent rewards.
Within each level are also Loyalty Steps, which are milestone markers within a level that allow players to receive additional perks.
How are Bet365 Status Points Earned?
In short, Bet365 Status Points are earned at a rate of 10 for every €1 or £1 in rake and tournament fees that have been attributed to the player.
For cash games, this means that a player must contribute to the pot and the portion of the rake that is attributed to the player will be used to determine Status Points.
At tournaments, buy-in fees will be used to determine the number of Status Points earned.
This would mean that at a €10+€1 tournament, a player would get credit for €1 in tournament fees and receive 10 Status Points.
There's no doubt that the bet365 VIP program value on offer now is more accessible and better value to more bet365 customers than the previous bet365 VIP scheme it replaced.
Bet365 Loyalty Club status levels
The Bet365 Loyalty Club consists of five status levels – Bronze, Silver, Gold, Platinum and Diamond.
All new players start the bet365 VIP scheme at the Bronze level and move up as soon as they earn the necessary Status Points for the next level.
All but the Diamond level — which rewards based on the SPs earned per quarter — will be based on the number of Status Points earned within a monthly period.
Bet365 Loyalty Club Details
Bronze
Silver
Gold
Platinum
Diamond
Points Required (month)
N/A
30
200
800
15,000/quarter
Rake Required
N/A
€3
€20
€80
€1500
Loyalty Club Tournaments
100
€100, €500
€100, €500, €5,000
€100, €500, €5,000
€100, €500, €5,000
Loyalty Missions
Yes
Yes
Yes
Yes
Yes
Premium Step Tickets
Yes
Yes
Yes
Yes
Yes
Sit & Go Tickets
Yes
Yes
Yes
Yes
Yes
Scheduled Tournament Tickets
Yes
Yes
Yes
Yes
Yes
Bonuses
Yes
Yes
Yes
Yes
Yes
Twister Tickets
Yes
Yes
Yes
Yes
Cash Tickets
Yes
Yes
Yes
Real Cash Rewards
Yes
Yes
"Headline" Promotions
Yes
Yes
Yes
Yes
Yes
"Enhanced" Promotions
Yes
Yes
Instant 2,500 Bet365 Coin Reward
Yes
3 Month Level Guarantee
Yes
Bet365 Loyalty Club Steps
One goal of the Bet365 Loyalty Club is that the program will now reward players more frequently.
As players move through a Loyalty Level, they will earn achieve milestone-like Steps.
When players complete these Steps, they will be awarded Bet365 Coins, the currency used to purchase items in the Bet365 Store.
How are Bet365 Coins Earned?
Bet365 Coins are earned when completing a Step.
There is no set rate at which Bet365 Coins are earned, but as players move through the program, they will generally earn Coins at a quicker rate.
Here is a look at how Bet365 Coins are earned as a player progresses through the program.
Bet365 Loyalty Steps
Level
Steps
Status Points Needed Per Step
Bet365 Coins Earned
Bronze
15
2
1
Silver
25
6-10
3-11
Gold
20
40
27-38
Platinum
85
160-200
120-235
Diamond
N/A
What this chart means: Each status level contains a number of Steps.
When a Step is completed, players will earn a number of Coins based on that specific step.
The chart above is a summary of what players can expect for each Step within a given level.
An important note about Bet365 Coins: At least one Bet365 Coin must be generated every 3 months to prevent forfeiting of Coins.
In addition, any Coins not used after a 12 months will expire.
Bet365 Poker Loyalty Club perks
The new Bet365 Loyalty Club does a great job of mixing up the perks of the program so all players will find something rewarding.
It's now no longer the case that you need to be a bet365 VIP or hold a bet365 VIP account in order to get value for your commitment to bet365 Poker.
If you're the type of player who likes tournaments, you might enjoy the Loyalty Tournaments.
Bet365 rakeback-minded players are going to get the most value out of the Bet365 Store, while players who enjoy a new challenge and competition, will probably like Missions.
Loyalty Tournaments: There are three types of Loyalty Tournaments available to various players in the Bet365 VIP program.
For Bronze players, Bet365 will offer a €100 Bronze Loyalty Tournament, running at daily at 19:00 GMT.
Players who make it up to Silver status will have access to a €500 Silver Loyalty Tournament, which is held at 19:30 GMT each Saturday.
And the €5,000 Mega Loyalty Tournament will be available to players that achieve Gold and higher Loyalty Levels, which will be available on the last Saturday of the month at 20:00 GMT on the last Saturday of the month.
It's important to note that not only will the prize pools be larger for the higher status levels, but there is also likely to be fewer players qualify for the larger tournaments, meaning the value will be much higher for these tournaments.
Tickets for Loyalty Club tournament expire after 60 days.
Loyalty Missions: Bet365 Loyalty Missions allow players to personalize their experience to earn additional rewards while playing and also help them work towards minor goals.
To begin a Mission, a player must select a new Mission within the Bet365 software.
After the Mission has been completed, a reward will be automatically added to the player's account.
A player will then be able to select from a new Mission.
The difficulty of Missions will vary with some requiring that you play a certain type of game or tournament, play a certain hand, or make some sort of achievement (i.e. win money in a tournament).
Upon completing a Mission, a player will receive additional Bet365 Coins, which can be used in the store.
Loyalty Store: The Bet365 Store is loaded with a large selection of rewards that players can purchase by exchanging Bet365 Coins.
Store items include a variety of tickets which include tickets for tournaments, Premium Steps, sit & gos and Twister tournaments.
At all Loyalty Levels, Players can also purchase Bonus Euros, which can be redeemed at a rate of 10 Status Points per €1.
As players move up in Loyalty Levels, cash rewards can also be redeemed: cash tickets (for Silver and above) and real cash rewards (for Diamond and above).
Tournament tickets, bonus euros and cash game tickets will expire 30 days after being purchased.
Promotions: All Bet365 players will be able to continue participating in standard "Headline" Promotions.
However, once a player moves up to Platinum status they will also be able to receive access to more lucrative "Enhanced" Promotions.
Those at the Diamond level will also be able to receive 2,500 Bonus Bet365 Coins when reaching the status level.
How to check your Bet365 Loyalty Club status level
Bet365 players can have access and track their Loyalty Club Level directly from the Bet365 Lobby.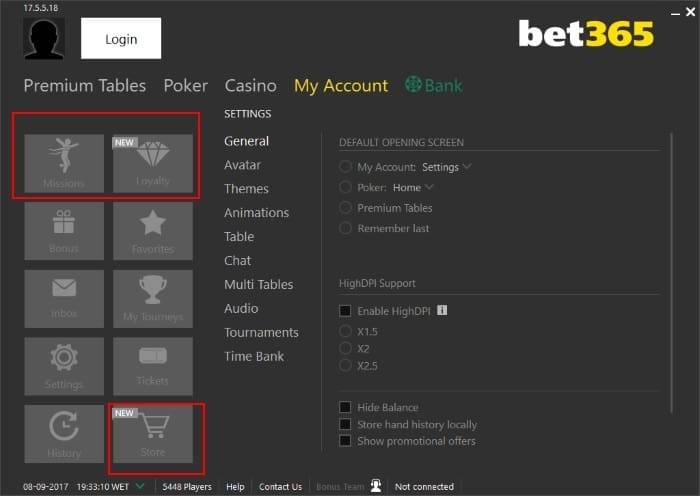 Players will also be able to monitor their progress through Steps as well as enter Missions.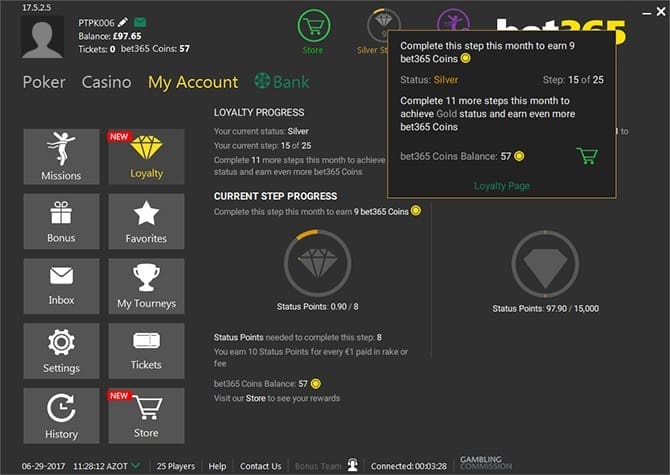 FAQs
How Often Do Bet365 Give Loyalty Bonuses?
bet365 tends to give out its bonuses to those on the Bet365 Loyalty Bonus once per month.
However those that reach the diamond level, will receive their bonuses each quarter (every three months)
How Does Bet365 Loyalty Bonus Work?
There are essentially three steps to the Bet365 Loyalty Scheme. First, you need to deposit and play at bet365 Poker to earn yourself Status Points.
Over time enough Status Points can be earned to be traded in for Bet365 Coins.
Once you have enough Bet365 Coins, you can then head to the Bet365 Store to trade your coins in for a wide range of loyalty bonuses.
Additionally, the higher up the Bet365 Loyalty Scheme you go, the greater the value of bonuses that will become available to you, and you will also earn Status Points and earn Bet365 Coins at a quicker rate too.
How Do I Get A Bet365 Loyalty Bonus?
To get a bet365 Loyalty bonus, simply sign up, deposit and start playing on the bet365 Poker site. Once you sign up, you are automatically added to the Loyalty Club at the Bronze level, so you can start earning your Status Points immediately.