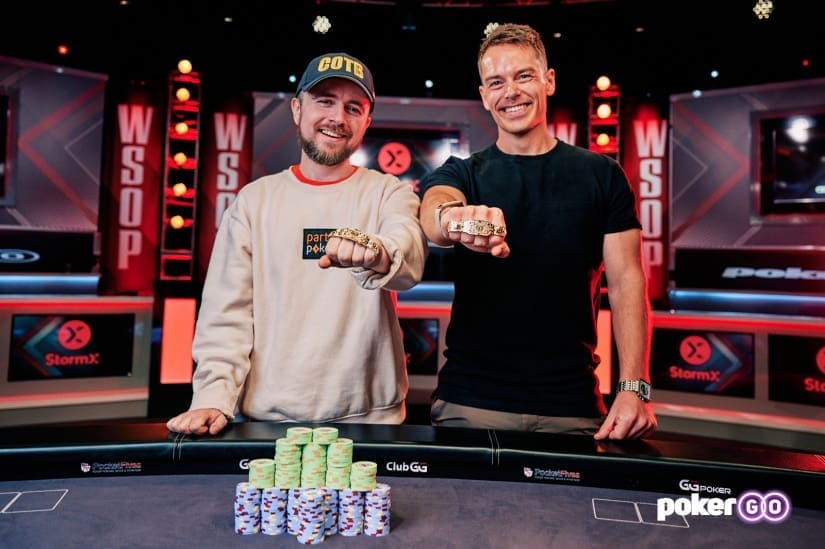 More action from the 2022 World Series of Poker
The team of Patrick Leonard and Espen Jørstad won the $1,000 TAG Team No Limit Hold'em event on Wednesday night overcoming a 6:1 chip disadvantage to win their first WSOP bracelets and a combined prize of $148,067. It was both players first bracelets.
To secure the victory, Leonard and Jørstad outlasted a field of 913 teams including a team of Jamie Kerstetter and Corey Paggeot, who were also chasing their first bracelets.
In post-match comments, Patrick Leonard noted that the fact the pair split their play evenly over the four days was very beneficial.
"A lot of people had played solo for the last few days. Some had played four days by themselves, whereas we've probably played about 50:50. We were fresh and taking hours in, hours out, and when I was out I was studying and I knew what to do coming in, so that was our biggest advantage."
Final table results
1st – Patrick Leonard/Espen Jørstad – $148,067
2nd – Jamie Kerstetter/Corey Paggeot – $91,513
3rd – Yutaro Tsugaru/Taichi Ichikawa – $65,059
4th – Franco Spitale/Martin Pochat – $46,904
5th – Mackenzie Kraemer/Jon Schiller – $34,299
Other bracelet winners
Lawrence Brandt takes down $1,500 Pot Limit Omaha Eight or Better
After three days of play and outlasting a field of 1,303 entries, Lawrence Brandt has won the $1,500 Pot Limit Omaha Eight or Better tournament. In winning the bracelet, Brandt wins his first WSOP bracelet as well as a first-place prize of $289,610.
What's on the schedule for Thursday?
Poker Players Championship will crown winner on Thursday
Day 4 of the $50,000 Poker Players Championship 6-Handed is in the books after the completion o action on Wednesday. Just five players remain with defending champion Dan "Jungleman" Cates in the driver's seat as the chip leader.
When action resumes at 4 PM PT, Cates will be joined by a final table that includes Benny Glaser, Yuri Dzivielevski, Johannes Becker and Naoya Kihara. The final five are guaranteed at least $343,531 in prizes with first place set to receive $1,449,103.
Deepstack Championship enters Day 4
The $600 Deepstack Championship No Limit Hold'em event is down to 7 players with Alex Jim holding the chip lead to start Day 4. When action resumes at 12 PM PT, he will be joined by a field that includes Jon Van Fleet, Tsuf Saltsberg, Abdullah Alshanti, Frank Reichel, Daniel Marcus and Tamas Lendvai who have their eyes on the $299,464 first place prize and the coveted bracelet.
Super Seniors event down to 87 players
The $1,000 Super Seniors No Limit Hold'em is down to 87 players from an original field of 2,669 after two days of play. Robert Schuler is the chip leader with notable names such as Massoud Eskandari and Barny Boatman with healthy stacks hoping to get a bracelet and a $330,609 first-place prize.
Stephen Chidwick among final five in $10k Short Deck
Shota Nakanish leads the $10,000 Short Deck with just five players remaining heading into Day 3 on Thursday. Joining him when action resumes on Thursday will be Stephen Chidwick, Ben Lamb, Brian Rast and Sean Winter.
Ladies Championship enters Day 2
The $1,000 Ladies Championship attracted 1,074 entries on the first day. A total of 274 of those are left with Sharma Gargee holding the chip lead to start the day. Other players still alive are Cherish Andrews, Anna Antimony, Tiffany Michaell and Marle Spragg.
John Bredengerd leads $1,500 Super Turbo Bounty
After the first day of play, John Bredengerg holds the chip lead in the $1.5k Super Turbo Bounty with 20 players remaining. Chris Fraser led the way with 22 bounties to score $11,000 in bounty prizes. But despite the big day of bounty prizes, Fraser finds himself 17th in chips
New events on Thursday
Two new bracelet events are on the schedule for Thursday as the 64th and 65th tournaments of the 2022 WSOP begin. Getting underway at 11 AM PT will be the start of the $600 Pot Limit Omaha Deepstack 8 Handed. This will be followed by the $3,000 Freezeout No Limit Hold'em beginning at 3 PM PT.
Watch the 2022 WSOP
On Thursday, poker fans can tune into PokerGo to view the conclusion of the $50,000 Poker Players Championship starting at 5 PM PT. To watch the coverage, you will need a PokerGo subscription, which you can purchase for $14.99 per month or $99 per year.
Sights and sounds of 2022 WSOP