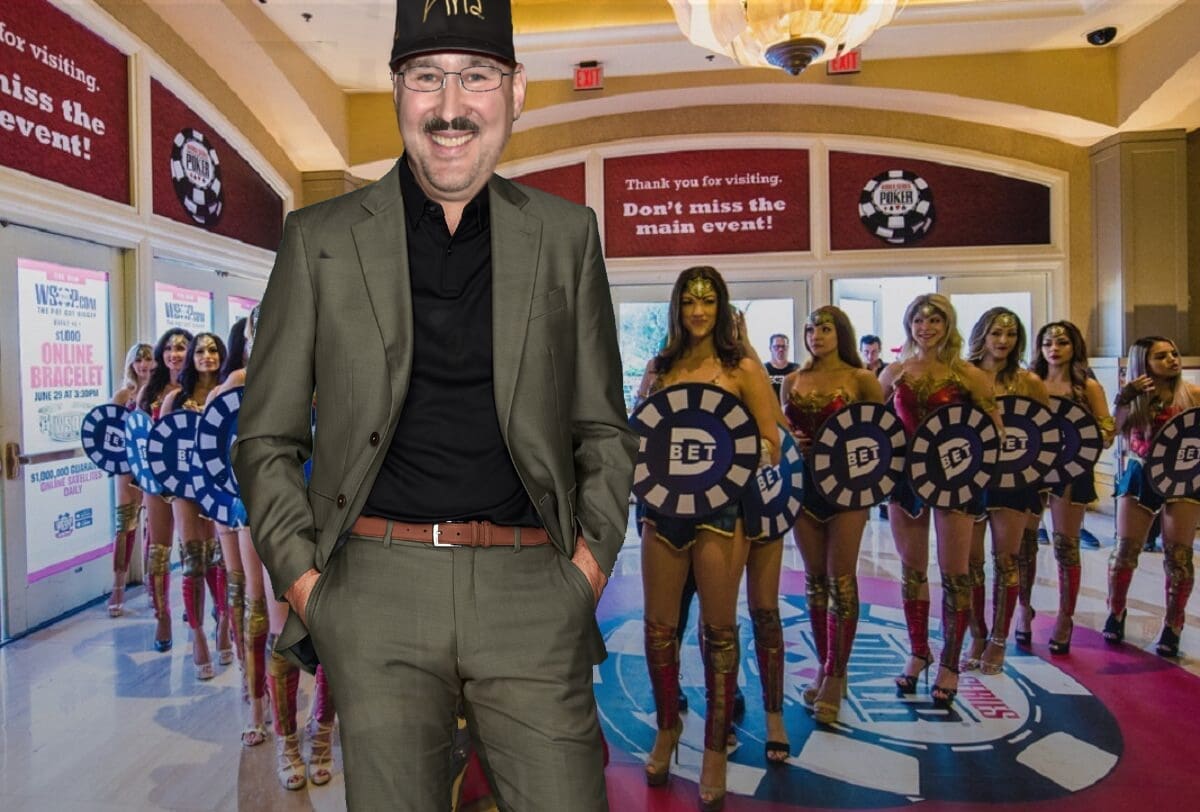 During Day 1f, Phil Hellmuth made his traditional dramatic entrance to the World Series of Poker Main Event. No, he wasn't carried in by a lectica, nor did he show up as a Marvel character or military hero.
Instead, Hellmuth went the fantasy route as the Lord of the Ring's Gandalf the White, a resurrected Gandalf who famously became the most powerful wizard in Middle Earth. Which of course makes one think of Phil Hellmuth.
And due to the fact that Gandalf the White was flanked by beautiful women consistently throughout the trilogy, 16 women joined Hellmuth as he entered the poker room floor on Tuesday.
But believe it or not, Gandalf the White was not Hellmuth's first choice for his 2021 WSOP Main Event entrance. Here are a few WSOP entrance ideas that didn't quite make the cut.
Pyro
The original plan was to tie the beginning of Hellmuth's 2021 WSOP journey to the end. Of course, earlier in the series during a series of bad beats, Hellmuth threatened to "burn the [Rio] down" if he got knocked out of the tournament.
The Rio was never burned down, and in fact, Hellmuth completely planned the outburst so that he could end the WSOP journey with an appearance as Pyrokinesis, the Marvel comics villain who can control fire. Unfortunately, the idea was shelved after the unexpected — to Hellmuth — outcry.
Jesus
Right before settling on Gandalf the White, Hellmuth actually intended to walk into the Rio as Jesus Christ himself, which he hoped to market alongside a new "Poker Jesus" moniker that would, in theory, replace the less desirable "Poker Brat."
Once Hellmuth was talked out of the idea, he simply used his existing costume and dyed his wig white to complete the new "Gandalf the White" look.
Norman Chad
Throughout the years, nobody has hated Phil Hellmuth's over-the-top entrances more than Norman Chad. As a result, Hellmuth was seriously considering showing up as the poker commentator complete with a brownish sports jacket, circa-2005 spectacles and 80's porn star mustache.
The idea hit the cutting room floor after Hellmuth realized that only Norman Chad could pull off that mustache.
Son Goku
Hellmuth had actually settled on coming into the WSOP Main Event as the Dragon Ball's Son Goku. Unfortunately, Dan "Jungleman" Cates stole his thunder when he showed up to the final table of the Poker Player's Championship dressed as the same character. Hellmuth was reportedly so angry with Jungleman, he forced Jungleman to accompany him as Saruman during his Gandalf entrance.
You didn't believe for a second that Jungleman wanted to be there, did you?
ALSO READ: The Rio, Fearing Being Burnt Down, Pacifies Phil Hellmuth With A Bracelet Once Again
Best Online Sportsbooks and Casinos
Daily Fantasy, Simplified.
Simply choose over or under on your favorite players to play
No sharks, no salary caps, no BS
Turn the game on and follow along with live player tracking to watch how you're doing
Legal in 26 states + Canada (see site for details)