Virtual Sports have come to the forefront at many online gambling sites over the past few years and in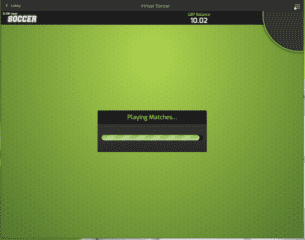 particular over the last few months. Companies like Inspired Entertainment, who provide a number of the games for providers like bet365 Sport and bet365 Games have been busy producing a wide selection of new games, plus deals with other providers mean that when it comes to Virtual Sports gaming, customers have never enjoyed such a breadth of options.
A great example of this is when you take a look at the different types of Virtual Football/Soccer games that you can find across the bet365 suite of sites. For this article, we are going to be looking at the offerings on bet365 Sports and bet365 Games in particular and focusing on how different the options are when it comes to Virtual Football or Virtual Soccer games.
Virtual Sports are also starting to gain a foothold in the United States, where they are legislated under Casino Gaming regulations, rather than sports betting. You can see what Virtual Sports games are available at sites like PlaySugarHouse in Pennsylvania by checking out the latest details on the playsugarhouse bonus code page in the link.
So what is the situation with Virtual Football games at bet365 Sport/Games? We decided to take a bit of a closer look to find out, focusing in more detail on a rather new type of Virtual Football game that is now available to play at bet365 Games.
Virtual Football at bet365 Sites
The first Virtual Football offering was at bet365 Sport and it was a Virtual Soccer game that was part of Inspired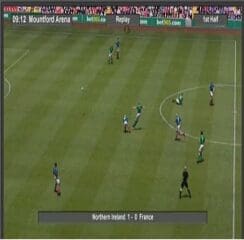 Entertainment's first tranche of Virtual Sports games. The game pitted random teams against each other in games and offered a range of bets on the game.
There was no context to each game, nor any real life teams or players involved in the game, although teams were named to resemble real life teams (such as Manchester Reds and Manchester Blues for the two Manchester teams United and City). There were different game variants available based on the Premier League, European competition and International games, but the only difference between them was the teams involved in each had different names.
This was the original soccer virtual at bet365 Sport and it is still playable and very popular today,  but there are now a couple of other options available to you and they are both at bet365 Games.
Bet365 Games Virtual Football Options
The first Virtual Soccer game at bet365 Games is Instant Football. This is a similar kind of game to the bet365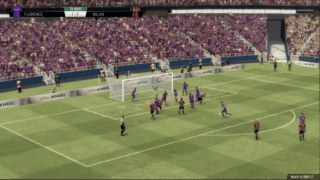 Sports version of Virtual Football, but it has been updated and improved upon as it is a much later release.
In addition to enhanced graphics, this game also has the option for players to skip through the highlights of a game to go straight to the result, which can speed up the game massively, In addition, historical data of the two teams competing in the match is also available on the screen, as are the relative strengths of each of the two teams competing. This allows you to do a little research on your bets as you would a real-life football bet.
The betting markets in this Instant Football game are the most simple but the number of options available and the fact that players control the speed of the game make it a more malleable option for players, some of who may not want to watch the highlights and who just want to place their bet and get the results of that as quickly as possible.
With betting start at just 0.10 per bet, it is also a very affordable game, (as is the original Virtual Soccer game at bet365 Sport).
Both these games are somewhat similar in the bets they allow, and the ability to view highlights, with commentary and other sounds, of each game. However, it is fair to say that the realism of these games does lack a little, ostensibly due to a lack of real life teams and also repetition of highlights which happens if you play the game a great deal.
However, when it comes to realism, then bet365 Games' Virtual Soccer offering could well be about the most realistic football virtual that exists today.
What is exciting about Virtual Soccer is the approach that this game has. In some ways, it is a very simplified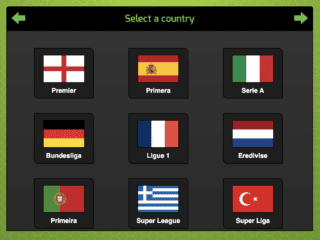 football virtual, there are just two types of bet you can make (and one of those disappears when you get roughly a third of the way through the season). In addition, there are no highlights of the game.
Instead, what you have is a stat-lovers paradise. That starts at the beginning of the game where you can scroll through a staggering selection of 57 different leagues, all based on real league's taking place across the world. All four divisions of professional football in England are available, as are leagues from the top competitions in the world, Argentina, Brazil, France, Germany, Italy, Spain, the Netherlands, Portugal, as well as a number of lesser known leagues such as Wales, Ukraine, Bulgaria, Croatia, Colombia and Iceland.
Furthermore, the relative strengths of the team in each league has been set to mirror roughly what is happening in real life. So, in the English Premier League for example, the top teams are Liverpool, Manchester City, Chelsea, Tottenham, Arsenal although other teams can also perform well over the course of the season.
Each game week lasts just over a minute and basically that time is for you to place a bet on either the outcome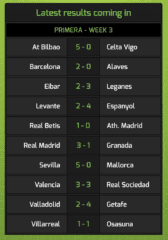 of one of the matches scheduled to take place that week. You can see the betting for each game shown on the left-hand side of the screen. Alternatively, if you are still relatively early in the season, you can place a bet on the outright winner of the league, using the odds shown in the table.
To ensure that each league runs to the same time, the number of teams in each is 20 and this means some leagues are not 100% accurate as of this current season. However, it means that every season lasts for 38 games and takes around 47-48 minutes to complete from start to finish.
You can also browse through a number of stats that the game records, including results from other match weeks and even from previous seasons. You can also view the stats of teams in your chosen league which displays the results of their last six matches.
Players can also scroll through the different leagues available at any time to play a different league and they can also access other options from the main menu too, including turning on or off the sound and changing the odds from decimal to fractions or American style.
If you like realistic football results, a wide selection of leagues and simple Virtual Football betting, then Virtual Soccer is the perfect choice for you and any lover of the Beautiful Game.