Why Online Poker Could be a Godsend During the Coronavirus Crisis
There's no point in denying that things are a little, or a lot, scary right now. You know things are

bad when vast swathes of society are in lockdown, or operating remotely. As the world ramps up to take on the coronavirus threat heads on, part of the challenge facing people is what they can do during the lengthy spells of time that they face at home, either quarantined, or socially distancing themselves from others.
Of course, the Internet is a particularly useful tool for finding plenty to do at this worrying time. Not only can it be used to keep in touch with loved ones, but you can utilise many of the services available online to make your life a little easier. Delivery services being one example, but for others it is the thought of entertainment, streaming services like Netflix or Amazon Prime, or YouTube Videos.  Others like to play games.
With financial implications from the outbreak to consider too, what are your options for something simple, not-exhausting and relatively cheap to do during the coronavirus outbreak?
Well for many online poker could well offer them an exciting option, especially those good value games offered at bet365 Poker.
Why online poker over other casino attractions?
Now when you think of poker in the traditional sense, you think of the likes of Phil Hellmuth or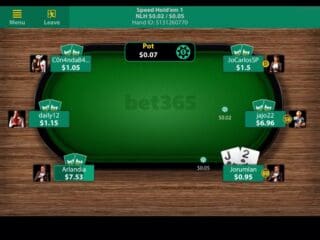 Daniel Negreanu, betting hundreds of thousands, if not millions on a hand, and big money changing hands across the table. Now of course, it would be lovely to have the kind of bankrolls that the top professionals enjoy, but mere mortals are not likely to have that available.
But the great thing about online poker is that it is entirely scalable to meet your budget. So, whether you have $10, $100 or just a couple of dollars to spend online, there are options available to you at sites like bet365 Poker.
Now of course, this is true of other online gambling attractions. You can play a slot game for the minimum bet right the way up to the maximum bet. You can place a minimum sports betting bet, or whack a huge amount on your selection (assuming, you can find any sports to bet on, as Virtual Sports, Esports and obscure soccer leagues seem to be the only options at present).
But the problem is that it is very easy to work your way through a small bankroll playing slots or having a few bets on Virtual Sports or esports. An hour playing on some of the more expensive slots online could burn through a bankroll more quickly than you would like in this situation.
With online poker, things are different. If you decide, for example, to enter an online tournament, you pay your initial entry fee and then you can play in the tournament for however long it takes for you to compete. Sure, that may only be a couple of minutes if you are a bit of a novice, but for decent players, that small entry fee can give you hours of entertainment, and if you are good enough, potentially win you some money too.
To see what we mean, let us now take a look at what is on offer at bet365 Poker at the present moment for some low-cost, value online poker that won't break the bank.
Bet365 Poker Low Cost Options
If you are not already a member at bet365 Poker then the current new player bonus on the site can help you get started with some extra benefits tucked away in your back pocket and they can be useful in enjoying some free, or almost free, games on the site.
However, once you are a member, you may be more interested in the cheaper game options available to you and the good news is that there are plenty of them to enjoy on the site.
At bet365 Poker there are a number of different low-cost options to play on their Premium Tables. You can buy into a spot at a table for just 1.00 with the blinds and small blinds being just 0.02/0.04 per hand. With up to six players available to play against, this form of Cash Table game is very popular on the site, especially with lower stakes gamers.
Even a small bankroll, if played well, can last you a great deal of time, while the flexibility of Cash Table play makes it a great option if you cannot play all in one sitting, as you can simply get up from the table at any point with your current stack, and then return at a later date to continue.
If you are an existing player at bet365 Poker then you may be able to use any points or tickets

you have accrued to enter a number of tournaments, but new players seeking a standard buy in can find some fantastic value options available to them.
Players can buy in from as little as 0.11 per game and the increments buy ins increase by at this micro stakes level is only small with other options available for 0.20, 0.27, 0.50, 0.54 and 1.00. There are also plenty of tournaments available in the 1.00 to 10.00 bracket too.
With tournament play, especially ones that involve a high number of participants, you can find that you will need to spend many hours playing to reach the final stages and perhaps earn a cashout at the event. Of course, for someone pressed for time normally, this can be an issue, with plenty of time available for many during the current crisis, that is no longer a problem.
Alongside these low-cost options, bet365 Poker also runs a number of Freeroll events each day. There are four €25 Daily Freeroll events that you can participate in each day plus a €50 Daily Freeroll event that takes place once per day. Indeed, if you are a decent standard of player, you could actually spend most of each day just playing in these Freeroll events and it would not cost you a penny to enjoy some quality tournament poker.
Other Cheap Poker Options at bet365 Poker
Alongside the tournaments, freerolls and cash table games, there are also a number of other options at bet365 Poker which can be reasonably prices. There are affordable versions of Six Plus Hold'em, Twister Poker, Sit & Go, plus other speed games available on the site. However, it should be noted that these games are generally aimed at players with less time to play than those who play Cash Tables or Tournament poker.
With so many great value cheap options, online poker could be a great way to spend some time over the coming months. It may even be the case that all the practice you get may only benefit your poker game in the long run too.
Article credit: Ian John