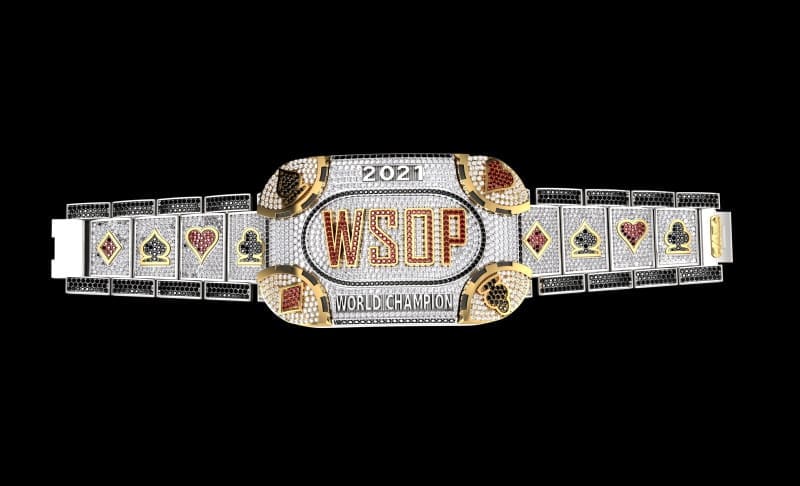 The 2021 World Series of Poker is officially in the books with over ninety bracelet winners, many winning their first bracelets but also a fair number adding to their bracelet total.
Phil Hellmuth was the top bracelet winner who added to his total in 2021 when he won his 16th bracelet in the $1,500 No Limit 2-7 Lowball Draw. A handful of players including Brian Hastings, Brian Rast and Shaun Deeb each won their 5th WSOP bracelets.
But 2021 was the year of the fourth bracelet. A total of eight players took down their fourth bracelet including John Monnette, Farzad Bonyadi, Ben Yu, Brian Yoon, Kevin Gerhart, Josh Arieh, Adrian Mateos and Michael Addamo.
Josh Arieh, Kevin Gerhart and Jeremy Ausmus each earned two WSOP bracelets during 2021, propelling them up in the WSOP POY standings. Arieh's wins and numerous cashes were enough to give him the title of 2021 Player of the Year, where Ausmus finished in 4th and Gerhart in 14th.
Two women took home gold bracelets during the 2021 WSOP. Leo Margets won the $1,500 Closer for $376,850 while Lara Eisenberg took down the $1,000 Ladies No Limit Hold'em Championship.
List of 2021 WSOP gold bracelet winners (Las Vegas)
Here's a look at who took home gold during the Las Vegas leg of the 2021 WSOP with how much in lifetime winnings they have earned during the World Series of Poker and in live poker.
2021 WSOP Bracelet Winners
| Event | Date | Winner | Prize | Bracelet Number | Total WSOP Winnings | Lifetime Tournament Winnings |
| --- | --- | --- | --- | --- | --- | --- |
| $500 Casino Employees No Limit Hold'em | September 30th | James Barnett | $39,013 | 1 | $50,151 | $109,731 |
| $25,000 HORSE | September 30th | Jesse Klein | $552,182 | 1 | $567,301 | $575,282 |
| $1,000 COVID-19 Relief No Limit Hold'em | September 30th | Jeremy Ausmus | $48,687 | 2 | $5,788,586 | $10,169,236 |
| $500 Reunion No Limit Hold'em | October 1st | Long Ma | $514,604 | 1 | $527,130 | $653,903 |
| $1,500 Omaha Hi/Lo 8 or Better | October 1st | Connor Drinan | $163,252 | 2 | $2,948,637 | $11,543,678 |
| $25,000 High Roller No Limit Hold'em 8 Handed | October 2nd | Tyler Cornell | $833,289 | 1 | $1,767,469 | $1,921,691 |
| $1,500 Deadlers Choice 6 Handed | October 2nd | Jaswinder Lally | $97,915 | 1 | $101,520 | $101,519 |
| WSOP Online $5,300 No Limit Hold'em Freezeout | October 3d | Martin Zamani | $210,600 | 2 | $1,165,682 | $2,701,583 |
| WSOP Online $500 No Limit Hold'em Big 500 | October 3rd | Mark Herm | $89,356 | 2 | $1,025,454 | $1,770,652 |
| $600 Deep Stack No Limit Hold'em | October 4th | Zhi Wu | $281,604 | 1 | $284,312 | $366,549 |
| $10,000 Omaha Hi/Lo 8 or Better Championship | October 4th | Ari Engel | $317,076 | 1 | $2,131,934 | $7,518,246 |
| $1,000 Super Turbo No Limit Hold'em | October 5th | Michael Perrone | $152,173 | 1 | $350,412 | $738,495 |
| $25,000 Heads-Up No Limit Hold'em Championship | October 5th | Jason Koon | $243,981 | 1 | $3,095,070 | $33,370,828 |
| $1,500 Limit Hold'em | October 5th | Yuval Bronshtein | $124,374 | 2 | $1,630,531 | $2,005,714 |
| $3,000 No Limit Hold'em Freezeout | October 6th | Harvey Mathews | $371,914 | 1 | $389,737 | $403,230 |
| $1,500 Seven Card Stud | October 6th | Rafael Lebron | $82,262 | 2 | $574,163 | $577,575 |
| $1,500 No Limit Hold'em | October 7th | Bradley Jansen | $313,403 | 1 | $375,626 | $644,008 |
| $10,000 Limit Hold'em Championship | October 7th | John Monnette | $245,680 | 4 | $2,775,881 | $3,255,617 |
| $1,500 Millionaire Maker | October 8th | Daniel Lazrus | $1,000,000 | 2 | $1,267,664 | $1,044,970 |
| $2,500 Mixed Triple Draw Lowball | October 8th | Vladimir Peck | $134,390 | 1 | $172,248 | $476,626 |
| $10,000 Seven Card Stud Championship | October 9th | Anthony Zinno | $182,872 | 3 | $4,354,784 | $10,761,432 |
| $1,000 Flip & Go No Limit Hold'em | October 10th | Dejuante "DJ" Alexander | $180,665 | 1 | $1,414,123 | $2,733,348 |
| $1,500 Mixed Pot Limit Omaha Hi/Lo 8 or Better | October 10th | Dylan Linde | $170,269 | 1 | $1,865,152 | $4,954,308 |
| WSOP Online $400 No Limit Hold'em Ultra Deepstack | October 10th | Pete Chen | $82,560 | 1 | $746,221 | $3,471,733 |
| $1000 Ladies No Limit Hold'em Championship | October 11th | Lara Eisenberg | $115,694 | 1 | $194,644 | $340,550 |
| $1,500 Eight Game Mix 6-Handed | October 11th | Ryan Leng | $137,969 | 3 | $3,064,019 | $2,774,571 |
| $600 Pot Limit Omaha Deepstack | October 12th | Michael Prendergast | $127,348 | 1 | $133,162 | $136,389 |
| $5,000 No Limit Hold'em 6 Handed | October 12th | Scott Ball | $562,667 | 1 | $1,150,555 | $1,153,624 |
| $1,000 Freezeout No Limit Hold'em | October 13th | Dalibor Dula | $199,227 | 1 | $225,180 | $255,503 |
| $10,000 Short Deck No Limit Hold'em | October 14th | Chance Kornuth | $194,670 | 3 | $2,626,169 | $9,094,285 |
| $1,500 Monster Stack No Limit Hold'em | October 15th | Michael Noori | $610,347 | 1 | $1,040,862 | $1,362,398 |
| $1,500 No Limit 2-7 Lowball Draw | October 15th | Phil Hellmuth | $94,951 | 16 | $16,310,775 | $26,186,192 |
| $3,000 HORSE | October 16th | Jim Collopy | $173,823 | 2 | $1,313,486 | $3,308,854 |
| $800 Deepstack No Limit Hold'em | October 17th | Ran Koller | $269,478 | 1 | $442,199 | $333,119 |
| $1,500 Limit 2-7 Lowball Triple Draw | October 17th | David "Bakes" Baker | $87,837 | 3 | $2,694,118 | $3,346,316 |
| WSOP Online $888 PLO Crazy 8's | October 17th | Ryan Stoker | $95,338 | 1 | $242,199 | $350,755 |
| $500 Freezeout No Limit Hold'em | October 18th | Anthony Koutsos | $167,272 | 1 | $167,272 | $196,905 |
| $10,000 Dealer's Choice 6-Handed Championship | October 18th | Adam Friedman | $248,350 | 1 | $2,115,030 | $3,387,518 |
| $1,500 Super Turbo Bounty No Limit Hold'em | October 19th | Karolis Sereika | $195,310 | 1 | $291,301 | $291,301 |
| $50,000 High Roller No Limit Hold'em 8-Handed | October 19th | Michael Addamo | $1,132,968 | 3 | $6,520,056 | $17,722,905 |
| $1,500 Pot Limit Omaha 8-Handed | October 20th | Josh Arieh | $204,766 | 3 | $6,805,025 | $9,232,122 |
| $10,000 HORSE Championship | October 20th | Kevin Gerhart | $361,124 | 3 | $989,447 | $1,213,340 |
| $2,500 Freezeout No Limit Hold'em | October 21st | Carlos Chang | $364,589 | 1 | $962,056 | $1,543,709 |
| $1,500 Razz | October 21st | Bradley Ruben | $99,188 | 3 | $679,128 | $508,930 |
| $1,000 Double Stack No Limit Hold'em | October 22nd | Anthony Denove | $446,983 | 1 | $463,920 | $606,767 |
| $3,000 Limit Hold'em 6 Handed | October 22nd | Ryan Hansen | $109,692 | 1 | $109,692 | $110,960 |
| $10,000 Pot Limit Omaha 8-Handed Championship | October 23rd | Tommy Le | $746,477 | 2 | $3,637,003 | $4,148,824 |
| $800 No Limit Hold'em Deepstack | October 24th | Chad Norton | $214,830 | 1 | $227,656 | $245,443 |
| $5,000 Freezeout No Limit Hold'em 8-Handed | October 24th | Alexandre Reard | $428,694 | 1 | $1,220,504 | $3,513,169 |
| WSOP Online $1,000 Bracelet Championship | October 24th | Kazuki Ikeuchi | $152,797 | 1 | $1,608,647 | $1,228,738 |
| $1,500 Shootout No Limit Hold'em | October 25th | Gershon Distenfeld | $204,063 | 1 | $346,064 | $218,363 |
| $10,000 No Limit 2-7 Lowball Draw Championship | October 25th | Farzad Bonyadi | $297,051 | 4 | $2,271,180 | $4,559,989 |
| $600 Mixed No Limit/Pot Limit Omaha Deepstack | October 26th | Darrin Wright | $127,219 | 1 | $129,498 | $132,489 |
| $3,000 No Limit Hold'em 6-Handed | October 26th | Brian Rast | $474,102 | 5 | $6,570,166 | $22,206,403 |
| $1,000 Seniors No Limit Hold'em Championship | October 27th | Robert McMillan | $561,060 | 1 | $652,540 | $914,736 |
| $25,000 Pot Limit Omaha High Roller | October 27th | Shaun Deeb | $1,251,860 | 5 | $6,546,199 | $9,274,239 |
| $2,500 Nine Game Mix 6-Handed | October 28th | Nicholas Julia | $168,608 | 1 | $183,658 | $184,143 |
| $400 Colossus No Limit Hold'em | October 29th | Anatolii Zyrin | $314,705 | 2 | $994,508 | $2,436,171 |
| $10,000 No Limit Hold'em 6-Handed Championship | October 30th | Ben Yu | $721,453 | 4 | $5,424,550 | $8,248,088 |
| $10,000 Limit 2-7 Lowball Triple Draw Championship | October 30th | Brian Yoon | $240,341 | 4 | $3,441,115 | $5,488,832 |
| $1,000 Super Seniors No Limit Hold'em | October 31st | Jean-Luc Adam | $255,623 | 1 | $341,090 | $461,226 |
| $1,000 Tag Team No Limit Hold'em | October 31st | Mike Ruter, Sam Dighlawi | $56,683 each | 1 | $243,340/$60,737 | $456,426/$442,808 |
| $50,000 Poker Players Championship | October 31st | Dan "Jungleman" Cates | $954,020 | 1 | $1,137,325 | $9,986,893 |
| WSOP Online $666 | October 31st | John Ripnick | $114,898 | 1 | $178,220 | $25,517 |
| $600 No Limit Hold'em Deepstack Championship | November 1st | Cole Ferraro | $252,491 | 1 | $450,857 | $455,596 |
| $1,500 Pot Limit Omaha Hi/Lo 8 or Better | November 1st | Kevin Gerhart | $186,789 | 4 | $989,447 | $1,213,340 |
| $500 Salute to Warriors | November 2nd | Eric Zhang | $102,465 | 1 | $102,465 | $102,465 |
| $5,000 Mixed No Limit Hold'em/Pot Limit Omaha | November 2nd | Eelis Parssinen | $545,616 | 1 | $576,829 | $1,056,705 |
| $1,000 Mini Main Event | November 3rd | Georgios Sotiropoulos | $432,575 | 3 | $1,390,893 | $3,388,879 |
| $10,000 Pot Limit Omahi Hi/Lo 9 or Better Championship | November 3rd | Josh Arieh | $484,791 | 4 | $6,805,025 | $9,232,122 |
| WSOP Online No Limit Hold'em $3,200 High Roller | November 7th | Jacob Neff | $318,889 | 1 | $318,889 | $193,083 |
| Main Event | November 4th | Koray Aldemir | $8,000,000 | 1 | $11,040,322 | $20,334,109 |
| $1,111 Little One for One Drop | November 8th | Scott Ball | $396,445 | 2 | $1,150,555 | $1,153,624 |
| $1,500 Seven Card Stud Hi/Lo | November 10th | Jermaine Reid | $113,459 | 1 | $128,141 | $199,018 |
| $888 Crazy Eights No Limit Hold'em | November 12th | David Moses | $888,888 | 1 | $1,041,438 | $1,286,161 |
| $1,500 Bounty Pot Limit Omaha | November 11th | Mourad Amokrane | $132,844 | 1 | $134,153 | $154,088 |
| $1,500 Mixed No Limit Hold'em/Pot Limit Omaha | November 12th | Motoyoshi Okamura | $209,716 | 1 | $240,362 | $381,378 |
| $10,000 Seven Card Stud Hi/Lo Championship | November 13th | Brian Hastings | $352,958 | 5 | $3,093,110 | $4,318,569 |
| $2,500 Mixed Big Bet | November 14th | Denis Strebkov | $117,898 | 2 | $592,763 | $791,785 |
| WSOP Online $7,777 Lucky Sevens | November 14th | Aleksejs Ponakovs | $432,491 | 1 | $432,491 | $482,573 |
| WSOP Online $777 Lucky Sevens | November 14th | Yuliyan Kolev | $146,163 | 1 | $725,415 | $1,653,170 |
| $1,500 Freezeout No Limit Hold'em | November 15th | Chad Himmelspach | $270,877 | 1 | $288,086 | $363,942 |
| $10,000 Super Turbo Bounty | November 15th | Romain Lewis | $463,885 | 1 | $1,648,476 | $3,000,197 |
| $1,500 Fifty Stack | November 16th | Paulo Joanello | $321,917 | 1 | $331,145 | $333,298 |
| $10,000 Razz Championship | November 16th | Benny Glaser | $274,693 | 1 | $2,414,623 | $2,944,697 |
| $1,979 Poker Hall of Fame Bounty | November 17th | Ole Schemion | $172,499 | 1 | $278,106 | $16,644,090 |
| $3,000 Pot Limit Omaha 6-Handed | November 17th | Robert Cowen | $280,916 | 1 | $643,003 | $913,838 |
| $800 No Limit Hold'em Deepstack | November 18th | Jason Wheeler | $204,274 | 1 | $1,523,530 | $4,324,721 |
| $250,000 Super High Roller | November 18th | Adrian Mateos | $3,265,362 | 4 | $7,725,595 | $25,214,185 |
| $1,500 Closer | November 19th | Leo Margets | $376,850 | 1 | $946,461 | $1,666,154 |
| $50,000 High Roller Pot Limit Omaha | November 19th | Jeremy Ausmus | $1,188,918 | 3 | $5,788,586 | $10,169,236 |
| $50,000 High Roller No Limit Hold'em | November 20th | Mikita Badziakouski | $1,462,043 | 1 | $5,786,050 | $31,205,406 |
| $1,000 Super Turbo No Limit Hold'em | November 21st | Michael McCauley | $161,384 | 1 | $162,161 | $163,882 |
| $100,000 High Roller | November 21st | Michael Addamo | $1,958,569 | 4 | $6,520,056 | $17,722,095 |
| WSOP Online $1,000 Mini Main Event (PA) | November 21st | David Eldridge | $41,553 | 1 | $229,389 | $1,583,459 |
| WSOP Online $1,000 Mini Main Event | November 21st | Daniel Turner | $142,663 | 1 | $10,640 | $765,326 |
| $5,000 No Limit Hold'em | November 21st | Boris Kolev | $511,184 | 1 | $868,870 | $2,074,853 |
Best Online Sportsbooks and Casinos
Daily Fantasy, Simplified.
Simply choose over or under on your favorite players to play
No sharks, no salary caps, no BS
Turn the game on and follow along with live player tracking to watch how you're doing
Legal in 26 states + Canada (see site for details)