So, hosting a poker night sounds a relatively simple affair, right? Just get the cards, some friends and family, buy into the game and play until someone ends up as the winner! Easy!
Well that is not necessarily always the case.
We've heard of a few home games where things have got out of control, people refusing to pay up, disputes over players 'cheating', people becoming too drunk to play sensibly and lastly, people leaving the game with a bitter taste and vowing not to play again.
That's not ideal if you are seeking to set up a regular poker night to enjoy.
Furthermore, all these issues could have been avoided with a little pre-planning and in this article, we are going to give you some great tips on how to host a successful, friendly and fun poker night where every player, win or lose, will enjoy themselves and hopefully, want to come back for more.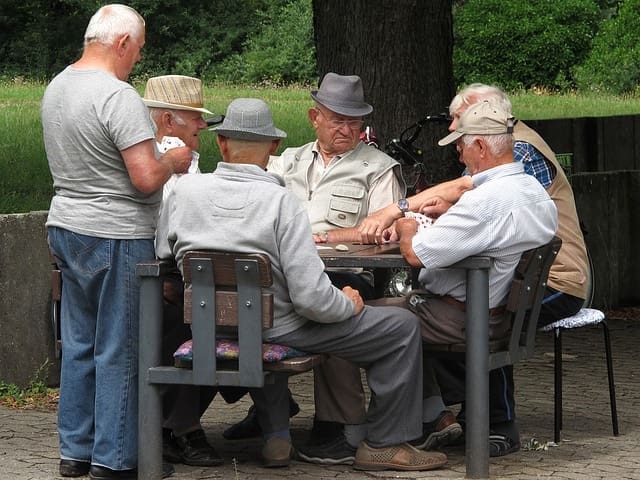 Now of course, you can play poker online at sites like bet365 Poker, but there is a more social aspect to playing with family and friends around the table, especially when you have a little bit of disposable cash on the line!
Bet365 Review
Min deposit €5
Up to €100 in Bet Credits For New Customers at bet365
Min deposit €5. Bet Credits available for use upon settlement of bets to value of qualifying deposit. Min odds, bet and payment method exclusions apply. Returns exclude Bet Credits stake. Time limits and T&Cs apply. The bonus code BET247 can be used during registration, but does not change the offer amount in any way.
Ladbrokes Review
Get €20 When You Bet €5
Deposit €5 on Signup
Get €20
New players only
So outlined below is our step by step guide to organising a successful and enjoyable poker night which everyone , rather than just the winner, will enjoy!
Step One – Pre-Planning Your Poker Night
There are a number of things to consider when you want to host a poker night, some are somewhat basic and obvious (what date and time you can host the game) but others require a little bit more planning and forethought.
Let's go through some of the key pre-planning things to consider when hosting a poker night.
There's not much point hosting a Poker Night on a Thursday afternoon, if none of your friends likely to play are going to be available. Therefore, find out from those who you think will want to play whether that they are firstly, interested in playing and secondly, what date and time suits them to play.
For many people Friday nights and weekend evenings are the optimal time, but if your friends have work patterns that mean another time is more suitable then go for that.
Once you have agreed a time and date then it is time to let everyone know when your poker night will be.
One of the key things to sort out is the optimal number of players for a home game. It can be tricky to cram 10, 12 or more players around a table in a house and as such, the optimal number of players to have for a home game, in our view, is around 6 to 8.
That number means that you can create a decent sized pot from the buy ins, but you can also fit easily around a 6 or 8 seat table.
Once you have settled on the number of people you want to play, contact them with the date and time of the poker night, as well as the buy in amount for the game.
To ensure fairness, rather than playing a cash game, I'd suggest a tournament with a buy in of a stated amount.
Of course, what that amount is depends on the relative wealth of those you have invited to play. If you are a group of millionaires, then you may suggest a £10,000 buy in for everyone, however for people who live in the real world and who do not have as much disposable cash to spare, a buy in of say £5 or £10 (especially if this is yours and their first poker night experience) is a good idea.
Of course, you can scale the buy in to suit your group, but I always feel it is best to begin with smaller amounts that people are comfortable losing initially as this does tend to create less tension with players, while still ensuring a competitive and meaningful game.
Another thing to clarify with all players is whether you are going to have the opportunity to rebuy into the game at a certain point in the game. This can cost players more if they opt to do so, so I would not use this initially at a first poker night, but you can look to introduce the rebuy option for players once you and your poker friends have played a few games between you.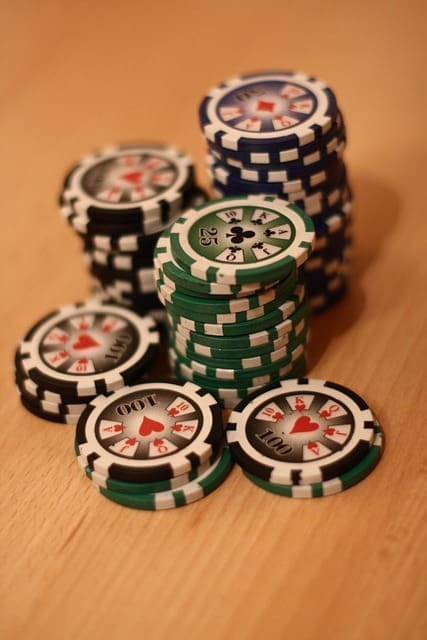 So what equipment do you need for a poker night? Cards obviously, but you are also going to need chips, a timer and of course somewhere to play, such as a table.
In terms of cards, I think it is a nice touch for any new poker tournament to begin with a completely new set of cards. This means cards can't be marked or damaged previous to the tournament being played and thus give some players an advantage.
A timer is easy as in the era of smartphones, tablets, laptops and smart speakers, it is very easy to set up a timer to decide when the blinds are going to be increased.
Your table needs to comfortably seat the number of players in your game and most dining tables will take 6-8 people comfortably. You could be sat at the table for a while, so make sure it is comfortable enough for that length of time.
Lastly, chips are for me what makes or breaks a poker home game. Don't be fooled into thinking the cheap chips are the best. Those multi-coloured chips without denominations on are a nigh on useless in a game where chips represent different value.
Invest in a good set of denominated chips ranging from 1 to 500 or even 1,000. This can be a relatively expensive outlay initially, but it is well worth it as it makes playing so much simpler.
To make your game more realistic you can also buy some baize from a local habidashery shop and cut it to your table size, or better still, buy a Hold'em Table Top, which you can open up and lay down on your table to give you a real casino feel!
We reckon for an outlay of between £100 and £150, you can set yourself up with a top-notch poker home game set up, which if six or eight are you are happy to share the cost of, makes the game more enjoyable and more professional too.
If you are going to be hosting parties regularly, it is a bit unfair of the other guests to expect you to always provide the drinks and snacks, so it may be best to divide up the cost of these and ask your guests to bring items with them for you all to enjoy.
Of course, some drinks are vital (have soft drinks available too), and some easy to eat snacks, such as peanuts, pizza, crisps, dip and similar are all good options. As is ordering a pizza delivery if you don't want time away from the table sorting the nibbles out.
Remember, you can take a time out from the table to have something to eat and drink if required. (Just remember to stop the timer).
However, if everyone is taking a turn to host your poker night, it may be easier for the host to provide drinks and nibbles when it is their turn.
Step Two – On The Day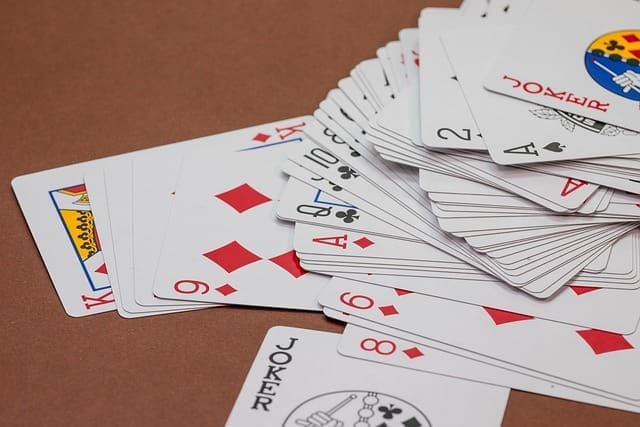 So, you have your poker night coming up, the food and nibbles are organised, your players are coming around and ready to buy in and play. So how do you create the best atmosphere for your poker night?
Find a quiet spot in the house to play, turn off the TV if it is in the room and instead you can put on some music in the background, but keep the music relatively quiet as part of the fun of poker night is the interaction between the players at the table.
It's a good idea to sort out the chips for each player beforehand as this can be time consuming to do just before the start of a game. I always try to match a buy in to the number of chips a player receives at the start of the game.
So, for example, if the buy in was, say £10, then I would give players chips totalling 1,000, which means each denomination on the chip is £0.01. If the buy in was £100, then it would be £0.10 for each domination.
I do this as it is easy for players to understand how much they are betting on any given hand.
It is also a good idea to have some printed hand ranking sheets available for novice players to use and before the game starts, it is wise to have a run through of the rules and how the hands progress, how the blinds increase etc especially for players not as experienced as others.
Before the game starts, go over the rules, the timings for the blinds increasing and of course, collect the buy ins from every player (no exceptions!). Place the cash somewhere safe and reiterate how the purse will be shared (winner takes all, 75% for the winner 25% for the runner up for example).
With everything now set, you are ready to play your first poker home game, but how long should the game take?
Step Three – Game Duration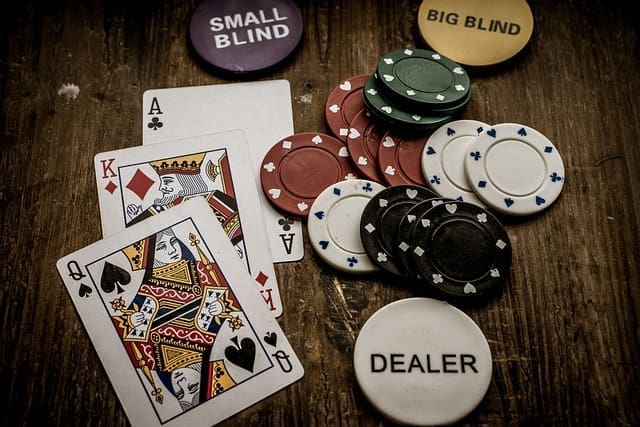 There are three things that will determine the duration of your poker night game:
How reckless (loose) players are with their betting, especially early in the game.
How many chips each player has at the start of the game compared to the starting blind/big blind.
How quickly the blind/big blind starting bets increase in the game.
Personally speaking, I think 2-3 hours is the optimal time for a home game. It is long enough for players to have a good game, but not too long that it will drag on and start to work its way into the small hours.
As such, I think raising the blind/big blind bets every 15-20 minutes, is a great way to hit a game time of around that amount.
Assuming you start with the small/big blinds of denominations of 1 & 2 chips, here's how I would suggest you move the Small/Big Blinds along every 15/20 minutes or so. (Here I am assuming players start with around 1,000 chips).
1 and 2 – 0-20 mins
2 and 4 – 20-40 mins
5 and 10 – 40-60 mins
10 and 20 – 60-80 mins
25 and 50 – 80-100 mins
50 and 100 – 100-120 mins
100 and 200 – 120-140 mins
250 and 500 – 140-160 mins
500 and 1000 – 160-180 mins
Playing in this way what you tend to find is that players get to play for a good hour or so usually before the first couple are eliminated but as the game progresses in hour 2 and 3, players are eliminated more quickly as the blinds increase to get you to a winner.
This means that after around 75 minutes or so, you can have a food and drinks break to stretch your legs, replenish your glass and grab some of the food on offer!
A good host also makes sure that the game remains friendly and while banter is fine, you don't want anybody stepping over the line, so do keep an eye on how much people are drinking, or if one player is starting to get irritated. You can often smooth things over with a nice or funny remark to stop any problems arising before they start.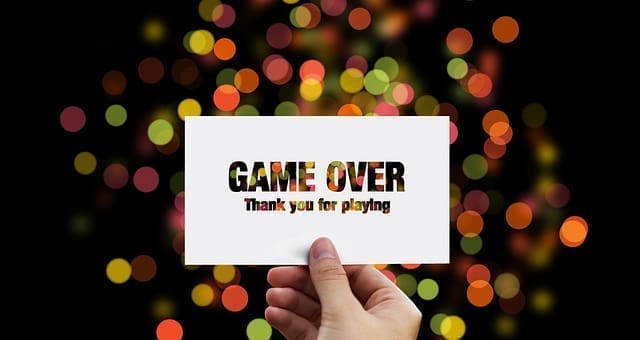 Finally, at the end of the game, pay out those who have cashed, commiserate with those that don't, chat about how the game went and changed and ensure everyone had a good time.
And when they say they did, you know exactly what to do to make your second poker night a huge success too!