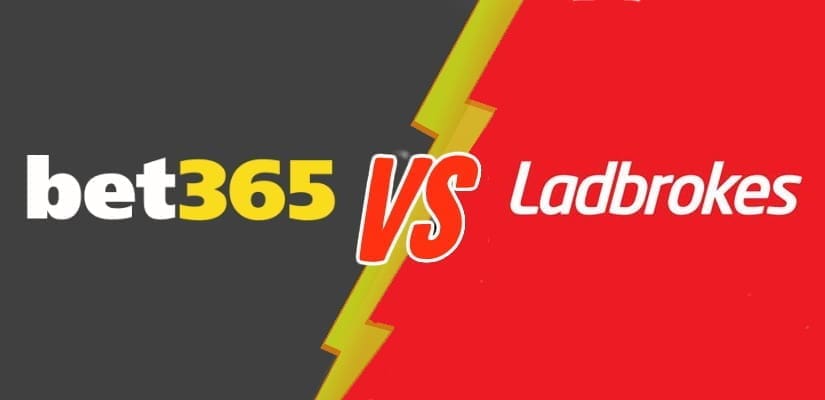 Comparing Ladbrokes vs bet365 is an interesting proposition. Ladbrokes is all over the British high street, with a presence in a handful of other countries too, thanks to its retail operation. Meanwhile, bet365 is purely online, although still a household name. So which website does online gambling better, across all of the areas you might be interested in?
Is it the laser-focused bet365 or Ladbrokes, which straddles the online and offline divide? Read on to discover the answer to which site is better – Ladbrokes vs bet365.
Correct at time of writing, 17th of January 2022.
Ladbrokes vs bet365 summary
Both Ladbrokes and bet365 are two legendary online gambling sites with Ladbrokes getting its start as a ubiquitous brick-and-mortar bookmaker while Bet365 is one of the longest-running online sportsbooks, casinos and poker rooms.
The names are familiar to any punter who has placed a bet in the UK over the last 20 plus years.
With Ladbrokes also a fixture in the online gambling world, how do they compare?
| Category | Bet365 | Ladbrokes |
| --- | --- | --- |
| Established (online) | 2000 | 2004 |
| Licensed | UK Gambling Commission | UK Gambling Commission |
| Products | All major products | All major products |
| Poker | iPoker Network, more traffic | partypoker Network, Includes Stud games |
| Sports | Better layout | Slightly larger selection of betting markets |
| Casino | Playtech, great quality slots | Wide variety of games |
| Contact | Live chat | Live chat, Phone |
| Twitter | @bet365 | @Ladbrokes |
| | | |
| Overall | 5/5 | 4.5/5 |
Bet365 and Ladbrokes History – Where it all began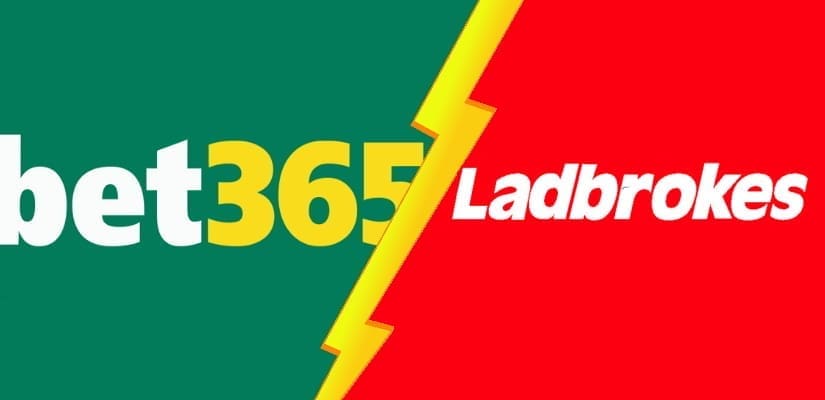 Ladbrokes has a long and storied history, with roots going back to 1886 Warwickshire, United Kingdom. As well as its online operations, it also has bricks and mortar bookmakers in Belgium, Ireland and the UK, as well as a telephone betting service too. The online operation kicked off in 2000 and has been going strong ever since.
The brand is owned by parent company Entain. Formally known as GVC, this company acquired Ladbrokes in 2018. Entain also owns well-known brands like partypoker, Coral, bwin, Eurobet, Foxy Bingo and more. Before this, Ladbrokes merged with the Gala Coral Group to become Ladbrokes Coral in 2016 and it was also owned for a time by the Hilton Group. Yes, the same company behind the hotels.
Ladbrokes and bet365 share a lot of similarities. They are both British, both long-established businesses with origins in retail and they both started their online gambling businesses in 2000. However, bet365 is more of a modern operation as the family business was first founded in the 1970s.
Another major difference is that bet365 focuses solely on its online business. The company sold its last bricks and mortar shops to Coral in 2005. And what started as a family business, remains so, with Denise Coates, daughter of the original 1970s chain, remaining at the helm of the ship.
Wagering opportunities
If you're lucky enough to live in a region where you can sign up to either bet365 or Ladbrokes, you'll be spoiled for choice with either. As you can see below, pretty much every taste is catered for.
| | | |
| --- | --- | --- |
| Betting Type | bet365 | Ladbrokes |
| Poker | ✔ | ✔ |
| Sports | ✔ | ✔ |
| | ✔ | ✔ |
| | | |
| Casino | ✔ | ✔ |
| | ✔ | ✔ |
| Card Games (eg Blackjack) | ✔ | ✔ |
| Table Games (eg Roulette) | ✔ | ✔ |
| | ✔ | ✔ |
| Live Casino | ✔ | ✔ |
| Bingo | ✔ | ✔ |
bet365 Ladbrokes — which has a better poker room?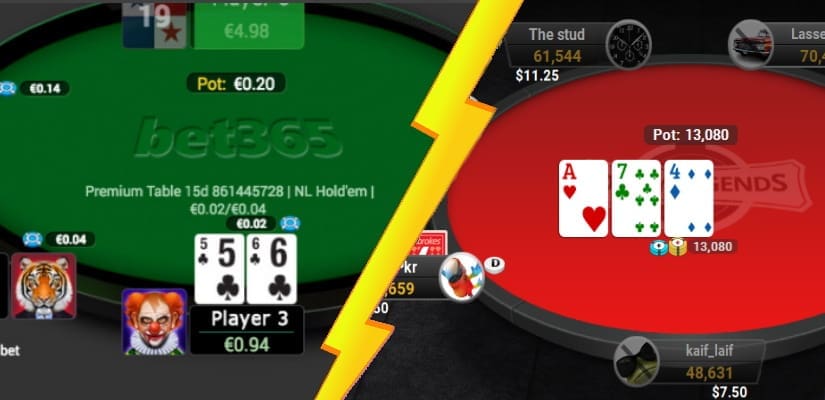 As of early 2020, Ladbrokes Poker migrated from the iPoker network to partypoker. Given who its parent company now is, that move certainly made sense from a business point of view. The move has been only a good thing for players, given the size of the partypoker Network.
On the other hand, bet365 is on the iPoker Network. Comparing the iPoker and partypoker networks isn't easy, but we'll try to give you a bit of an idea of the operational differences. The first thing is the amount of action you'll find on the sites, which is essential for poker players.
Any good poker site needs a healthy player pool in order to ensure that there are an adequate number of games. The iPoker network is, at the time of writing, roughly 25% busier than the partypoker network.
Now let's look in a little more depth about what you can actually play on bet365 or Ladbrokes…
Types of poker games
You can find a variety of cash games and tournaments at either bet365 or Ladbrokes. Depending on your budget, time limits and preferences, there should be something to interest you.
One of the jewels at bet365 is the super fun Twister tournaments. They are three-handed sit & go tournaments and a "twist" in the way prize pools are calculated. It's randomly determined before you start playing and can reach up to 1,000x the buy-in. Twister is so successful that there are also spin-offs available.
If you love a bit of a progressive jackpot, Age of the Gods Twister gives you the chance to score one as you play. Alternatively, Wild Twisters see everyone go all-in on every hand. That really gets the blood pumping.
Another interesting offering is the lightning speed Premium Steps tournaments. At these tables, there are a variety of different buy-ins. So you can buy-in for a small amount and grind your way up, or go in all guns blazing and compete at the upper echelons. A nice way to give access, depending on time and budget.
The Twister equivalents at Ladbrokes are SPINS. They too are 3-max tournaments with a randomly determined prize pool, but here the top multiplier goes up to a staggering 240,000x your buy-in. Curiously, the only buy-in level that the prize level is offered at is the $5 SPINS and the chances of hitting it are one in 10 million. There are other big multipliers available across the other buy-in levels, but again are very rare.
Ladbrokes also have a fast-fold game called Fastforward. In this game, once you fold you are whisked away to a new table. Nice for people who aren't too into waiting around and getting on with the next hand.
Variants
At bet365 and Ladbrokes, you can find Hold'em, Omaha and Six+ Hold'em tables (although at Ladbrokes it's called Short Deck). That covers all the main poker types most people are looking for. However, Ladbrokes also has Seven Card Stud and Seven Card Stud Hi-Lo. That's a little niche, of course, but nice to have the option too.
Poker loyalty programmes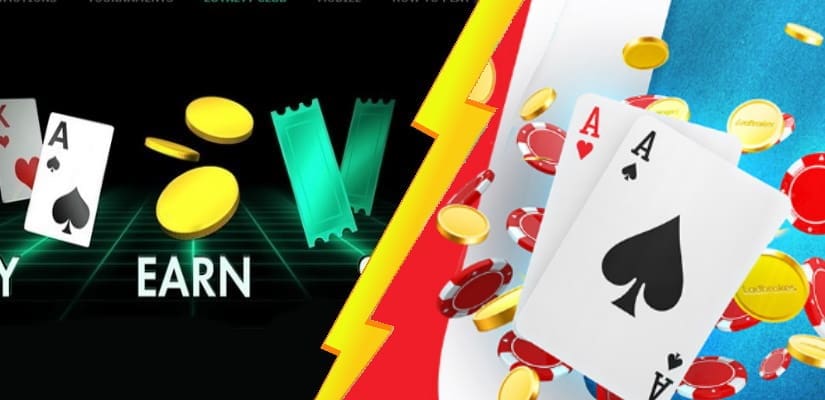 Thankfully, whether you choose bet365 or Ladbrokes, you'll be treated to a lucrative poker loyalty scheme. Over at Ladbrokes, it's called Ladbrokes Poker Cashback. No prizes for guessing what's involved here. As long as you generate at least $5 in rake every week, you qualify to earn cashback at Ladbrokes.
The rate of rakeback you receive will increase depending on how many points you earn. And you earn points by generating rake. Rakeback starts at 10% and is capped at 40% for the high rollers on the site. A nice simple loyalty programme.
Meanwhile, over at bet365, the scheme is called Loyalty Club. This has got a little bit more personality, giving you the chance to earn bet365 Coins as you pay fees at cash games or tournament tables or when you complete Loyalty Missions. There are a good few different levels in Loyalty Club and depending on which one you're in, you can access exclusive freerolls and promotions. And of course, you can also get rewarded with bonus cash and tickets too.
Is sport better at bet365 or Ladbrokes?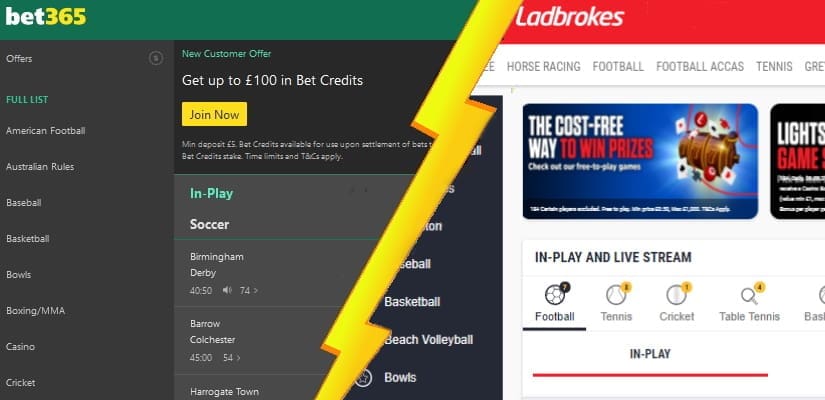 Sport is one of the major battlefields when you're talking about either bet365 or Ladbrokes. That's because it's where both brands began, one in the 19th century and one in the 20th. They are both synonymous with sports betting in Britain and beyond so the comparisons can be quite close.
There are almost 50 sports and markets that you can choose to be on at bet365. You'll find all the markets you'd usually expect, like soccer, rugby and cricket. But there are some more unusual choices too. Think TV shows and politics for starters. At Ladbrokes, there are even more areas listed as wagering opportunities. Some are pretty obscure, like weightlifting and fishing, but it is nice to see the variety out there.
Although slightly disappointingly, at the time of writing, some of the areas were blank when we tried to click in. For example, bet365 had five options under UK and World Specials. Meanwhile, Ladbrokes coughed up a blank page when we clicked on TV Betting & Odds. Both online sportsbooks offer punters a huge variety of bet types, from money lines to spread wagering, to multiples betting and much more. Those wagering on Bet365 can also use its popular Bet Builder feature, which allows you to construct your own custom bets.
Sports offers and layout
Whenever you go to bet365, you'll notice excellent sports offers. When we were checking out the site to do this comparison, there was an accumulator bonus and two different risk-free bet offers. While we were perusing the Ladbrokes site we saw odds boosts, accumulator insurance and price boosts. So fairly comparable in terms of live promotions, really.
However, we have to say that the layout of bet365 is just a little easier to figure out. The navigation bar has all the various sports and the website sections altogether and everything is arranged alphabetically. That means News & Blogs is wedged in between Netball and Politics. At bet365, everything is separated out a little more logically, making navigation easier.
Is casino better at bet365 or Ladbrokes?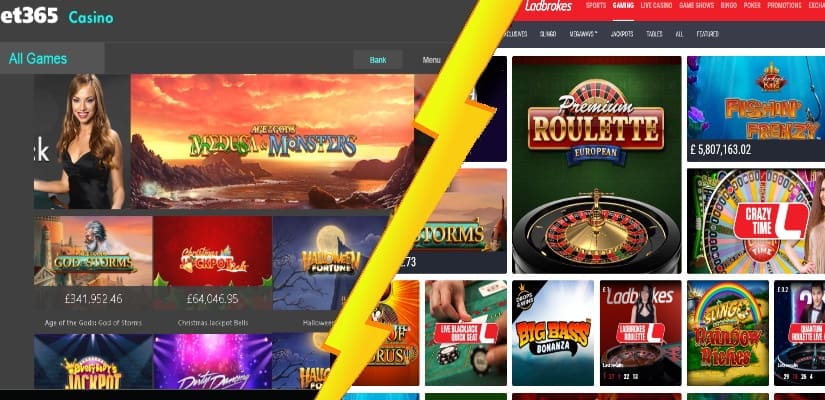 Over at Ladbrokes, the main casino site can be found under the "Gaming" tab. There is a huge focus on slots, with an incredible 1,910 titles on offer in total. Designers include CR Games, Pragmatic Play, Gaming Realms and more.
As well as the head-turning slot selection, including a new Walking Dead 2 slot, there's a decent selection of roulette and blackjack games, plus a smattering of other table and card game options. We also like the Live Casino options here, including lots of fun game shows, live slots, along with your more traditional games such as live blackjack with real blackjack tables.
The bet365 Casino also has a strong offering across the card game, table games, slots and live casino tables. Ladbrokes and bet365 are fairly comparable across most of their casino offering, but Ladbrokes does have a whole lot more slots games to offer. Having said that, the quality of the bet365 slots is fantastic, as Playtech are the brains behind many of the titles.
Casino promotions
Neither bet365 or Ladbrokes offer casino players a loyalty scheme, but they both do have impressive promotions. Of course, the kinds of promotions on offer at any given time will vary. But at bet365, keep your eye out for events like Slots Festival, where you can win cash prizes in exchange for playing certain titles.
In addition, bet365 offers exclusive Dual Drop Jackpots just for their own players. That means it's separate from the jackpots for the rest of the Playtech casino community.
The weekly jackpot is triggered every seven days, while the community jackpot will only pay out when it reaches €116,660. That's a serious draw for jackpot fans and a reason to play here above other Playtech casino sites.
At Ladbrokes, there are usually one or two casino promotions on the go as well. Usually, they give out free spins, bonuses and cash prizes. You can expect a few different mechanics, including spin the wheel and the traditional prize draw. Live Casino fans are also treated to several daily, weekly and seasonal promotions where their table might be randomly selected to win bonus prizes as they play.
Is bingo better at bet365 or Ladbrokes?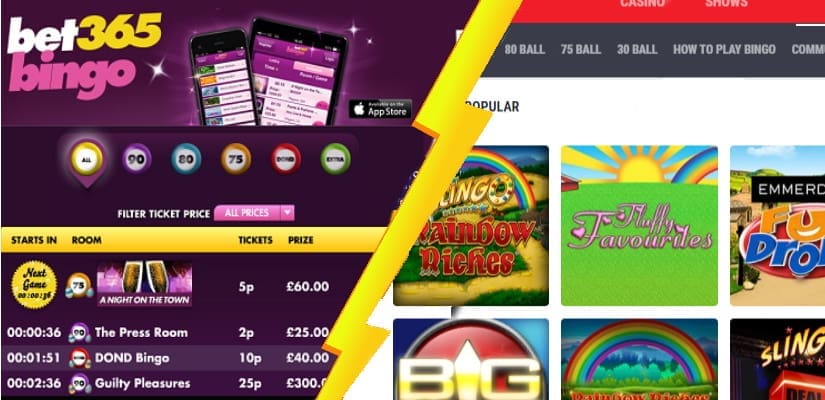 When it comes to bingo, you can't go far wrong if you choose either bet365 or Ladbrokes. Their offerings are fairly similar and both pretty decent. You can play in the rooms in Ladbrokes starting at just €0.01. Many of the rooms are named after areas of the house, such as The Garage, The Garden, The Treehouse, etc. Another nice feature for some players is that there are a few rooms based on popular TV shows, including Deal or No Deal and Friends.
Meanwhile, at bet365 Bingo, there are similar low-budget options too. Over here, the rooms are themed a little more like regular bingo rooms. For instance, you've got 90-Ball Quick Call rooms and 52-Ball Housey Bingo. One feature we really like here is that there are a few bingo rooms with slots themes, such as Rainbow Riches Bingo, with prices starting from just 5p, and Age of the Gods Bingo, starting at 15p.
Enhanced rooms and promotions
At bet365 Bingo, they've also got a great range of enhanced rooms on any given month. For example, at the time of this writing, there was a £50,000 Super Saturdays running at the Guilty Pleasures room in the evenings. In total, there were about a dozen different events scheduled so you have something to look forward to pretty much every day.
Promotions-wise, bet365 Bingo had more than double the promotions offered by Ladbrokes Bingo when we were researching this piece. At Ladbrokes, this included a €25 Welcome Bonus, £250K Escalator Jackpots and some free bingo sessions.
And during the same time period, bet365 Bingo had a similar £250K Escalators Jackpot, daily prize draws, discounted games, weekly cashback, extra tickets and a new player offer giving out 200 free tickets plus 20 free spins.
Should I choose bet365 or Ladbrokes?


So now the big question. Which is the better site for you? Is it bet365 or Ladbrokes? Both have really strong points, to be very honest. Across most areas, we think bet365 is stronger. For example, being part of the iPoker network and all the bang for your buck you get on the felt makes playing poker here really great.
We also think that bet365 Sports just has a more professional and easy-to-understand layout. As well as that, bet365 Bingo is aimed at more of a gaming audience, with the slots-themed rooms, etc. And that's just more our sort of thing.
The one area that Ladbrokes does clearly shine is the sheer number of slots games on offer, which easily surpasses the number of titles at bet365. This is because Ladbrokes have lots of different suppliers, some quite small, whereas bet365 focus on Playtech games. There could be a slight quantity vs quality debate here because the bet365 slots games are really fantastic with lots of big names available.
Our conclusion
If your sole focus in an online gambling site is to find lots of slots, perhaps Ladbrokes is the place for you. However, if you like a bit of variety and appreciate pure quality, especially in your poker room and sportsbook, then bet365 is where you should take your play.
bet365 vs other Top Online Casinos
If you're interested in how Bet365 matches up against other websites, check out our other in-depth comparisons of Bet365 vs other popular online gambling sites:
Stay tuned to this space for more analysis of Bet365 vs other top online casinos.
Bet365 Review
Min deposit €5
Up to €100 in Bet Credits For New Customers at bet365
Min deposit €5. Bet Credits available for use upon settlement of bets to value of qualifying deposit. Min odds, bet and payment method exclusions apply. Returns exclude Bet Credits stake. Time limits and T&Cs apply. The bonus code BET247 can be used during registration, but does not change the offer amount in any way.
Ladbrokes Review
Get €20 When You Bet €5
Deposit €5 on Signup
Get €20
New players only