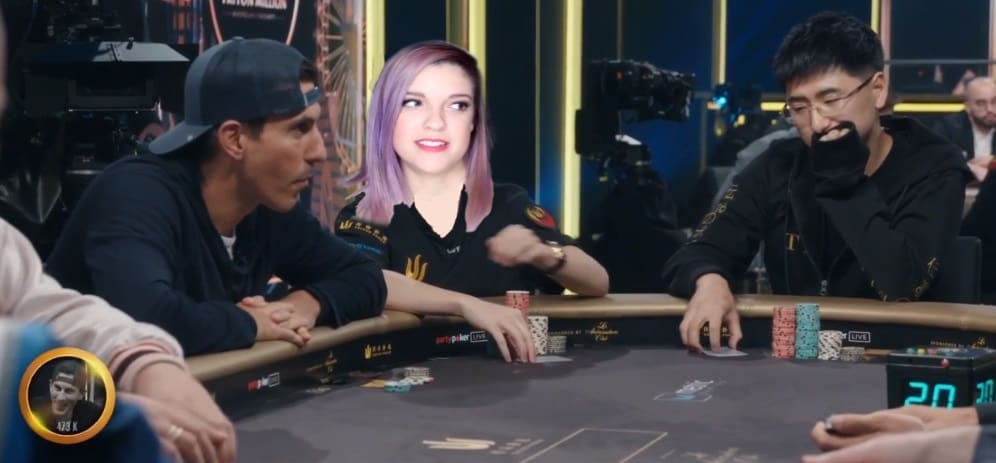 London, England – Oops!
The Triton Million began with a wee bit of a mishap today when it turned out that one of the players in the event hadn't even bought in at all!
YouTube personality and amateur poker player Cat Valdes was removed from the event when it was revealed that she hadn't actually bought in for the €1 Million Triton High Roller, but instead only the $125 6 pm Venetian Nightly.
Just a misunderstanding?
The £1M Triton event has been all the poker world can talk about these days. The invite-only tournament features 54 entrants with a healthy mix of both wealthy amateurs and world-class professionals and also Cat Valdes.
Apparently, Valdes actually registered for the $125 nightly on July 28, but due to a technical mix-up, she was given a tournament receipt for the £1,050,000 buy-in event and boarded a jet for London the next day.
"I thought maybe it was a little strange that I bought in for the tournament in Las Vegas, but the event actually took place in London three days later, but I'm new to poker so I just went with it," Valdes said afterward.
Seated at a table with Bryn Kenney, Tom Dwan, Justin Bonomo and Fedor Holz, Valdes had actually managed to spin up her 1M starting stack into 2.3M before being removed in Level Nine.
Valdes speaks, pros react
Cat later took to YouTube to explain the mix-up to her fans saying, "I'm a huge fan of poker, so I thought it was a little off that four of the biggest winners in the history of the game were playing a $100 buy-in event and seated at my table, but I figured maybe this was how they padded their bankroll. And I'm new to poker so I just went with it."
"I also thought it a little peculiar that they were filming the event with commentary from Nick Schulman and Ali Nejad, but, hey, I'm new to poker so I just went with it.
Several pros chimed in on Twitter with their thoughts on the mix-up.
"This wouldn't have happened if High Rollers didn't have unlimited re-entry," wheezed Dan Shak.
"She was taken out during Level 9 when the blinds were 10k/20k, but I think everyone knows the blinds in Level 9 should be 7,350/14,700," added Allen Kessler.
"I'm not good enough to play these events! How am I gonna stay relevant!?" exclaimed Phil Hellmuth.
The Triton Million – A Helping Hand for Charity will be streamed on delay for free on PokerGo from August 1-3 when Justin Bonomo inevitably gets heads-up against Brynn Kenney and not a single amateur makes the money.
Several players of the event were critical of Valdes, but many mentioned that they did respect the fact that she was the only player in the room with more than 3% of themselves.
[wp_social_sharing social_options='facebook,twitter,linkedin,reddit' facebook_text='Share on Facebook' twitter_text='Share on Twitter' linkedin_text='Share on Linkedin' reddit_text="Share on Reddit" icon_order='f,t,l,r' show_icons='0′ before_button_text=" text_position=" social_image="]