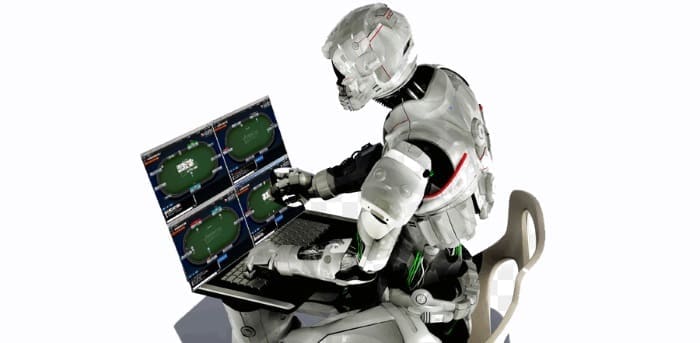 Wow, it looks like America's Cardroom is finally taking some steps in the right direction!
Earlier today in a statement released simultaneously to Twitter, Facebook, and 2+2, ACR announced that effectively immediately, they will be putting a table max on bots limiting them to just four simultaneous tables!
"We've heard you loud and clear about cutting down on bots on our site. And we stepped up and took action! Starting today, bots will only be allowed to play on FOUR tables at once! They naturally can still take up as many seats as they'd like and also share cards with one another, but now they'll only be able to do so on a handful of tables. We know this is a great move that will help all players – pros, amateurs, and robots alike."
Poker players voice opposition
Obviously, the announcement was met with outcry and confusion from many in the poker community.
YouTube personality and shirt sleeve foe Doug Polk released 15 videos in 3 minutes about the decision from ACR calling it "ridiculous" and "doesn't address the real issue" and "buy Upswing Poker."
Joey Ingram noted that he would be doing a full investigation and that this better not affect the GREAT GAME of pot-limit Omaha.
Bertrand Grospellier also said something, but no one could understand it.
And finally Phil Hellmuth took to Twitter to voice his opinion on the issue, but instead just wrote out a list of various celebrities with no context whatsoever.
ACR is the leading grey market site in the United States. It features some of the biggest tournaments around, and they hardly ever crash. Next month they are promoting their Double Diamond Helix Series. The main event features a $5 million guaranteed prize pool and has unlimited re-entry for the first 13,000 levels.
Players can deposit using Bitcoin, PayPal, or by dropping off a bag of cash Tuesdays under the 5th Ave. bridge between 3 and 4 am.
[wp_social_sharing social_options='facebook,twitter,linkedin,reddit' facebook_text='Share on Facebook' twitter_text='Share on Twitter' linkedin_text='Share on Linkedin' reddit_text="Share on Reddit" icon_order='f,t,l,r' show_icons='0′ before_button_text=" text_position=" social_image="]