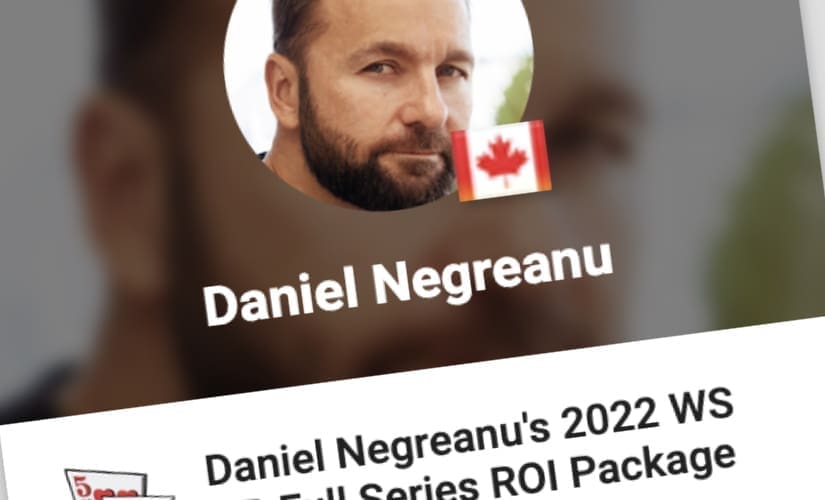 Here's your chance to get in on a slice of the action for one of the all-time greats of poker WSOP campaign this summer.
As he did during 2021, Daniel Negreanu again announced that will be offering staking packages for the upcoming WSOP. The packages will allow poker fans to buy their way into some of this year's events without any markup whatsoever through the staking website PocketFives.
In all, there was $1.9 million in potential Negreanu buy-ins for the series long package as well as daily staking offers that will be made available.
Poker fans who got in on the action in time could purchase their way in from between $19 and $475 to back your man during this year's series.
SOLD OUT!
With zero markup from such a high-profile poker figure, it was hardly a surprise that packages were a hot commodity, with packages sold out within days.
Fortunately, for poker fans, they will still have a "daily" option throughout the 2022 World Series of Poker that they can take advantage of, which Negreanu detailed during a tweet from on May 14th.
Mark Up Police Approved
Best of all, DNegs has vowed that he won't be applying any mark-up fee so there is nothing else to pay to follow the Canadian legend.
Even Shaun Deeb who has clashed with Negreanu over this topic in the past approved the move.
In fact, on the same day that he declared DNeg's offer as Mark Up Police approved, Deeb also criticised other players for selling their staking packages with too high of mark ups attached to them.
Negreanu's 2022 WSOP Schedule
In February, Negreanu posted his 49 event WSOP schedule of mainly mixed game and High Roller events was published.
As well as the $10,000 Main Event, which gets underway on Sunday, July 3, the list of events KidPoker is planning on playing in includes the $100,000 High Roller Bounty, $25,000 Heads-Up No-Limit Hold'em Championship, $50,000 Pot-Limit Omaha High Roller and the $10,000 Razz Championship.
Of course, Negreanu will continue to vlog his WSOP experience so whether you decide to back him or not you can still follow his progress in Vegas this summer.
The 2022 WSOP opens for business on Tuesday, May 31 and after 17 years at the Rio, is moving to Bally's – the soon-to-be Horseshoe – and Paris Las Vegas Hotel & Casino.