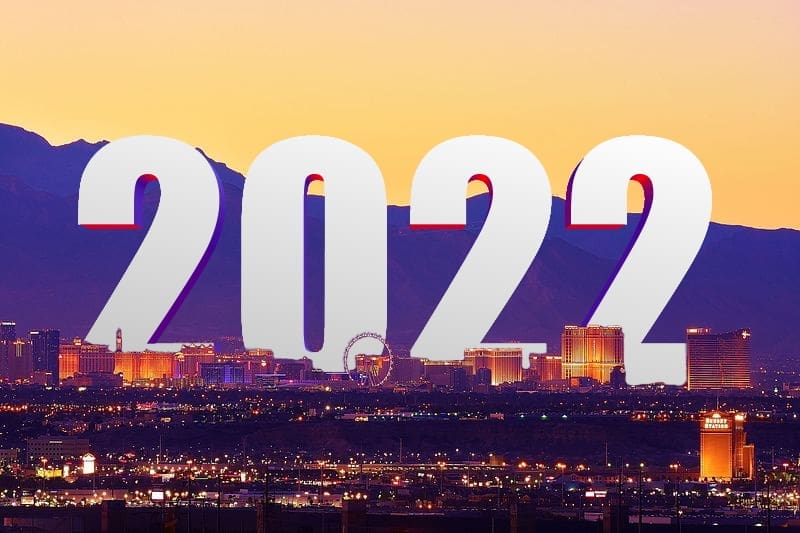 It may be a couple of months out, but warmer weather is ahead and that means the start of yet another World Series of Poker.
There is perhaps extra excitement this year as 2022 is shaping up to be the first "normal" WSOP — live events during the traditional May through July period — in three years. Yeah, that hasn't happened since 2019
While we wait for the cards to be dealt and bracelets to be awarded, we can tell you what we know right now about the upcoming 2022 WSOP, which will be held just over five months from the last WSOP.
Frequently Asked Questions
The 2022 WSOP will be held from May 31st to July 19th, 2022.
What is the WSOP 2022 Schedule?
A full WSOP 2022 schedule was released on February 23rd. As part of the schedule, there is an impressive selection of events with 88 bracelet tournaments on tap.
The festivities will kick off with the $500 Casino Employees Event on May 31st and conclude with the Tournament of Champions on July 19th.
You can also view a complete schedule at the bottom of this post.
What is the WSOP 2022 Main Event schedule?
The 2022 WSOP Main Event is slated to run from July 3rd to July 19th.
Below is a schedule of each day of the Main Event:
WSOP Main Event Schedule
| | |
| --- | --- |
| Date | Day of 2022 WSOP Main Event |
| July 3rd (Sunday) | Day 1a |
| July 4th (Monday) | Day 1b |
| July 5th (Tuesday) | Day 1c |
| July 6th (Wednesday) | Day 1d |
| July 7th (Thursday) | Day 2ab |
| July 8th (Friday) | Day 2cd |
| July 9th (Saturday) | Day 3 |
| July 10th (Sunday) | Day 4 |
| July 11th (Monday) | Day 5 |
| July 12th (Tuesday) | Day 6 |
| July 13th (Wednesday) | Day 7 |
| July 15th (Friday) | Day 8 (Main Event Final Table) |
| July 16th | Day 9 (Main Event Final Table, Winner crowned) |
The 2022 WSOP will have a new home in Bally's, which will mark the first time that the series will be held on the legendary Las Vegas strip (previous homes were Binions and the Rio). In addition to Bally's, the nearby Paris Las Vegas will also host events during the 2022 WSOP Main.
Who can play in the 2022 WSOP?
Assuming there are no travel restrictions, the 2022 WSOP will be open to players from across the globe, who make the yearly trek to Las Vegas each summer.
Those hoping to play WSOP online events will be under a few more restrictions. As was the case in 2021, online events are expected to take place on WSOP.com for US players located in New Jersey, Nevada and Pennsylvania. Meanwhile, GGPoker will likely be home to online events for players outside of the U.S.
How can I watch WSOP 2022 live?
The WSOP 2022 will be broadcast in the same manner in which it was for 2021, which includes a combination of coverage from PokerGO and CBS Sports. PokerGO will take on the online streaming duties while broadcast coverage will be held through CBS Sports.
A live streaming schedule has been released with PokerGo announcing that 21 events including the WSOP Main Event will be streamed on the platform beginning on June 2nd.
A broadcast schedule will likely not be released until closer to the tournament, but in the press release announcing the schedule, the WSOP said that 18 different events would be televised with at least 15 hours of the WSOP Main Event broadcasted.
Where can I find the WSOP 2022 results?
Dozens of WSOP bracelets are expected to be given away as part of the WSOP 2022 results, possibly more than during the 2021 WSOP.
Poker fans can keep up with WSOP 2022 updates through this page as well as the official WSOP website. 2022 WSOP results will be posted there on a nearly hourly basis, especially for top tournaments such as the Main Event.
Will there be any COVID requirements for the 2022 WSOP?
Unlike last year, there will not be any requirements to have a vaccination or wear a mask during the 2022 World Series of Poker.
Is the 2022 WSOP hiring dealers?
Indeed, it seems as though the WSOP is in need of dealers for the 2022 WSOP and they are offering a pay increase to entice new dealers.
Dealers will be paid at least $12.50 an hour in starting pay plus a $100 bonus after completing the first shift. In addition, dealers will be paid a guaranteed $15-$20 per down (generally 20 to 60 minutes). Any additional dealer funds that are left over will be split among dealers based on the number of downs worked.
What events will Daniel Negreanu be playing?
Every year, poker fans eagerly wait for Daniel Negreanu to reveal the events he plans to play.
As of late February, Negreanu plans to keep really busy, indicating that he plans on playing 49 of the 88 events of the 2022 WSOP. Added together, the buy-ins of the events that Negreanu plans on entering total nearly $1 million.
Negreanu offered poker fans the chance to get in on his action with no markup, which sold out within days. But fans can look out for daily opportunities during the 2022 WSOP.
Best Online Sportsbooks and Casinos
Daily Fantasy, Simplified.
Simply choose over or under on your favorite players to play
No sharks, no salary caps, no BS
Turn the game on and follow along with live player tracking to watch how you're doing
Legal in 26 states + Canada (see site for details)
Full 2022 WSOP Schedule
Looking for an event to play this spring and summer in Las Vegas? Below is a full schedule of the 88 events of the 2022 World Series of Poker.
The Full 2022 WSOP Schedule
| wdt_ID | Date | Event | Buyin |
| --- | --- | --- | --- |
| 1 | 31/05/2022 | Event #1: Casino Employees No-Limit Hold'em | $500 |
| 2 | 31/05/2022 | Event #2: High Roller Bounty No-Limit Hold'em | $100,000 |
| 3 | 01/06/2022 | Event #3: Freezeout No-Limit Hold'em | $2,500 |
| 4 | 01/06/2022 | Event #4: Dealers Choice 6-Handed | $1,500 |
| 5 | 02/06/2022 | Event #5A: The Housewarming No-limit Hold'em - Flight | $500 |
| 6 | 02/06/2022 | Event #6: Heads Up No-Limit Hold'em Championship | $25,000 |
| 7 | 03/06/2022 | Event #5B: The Housewarming No-limit Hold'em - Flight | $500 |
| 8 | 03/06/2022 | Event #7: Omaha Hi-Lo 8 or Better | $1,500 |
| 9 | 04/06/2022 | Event #5C: The Housewarming No-limit Hold'em - Flight | $500 |
| 10 | 04/06/2022 | Event #8: High Roller No-Limit Hold'em 8-Handed | $25,000 |
| 11 | 04/06/2022 | Event #9: Seven Card Stud | $1,500 |
| 12 | 05/06/2022 | Event #5D: The Housewarming No-limit Hold'em $5,000,000 Guaranteed Prize Pool - Flight | $500 |
| 13 | 05/06/2022 | Event #10: Dealers Choice 6-Handed Championship | $10,000 |
| 14 | 06/06/2022 | Event #11: No-Limit Hold'em Deepstack | $600 |
| 15 | 06/06/2022 | Event #12: High Roller No-Limit Hold'em 8-Handed | $50,000 |
| 16 | 06/06/2022 | Event #13: Limit Hold'em | $1,500 |
| 17 | 07/06/2022 | Event #14: 6-Handed No-Limit Hold'em | $1,500 |
| 18 | 07/06/2022 | Event #15: Omaha Hi-Lo 8 or Better Championship | $10,000 |
| 19 | 08/06/2022 | Event #16: No-Limit Holdem | $3,000 |
| 20 | 08/06/2022 | Event #17: Mixed Triple Draw Lowball (Limit) | $2,500 |
| 21 | 09/06/2022 | Event #18: Freezeout No-Limit Holdem | $1,000 |
| 22 | 09/06/2022 | Event #19: High Roller Pot-Limit Omaha (8-Handed) | $25,000 |
| 23 | 09/06/2022 | Event #20: Limit 2-7 Lowball Triple Draw | $1,500 |
| 24 | 10/06/2022 | Event #21A: MONSTER STACK No-Limit Hold'em - Flight | $1,500 |
| 25 | 10/06/2022 | Event #22: Seven Card Stud Championship | $10,000 |
| 26 | 11/06/2022 | Event #21B: MONSTER STACK No-Limit Hold'em - Flight | $1,500 |
| 27 | 11/06/2022 | Event #23: 6-Handed Limit Hold'em | $3,000 |
| 28 | 12/06/2022 | Event #24: FLIP & GO No-Limit Hold'em Presented by GG Poker - Flight | $1,000 |
| 29 | 12/06/2022 | Event #25: No-Limit Hold'em Deepstack | $800 |
| 30 | 12/06/2022 | Event #26: Limit Hold'em Championship | $10,000 |
| 31 | 13/06/2022 | Event #27: SHOOTOUT No-Limit Hold'em | $1,500 |
| 32 | 13/06/2022 | Event #28: HIGH ROLLER Pot-Limit Omaha | $50,000 |
| 33 | 13/06/2022 | Event #29: No-Limit 2-7 Lowball Draw | $1,500 |
| 34 | 14/06/2022 | Event #30: Pot-Limit Omaha 8-Handed | $1,000 |
| 35 | 14/06/2022 | Event #31: Limit 2-7 Lowball Triple Draw Championship | $10,000 |
| 36 | 15/06/2022 | Event #32: H.O.R.S.E. | $1,500 |
| 37 | 15/06/2022 | Event #33: 6-Handed No-Limit Hold'em | $3,000 |
| 38 | 16/06/2022 | Event #34: Freezeout No-Limit Holdem | $1,500 |
| 39 | 16/06/2022 | Event #35: Mixed Big Bet Event | $2,500 |
| 40 | 16/06/2022 | Event #36: Seven Card Stud Hi-Lo 8 or Better | $1,500 |
| 41 | 17/06/2022 | Event #37A: MILLIONAIRE MAKER No-Limit Hold'em - Flight | $1,500 |
| 42 | 17/06/2022 | Event #38: No-Limit 2-7 Lowball Draw Championship | $10,000 |
| 43 | 18/06/2022 | Event #37B: MILLIONAIRE MAKER No-Limit Hold'em - Flight | $1,500 |
| 44 | 18/06/2022 | Event #39: 6-Handed Pot-Limit Omaha | $3,000 |
| 45 | 18/06/2022 | Event #40: Seven Card Stud Hi-Lo 8 or Better Championship | $10,000 |
| 46 | 19/06/2022 | Event #41: Super Turbo Bounty No-Limit Hold'em (freezeout) | $1,000 |
| 47 | 19/06/2022 | Event #42: High Roller No-Limit Hold'em | $100,000 |
| 48 | 20/06/2022 | Event #43: Freezeout No-Limit Holdem | $500 |
| 49 | 20/06/2022 | Event #44: H.O.R.S.E. Championship | $10,000 |
| 50 | 21/06/2022 | Event #45: Pot-Limit Omaha (8-Handed) | $1,500 |
| 51 | 21/06/2022 | Event #46: 6-Handed No-Limit Hold'em | $5,000 |
| 52 | 22/06/2022 | Event #47A: SENIORS No-Limit Hold'em Championship - Flight | $1,000 |
| 53 | 22/06/2022 | Event #48: Eight Game Mix 6-Handed | $1,500 |
| 54 | 23/06/2022 | Event #47B: SENIORS No-Limit Hold'em Championship - Flight | $1,000 |
| 55 | 23/06/2022 | Event #49: No-Limit Holdem | $2,000 |
| 56 | 23/06/2022 | Event #50: Super High Roller No-Limit Hold'em | $250,000 |
| 57 | 24/06/2022 | Event #51A: COLOSSUS No-Limit Hold'em - Flight | $400 |
| 58 | 24/06/2022 | Event #52: Nine Game Mix 6-Handed | $2,500 |
| 59 | 25/06/2022 | Event #51B: COLOSSUS No-Limit Hold'em - Flight | $400 |
| 60 | 25/06/2022 | Event #53: Mixed No-Limit Hold'em; Pot-Limit Omaha (8-Handed) | $5,000 |
| 61 | 26/06/2022 | Event #54: SALUTE to Warriors - No-Limit Hold'em | $500 |
| 62 | 26/06/2022 | Event #55: TAG TEAM No-Limit Hold'em | $1,000 |
| 63 | 26/06/2022 | Event #56: Poker Players Championship 6-Handed | $50,000 |
| 64 | 27/06/2022 | Event #57: Deepstack Championship No-Limit Hold'em | $600 |
| 65 | 27/06/2022 | Event #58: Pot-Limit Omaha Hi-Lo 8 or Better (8-Handed) | $1,500 |
| 66 | 28/06/2022 | Event #59: SUPER SENIORS No-Limit Hold'em | $1,000 |
| 67 | 28/06/2022 | Event #60: Short Deck No-Limit Hold'em | $10,000 |
| 68 | 29/06/2022 | Event #61: LADIES No-Limit Hold'em Championship | $1,000 |
| 69 | 29/06/2022 | Event #62: Super Turbo Bounty No-Limit Hold'em (freezeout) | $1,500 |
| 70 | 29/06/2022 | Event #63: Pot-Limit Omaha Hi-Lo 8 or Better Championship (8-Handed) | $10,000 |
| 71 | 30/06/2022 | Event #64: Pot-Limit Omaha Deepstack (8-Handed) | $600 |
| 72 | 30/06/2022 | Event #65: Freezeout No-Limit Hold'em | $3,000 |
| 73 | 01/07/2022 | Event #66: MINI Main Event No-Limit Hold'em (freezeout) | $1,000 |
| 74 | 01/07/2022 | Event #67: Super Turbo Bounty No-Limit Hold'em (freezeout) | $10,000 |
| 75 | 02/07/2022 | Event #68A: Million Dollar Bounty No-Limit Hold'em - Flight | $1,000 |
| 76 | 02/07/2022 | Event #69: Pot-Limit Omaha 8-Handed Championship | $10,000 |
| 77 | 03/07/2022 | Event #70A: MAIN EVENT No-Limit Hold'em World Championship - Flight | $10,000 |
| 78 | 03/07/2022 | Event #68B: Million Dollar Bounty No-Limit Hold'em - Flight | $1,000 |
| 79 | 04/07/2022 | Event #70B: MAIN EVENT No-Limit Hold'em World Championship - Flight | $10,000 |
| 80 | 04/07/2022 | Event #68C: Million Dollar Bounty No-Limit Hold'em - Flight | $1,000 |
| 81 | 04/07/2022 | Event #68D: Million Dollar Bounty No-Limit Hold'em - Flight | $1,000 |
| 82 | 05/07/2022 | Event #70C: MAIN EVENT No-Limit Hold'em World Championship - Flight | $10,000 |
| 83 | 06/07/2022 | Event #70D: MAIN EVENT No-Limit Hold'em World Championship - Flight | $10,000 |
| 84 | 07/07/2022 | Event #71A: One More for One Drop No-Limit Hold'em - Flight | $1,111 |
| 85 | 07/07/2022 | Event #72: Mixed: Pot-Limit Omaha Hi-Lo 8 or Better; Omaha Hi Lo 8 or Better; 'Big O' | $1,500 |
| 86 | 08/07/2022 | Event #71B: One More for One Drop No-Limit Hold'em - Flight | $1,111 |
| 87 | 08/07/2022 | Event #73: Razz | $1,500 |
| 88 | 09/07/2022 | Event #71C: One More for One Drop No-Limit Hold'em - Flight | $1,111 |
| 89 | 09/07/2022 | Event #74: BOUNTY Pot-Limit Omaha 8-Handed | $1,500 |
| 90 | 10/07/2022 | Event #75A: Lucky 7's No-Limit Hold'em 7-Handed - Flight | $777 |
| 91 | 10/07/2022 | Event #76: Poker Hall of Fame Bounty No-Limit Hold'em (freezeout) | $1,979 |
| 92 | 11/07/2022 | Event #75B: Lucky 7's No-Limit Hold'em 7-Handed - Flight | $777 |
| 93 | 11/07/2022 | Event #77: Mixed No-Limit Hold'em; Pot-Limit Omaha (8-Handed) | $1,500 |
| 94 | 11/07/2022 | Event #78: No-Limit Hold'em | $2,500 |
| 95 | 12/07/2022 | Event #75C: Lucky 7's No-Limit Hold'em 7-Handed - Flight | $777 |
| 96 | 12/07/2022 | Event #79: Razz Championship | $10,000 |
| 97 | 13/07/2022 | Event #80: Mixed No-Limit Hold'em; Pot-Limit Omaha Deepstack (8-Handed) | $600 |
| 98 | 13/07/2022 | Event #81: Freezeout No-Limit Hold'em 8-Handed | $5,000 |
| 99 | 14/07/2022 | Event #82: 8-Handed No-Limit Hold'em Deepstack | $800 |
| 100 | 14/07/2022 | Event #83: HIGH ROLLER No-Limit Hold'em | $50,000 |
| 101 | 14/07/2022 | Event #84: H.O.R.S.E. | $3,000 |
| 102 | 15/07/2022 | Event #85A: The Closer - No-Limit Hold'em - Flight | $1,500 |
| 103 | 15/07/2022 | Event #86: 6-Handed No-Limit Hold'em Championship | $10,000 |
| 104 | 16/07/2022 | Event #85B: The Closer - No-Limit Hold'em - Flight | $1,500 |
| 105 | 16/07/2022 | Event #87: 8-Handed No-Limit Hold'em | $5,000 |
| 106 | 17/07/2022 | Event #88: Super Turbo No-Limit Hold'em | $1,000 |
| 107 | 18/07/2022 | Tournament of Champions | |
| | Date | Event | Buyin |